The tramway has a tortured history. Landslides wiped out the Sumaré line in 1912 and a hurricane closed the entire system in 1966 [see
map
]. Track to Paula Matos and Dois Irmãos was restored, but metro construction in the 1970s shortened the downtown section. The system reopened, but closed again after a serious accident in 2011 in which six passengers died. A local builder, T'Trans, supplied 14 new trams, the line was rebuilt and passengers rode free from Carioca to Curvelo for the first time in four years on 27 July 2015. This picture shows one of the new cars in August 2015 [Paulo Pacini]: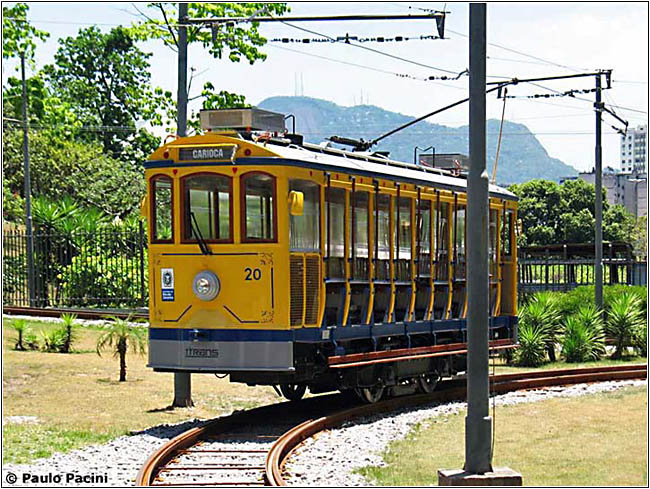 Service was extended to Largo do Guimarães on 28 December and is expected to reach Dois Irmãos (but not Paula Matos) before the Olympic Games begin in August 2016 [see
map
].
Operation continues uninterrupted on the private gasoline-powered monorail at the Vila Jardim Santa Cecília complex between Largo do França and Dois Irmãos.
Rio de Janeiro's other surviving "tram" line is the 1000 mm gauge cog railway that climbs 670 m / 2,198 ft to the Christ statue overlooking Guanabara Bay. The Estrada de Ferro do Corcovado began operation with steam power in 1884 and was electrified in 1910 [AM]: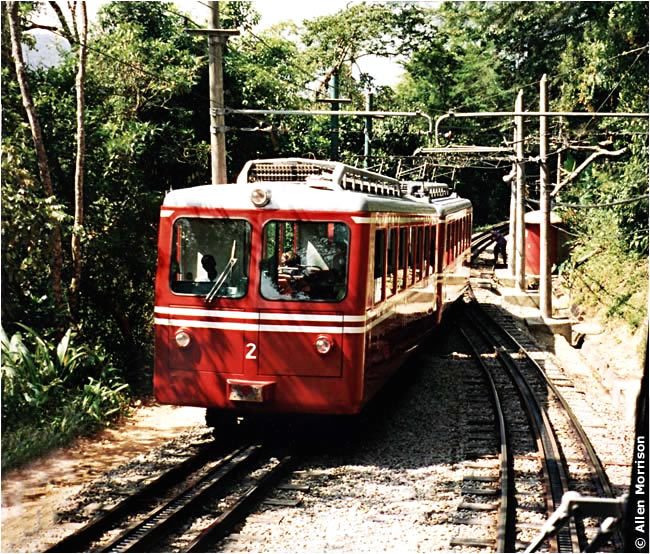 The Internet is full of text, photographs and videos of the Santa Teresa line: Search "Santa Teresa tram" or "Santa Teresa bonde". My 10-part website on
The Santa Teresa Tramway
includes an historical survey and 37 photographs. The official
Trem do Corcovado
website has a choice of text in Portuguese, English or Spanish. YouTube has many amateur videos of the line and a professionally made film (with narration in Portuguese) called
Trem do Corcovado
.
The latest innovation is Latin America's most ambitious light-rail project, known in Brazil as "Veículo Leve sobre Trilhos" (Light Vehicle on Rails) or "VLT". [English distinguishes Light Rail Vehicle – LRV – from Light Rail Transit – LRT, the line. But Brazilians use the term VLT for both.] Rio de Janeiro tried such a line, based on a Belgian "pre-metrô" model, in 1983. The articulated 2-car units were imported from Belgium: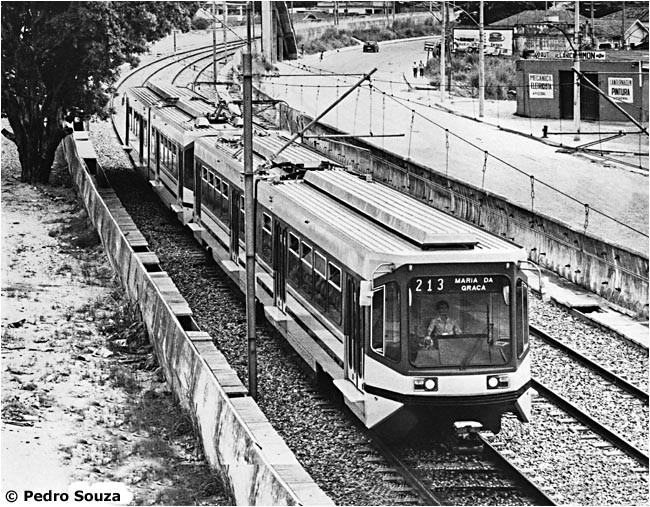 It closed in 1985. Vehicles were rebuilt with third-rail shoes and the line became part of the city's metro system.
A very different VLT – or LRV – project is underway today. After Rio was chosen to host the Olympic Games in 2016, plans began for a dense 28 km network of modern tram lines – almost entirely on paved streets – in the city center. A contract was signed with Alstom of France and construction began in 2013. The first 7-car unit arrived in June 2015, when the photograph below was taken. That's Mayor Eduardo Paes and family at the front [Rio Prefeitura]: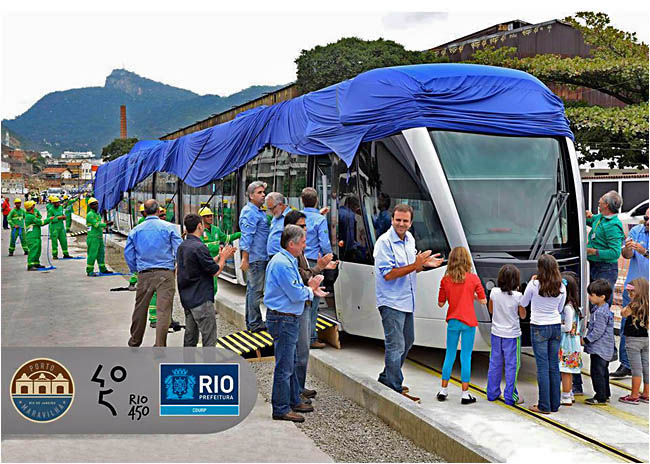 As of January 2016 a crew of several thousand was working day and night to get the line ready. See
Rio de Janeiro Light Rail
.
Campinas: LRV • Taquaral
Despite the failure of Rio's (first) LRV line in 1985, this large city 90 km north of São Paulo built a similar light rail line in 1990 – also on the roadbed of a former steam railway. Its six articulated units were similar to those used in Rio [see above], but were built by Companhia Brasileira de Materiais Ferroviários [Cobrasma] in Brazil [AM]: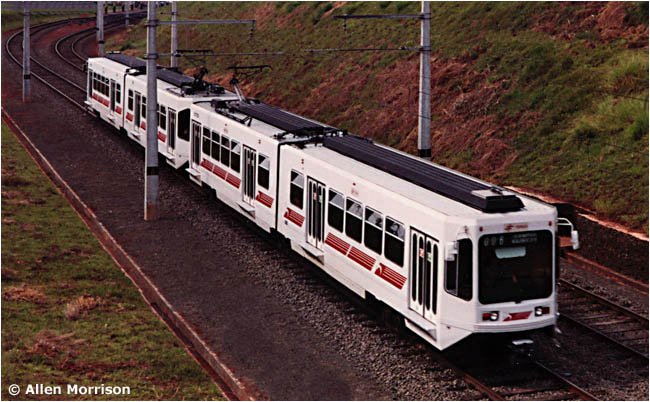 After two years of test runs, revenue service along the 8 km route finally began in April 1993. But the area that it served was lightly populated and the line did not reach the city center. A newspaper said that it "ligou nada a lugar nenhum" (connected nothing to no place). Ridership was low and the Campinas LRV line carried its last passenger in February 1995. The vehicles were scrapped.
However, Campinas is not without a tram line today. Its original tramway system ceased operation in 1968, but the municipality salvaged several cars and built a new line for them around a lake in Parque Taquaral on the north side of town [see map]. Operation began on 5 November 1972 and four open Brill-type trams have been carrying passengers on the 3 km line every Saturday and Sunday ever since [AM]: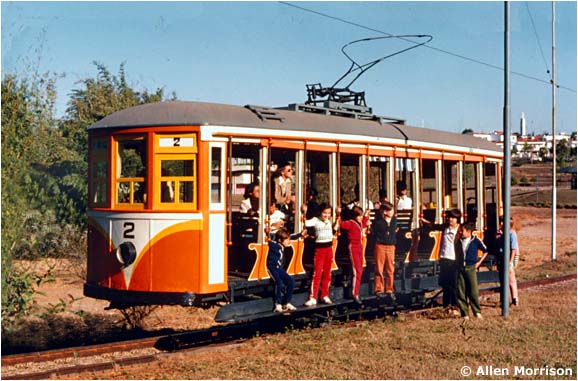 The park was renamed Parque Portugal in 1980, but most residents (and taxi drivers: take note) still call it Parque Taquaral. The line, which is municipally owned and operated, celebrated its 43rd birthday in 2015. It is the oldest heritage tramway in Latin America and one of the oldest in the world. Part 2 of my Campinas site has more information and 14 illustrations. YouTube videos are surprisingly scarce: this one shows a tram arriving at a station, but not much else. For discussion and pictures of the Campinas VLT, which ran from 1991 to 1995, see my pages on Light Rail in Brazil.
Santos: Bonde Turístico • LRV
The Tramways of Santos
ceased operation on 28 February 1971. It was the last closure of a big-city tramway system in Brazil, leaving only the Santa Teresa lines in Rio de Janeiro. In 1984 the Santos mayor dug up 900 meters of disused track along Embaré Beach, restrung wire and placed restored tram 46 back in service. But the line was isolated, maintenance was difficult and the service lasted only two years. Fourteen years later, a new administration resuscitated 1.7 km of track in the old commercial, port area of Santos, hung wire again and put open tram 32 back in operation on 23 September 2000 [see
map
]. A trailer was added soon after [Marcelo Madariaga]: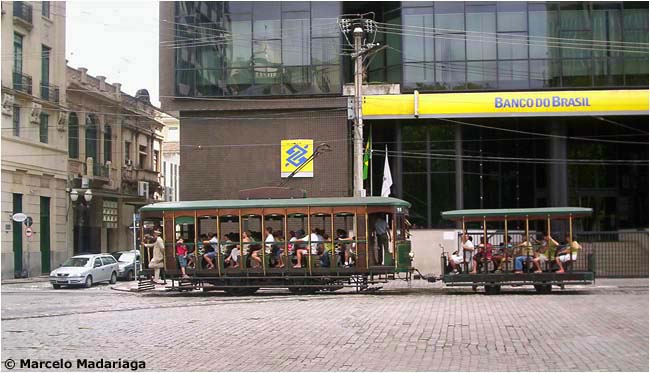 The city's new Bonde Turístico was a tremendous success, with both residents and visitors. A second motor car, closed tram 40, also from the city's original fleet, was added in 2002 [Antonio Gorni]: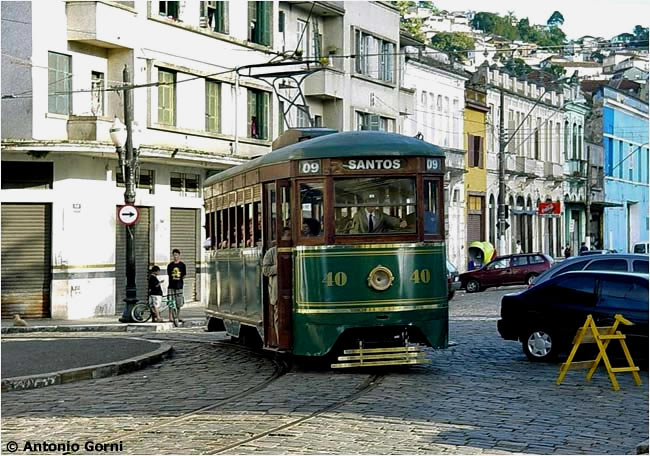 In 2006 Santos imported three Brill-type trams from the system in Porto, Portugal. Their track gauge had to be adjusted from the "standard" 1435 mm used in Porto to the unique 1350 mm gauge used in Santos, and shown below [João Manuel Picado]: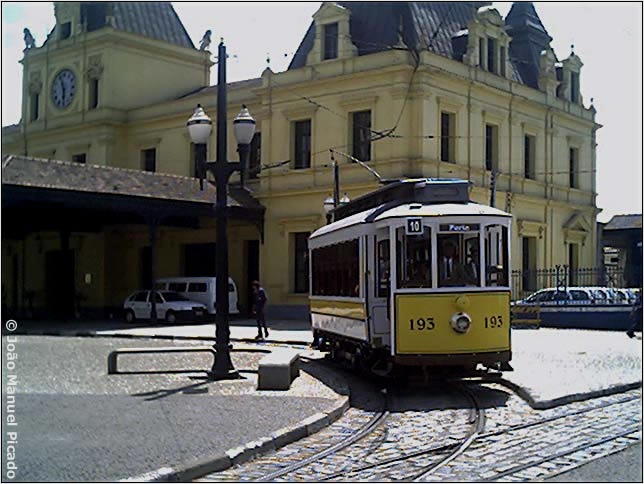 The vehicles shown above are all 2-axle models. In 2009 Santos imported two larger cars from the tramway system in Torino, Italy: 4-axle tram 3265 and 6-axle articulated tram 2840. Car 3265, built in Italy in 1950, was transformed into the Bonde Café, where passengers can enjoy light meals and (of course) coffee as they tour the line. The Bonde Café entered service on 9 January 2015 [Mexido de idéias]:
Ex-Torino 2840 is being rebuilt as a restaurant car. Santos has also acquired 4-axle tram 206 from Nagasaki, Japan, and a tram from São Paulo which once ran on Broadway in New York. The tram line was lengthened twice in 2009 and is now 4.9 km long [see map]. Torino car 3265 began carrying passengers in September 2010, when the tramway celebrated its 10th anniversary. Present operation is Tuesday-Saturday 11-5. See 27 videos of Santos trams (!) by Emílio Pechini.
Perhaps to commemorate the 1983 LRV line in Rio de Janeiro and the 1993 LRV line in Campinas, Santos began construction of a LRV line in 2013 – which, like those earlier lines, would use the right-or-way of a former railway. The Empresa Metropolitana de Transportes Urbanos (EMTU) of São Paulo state ordered three LRVs from Vossloh in Spain and began offering free rides over the São Vicente segment of the line in April 2015. The line was extended to Santos in June [see map and article]: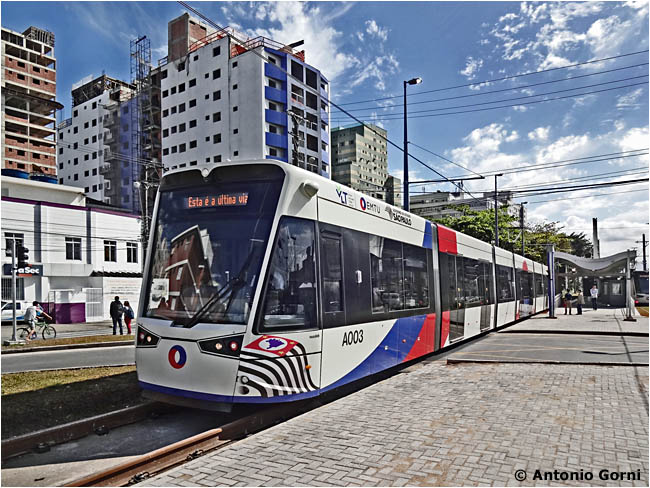 Nineteen other identical LRVs are being supplied by T'Trans in Três Rios, Brazil – the same company that built the new Santa Teresa cars. See Santos VLT - Bonde - Trólebus.

Itatinga
The Itatinga Hydroelectric Plant is located in a cove at the base of the Serra do Mar, 8 km north of Bertioga, a beach town on the Atlantic Ocean 35 km east of Santos. Electricity from the Itatinga Dam, 900 m above, powers the railroads, derricks and docks of the port. To build the plant in 1906, the Companhia Docas de Santos built an 800 mm gauge railroad and a dock on the Itapanhaú River across from Bertioga [see map]. A few houses, a grocery store, church and cinema sprung up around the usina (plant). But there were no roads or automobiles. CDS constructed two tramcars and electrified the railway in January 1958. Here is car number 1 in Itatinga village [col. AM]: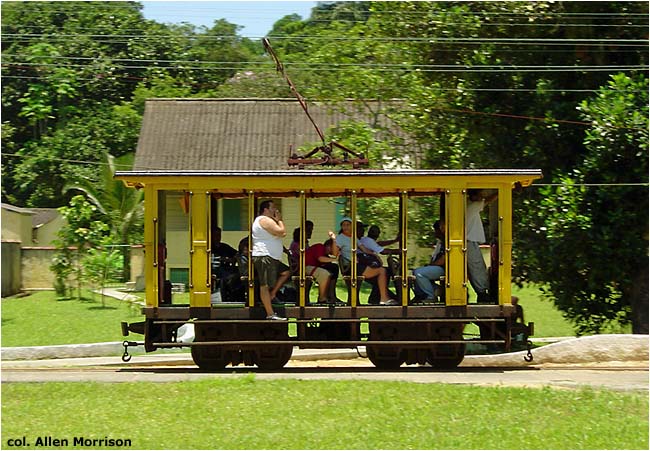 The two trams still ply the 7-km line today and provide the only transportation between Itatinga and the outside world. Unfortunately, in recent years a small gasoline-powered tractor has been used to pull the cars in normal service. The trams run electrically only when it rains! See CODESP: Itatinga. Also see A Trip to Itatinga, a 9-minute silent film made in 1980. Here's another film which lasts 10 minutes. This one shows the gasoline operation. Also see the photograph collection of Antonio Gorni.
Campos do Jordão
The Estrada de Ferro Campos do Jordão opened as a steam railroad in 1914 and was electrified in 1924. The 47-km meter-gauge line connects the Pindamonhangaba station of the Rio de Janeiro - São Paulo railroad with Campos do Jordão, a semi-resort area atop a mountain, a sort of Brazilian Aspen [see map]. At km 37 the line reaches an altitude of 1,743 m / 5,660 ft, the highest of any railway in Brazil. The original electric fleet consisted of four cars from Midland Railway, Carriage & Wagon Co. in England. Single-end car A-4 below, photographed in a residential area near Jaguaribe, was constructed in 1932 in Brazil [AM]: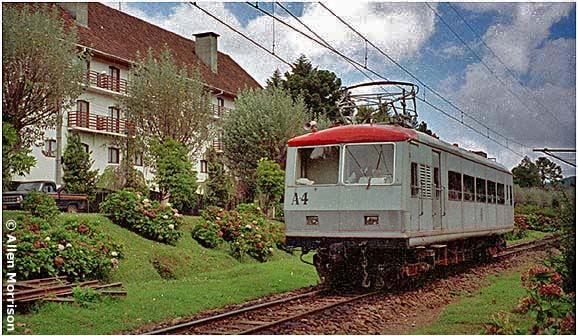 In 1956 the company acquired three electric trams from the abandoned Guarujá tramway near Santos, to provide local service along the urban section of the line, between São Cristóvão and Emílio Ribas [see map]. This photograph shows one of the German cars, built by Maschinenfabrik Augsburg-Nürnberg in 1924, near Abernéssia [AM]: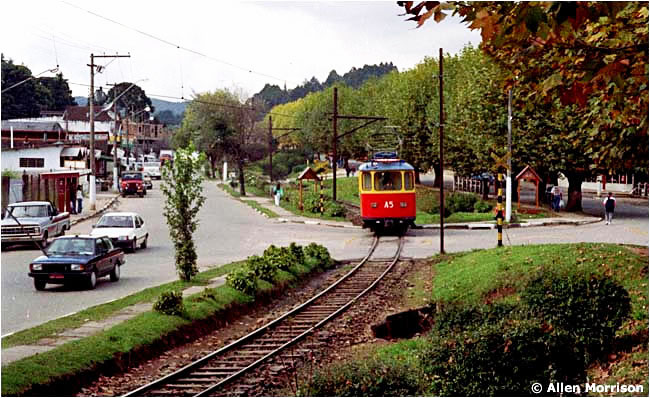 In recent years Campos do Jordão has become a popular destination for weekenders from São Paulo and EFCJ rides up the mountain are booked far in advance. See the company's official website. Also see my EFCJ website which contains history, description, map and 40 photographs. See also the EFCJ webpages of Ralph Giesbrecht and Antonio Gorni, which in turn have links to other pages. YouTube offers numerous short videos, including (1), (2) and (3)..

Cuiabá
This city of a half million is said to be in the geographical center of South America. It is one of Brazil's most remote large cities and was never connected by railroad with other cities. After the announcement in 2007 that Cuiabá would be one of 12 Brazilian cities that would host the World Cup football games in 2014, it began plans to improve its local transportation. A contract to build a light rail system was signed in 2012 with a consortium of CR Almeida and Santa Bárbara Construções of Brazil. Forty 7-module LRVs were ordered from CAF in Spain. They began arriving in 2013 when the photograph below was taken [col. AM]: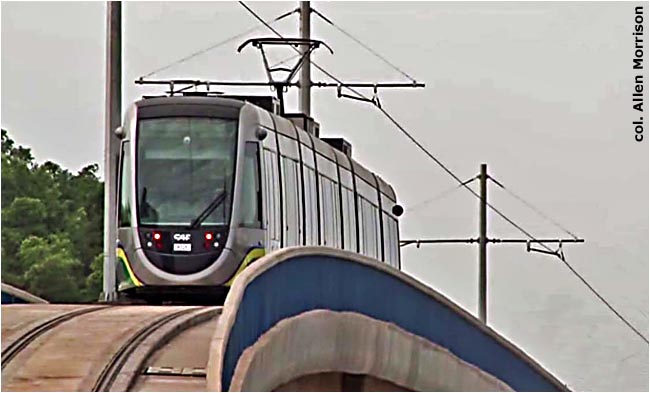 Like the new tramway under construction in Rio de Janeiro, the Cuiabá project is especially costly for it is completely new and, unlike the Santos line, not built on the path of a former railroad. Cuiabá never had any railroads. It also involves numerous viaducts and a long bridge over Rio Cuiabá. Federal funds ran out and construction of the line halted in 2014. The line lay dormant for all of 2015. Work is supposed to resume in early 2016. See Cuiabá: from tram to LRV.
Cassino
According to the Guinness Book of Records, this seaside town near Rio Grande, Brazil's southernmost city, has the world's longest beach: 254 km [see map 1]. Cassino is also famous for its vagonetas a vela (sail-powered cars) that travel along the rails of the molhes da barra (breakwaters) which go far out to sea [see map 2]. The little cars are a long way from the light rail vehicles shown above, but they might still be considered trams of a sort: they are resourceful and very, very "green" [postcard, col. AM]: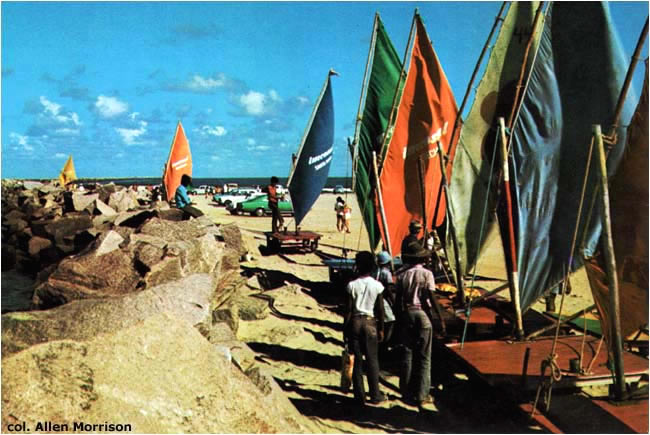 Take a ride on this short video. Or an airplane ride over the beach. For more information and another postcard view, see The Tramways of Rio Grande.

Bom Sinal lines

Brazil's intercity rail lines between Rio de Janeiro and São Paulo, between Rio de Janeiro and Belo Horizonte, and from Santos through São Paulo to Campinas and beyond were built to 1600 mm / 63 in track gauge. This is also the gauge today of the metros in Rio de Janeiro, São Paulo, Recife, et al. But all its new VLT lines use 1435 mm / 56.5 in gauge. Almost all other railways in Brazil, from the Amazon River south to the Uruguayan border, thousands of kilometers of them, have 1000 mm / 39.4 in gauge tracks. Brazil has the world's largest meter-gauge railway network.
With the decline of rail travel at the end of the last century, many of these rails became obsolete – until a company named Bom Sinal Indústria e Comércio in Ceará state decided to recycle the tracks around cities. Bom Sinal ("Good Sign"), founded in 1999, remodeled passenger trains for the metro company in Fortaleza, the Ceará capital. Using hydraulic "railpacks" supplied by Voith of Germany, Bom Sinal built three articulated, air conditioned, diesel-powered LRVs for operation on meter-gauge track. Two of them began providing free rides for passengers in December 2009 over a 14 km line between Crato and Juazeiro do Norte, two small towns in the Cariri district of southern Ceará. The route has twelve stations. "Metro do Cariri" started revenue service in May 2010 [see map]. The pictures below were taken the following August [Marcelo Almirante]:
The vehicles were said to be the first LRVs constructed in Brazil [if one excludes the six that Cobrasma built in 1990 for Campinas; see above]. Each 2-car Bom Sinal LRV carries 330 passengers (seated and standing) [Marcelo Almirante]: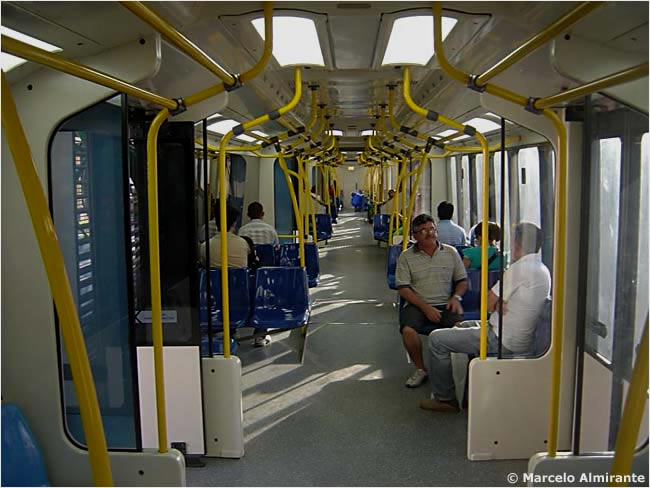 Here is a Cariri video – with links to other videos. The Cariri line inspired similar projects in northeastern Brazil – all involving Bom Sinal LRVs on meter-gauge track. The following image, extracted from a video, shows Goiabeira station on the 32 km line that opened in 2011 in Maceió, capital of Alagoas state [see map; see video] [solemar Paraíso das Águas]: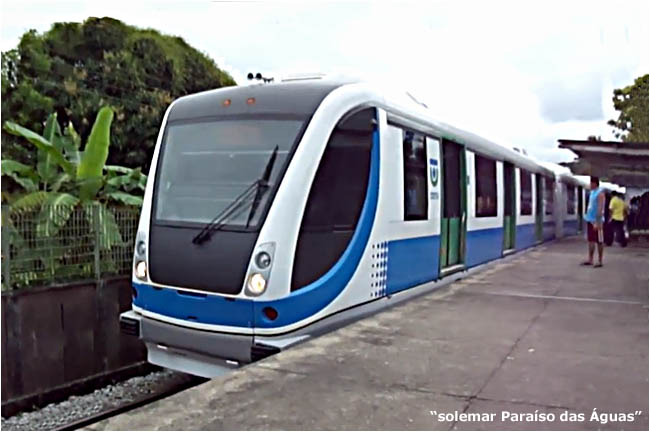 The eight LRVs of the Maceió line carried 2,675,184 passengers in 2014. The vehicle in the next picture is identical, but is operating on the 56 km system in Natal, capital of Rio Grande do Norte state [see map]. [Is it on fire? Is that smoke or a photo defect?] Both the Maceió and Natal lines are operated by the Companhia Brasileira de Trens Urbanos: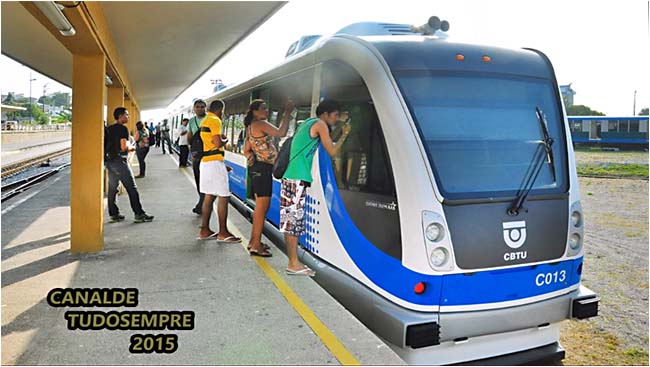 The Natal system has two routes [see map]. The LRV shown below is headed south to Parnamirim. Some Natal motorists are no doubt unhappy with what has happened to their streets: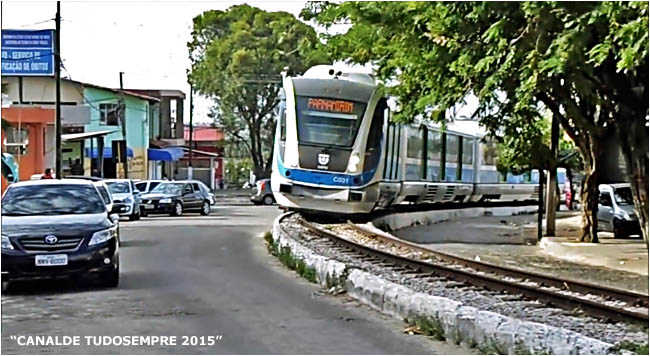 A rural section of Natal's northern line [see map]: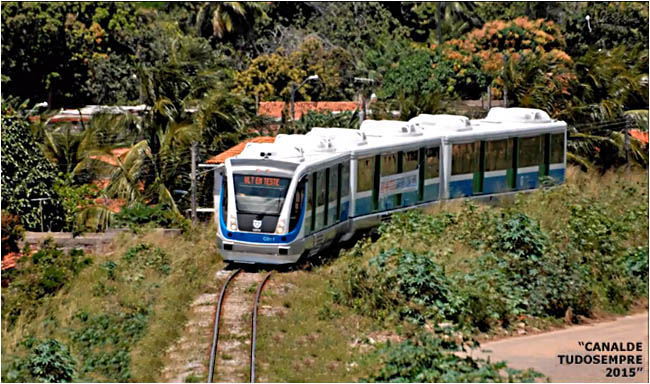 Most of the routes of the metro systems in Fortaleza, Ceará's capital, and Recife, capital of Pernambuco state, are operated electrically. But each system also has a line operated with diesel LRVs constructed by Bom Sinal. Here is the Cajueiro Seco station of the Recife metro, junction of a 1000 mm gauge diesel line on the left and the 1600 mm gauge electric line on the right. This Bom Sinal LRV will travel 18.5 km south to Cabo [see map] [Paulo Magalhães]: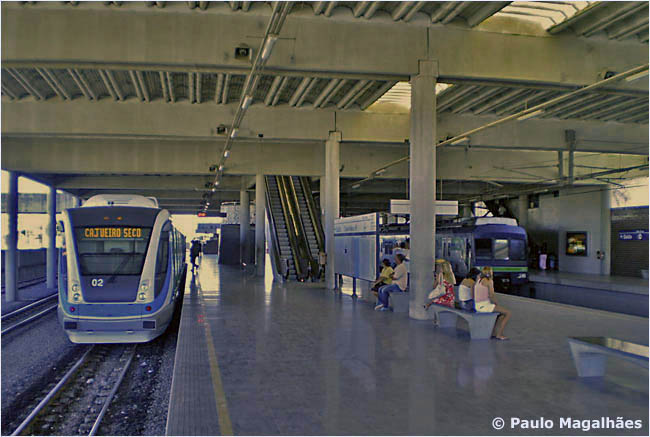 Call them metros or light rail or suburban railways or tramways or whatever – all these diesel lines use the same tram-like vehicles that run on existing meter-gauge track. A notable exception is the street railway system that opened in 2014 in Sobral, a city of 200,000 in northern Ceará. Its Bom Sinal cars all run on newly laid track on city streets [col. AM]: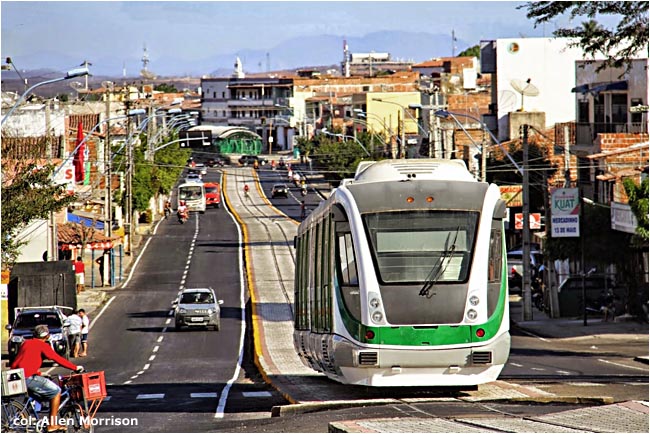 This animated video includes a map and describes the innovative Sobral system better than any photographs that could be found. Bom Sinal recently explored a partnership with another German firm, Vossloh, in order to build an electric LRV. Vossloh even considered purchasing the Brazilian company. But there has been no further news of this plan.
_____________
ARGENTINA
Buenos Aires:
Tramway Histórico • E2
Tren de la Costa
Tranvía del Este
An article in the 17 May 1872 edition of the English journal Engineering called the Argentine capital "The City of Tramways" because, it believed, it had more miles of street railway per capita than any other city in the world. Tramway development continued unabated for the next half century. Fifteen different companies inaugurated electric tram lines between 1897 and 1922!
One of the extraordinary innovations of this period was a 4-door tram model for use on the city's first metro line, which opened in 1913.
Tranvía subterráneo
S51, built by La Brugeoise, Nicaise et Delcuve in Belgium, had both high-level doors in the center for loading from platforms in the underground section and ordinary tramway steps at both ends for use when the car ran on the street. The definitive "subway-surface" tram? Was it a prototype LRV?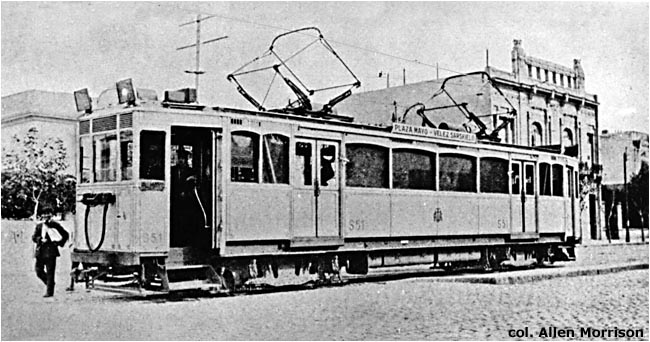 The city's last tram ran on New Year's Eve 1964. Local enthusiasts formed the
Asociación Amigos del Tranvía
in 1976, imported tram 258 from Porto, Portugal, and inaugurated a
Tramway Histórico
in the Caballito district on 15 November 1980. Another Porto car, number 252, was imported in 1983 – and renumbered 652, and tram 9069 from Brussels, Belgium, arrived in 1988. It wasn't until 1997 that a former Buenos Aires car, number 3361, was added to the fleet. Here they are, in that order, from left to right [Aquilino González Podestá]: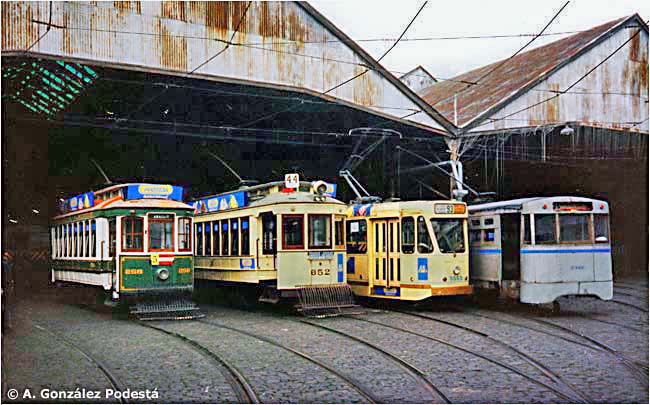 Trams 258 and 652 are similar to Porto car 193 shown in the Santos section above. The
Tramway Histórico
operates on a 12-block loop of street trackage used by rapid transit trains at the end metro line A [see line 'A2' on my
map
]. The photograph below shows Portuguese tram 258 turning from Av. Rivadavia (foreground) onto Calle Hortiguera [Aquilino González Podestá]: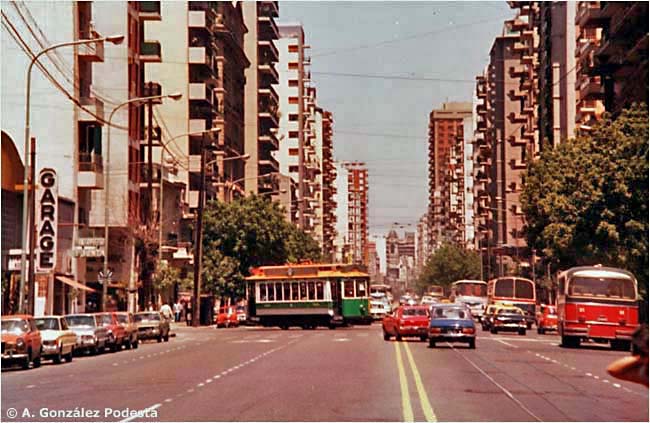 A recent addition to the
Tramway Histórico
fleet – and perhaps the most startling to see – is
tranvía subterráneo
number 3 built in 1910 in England for "subway-surface" service on metro line A. It is similar to car S51 shown above, but has lost its low-level doors for loading on Av. Rivadavia [AM]: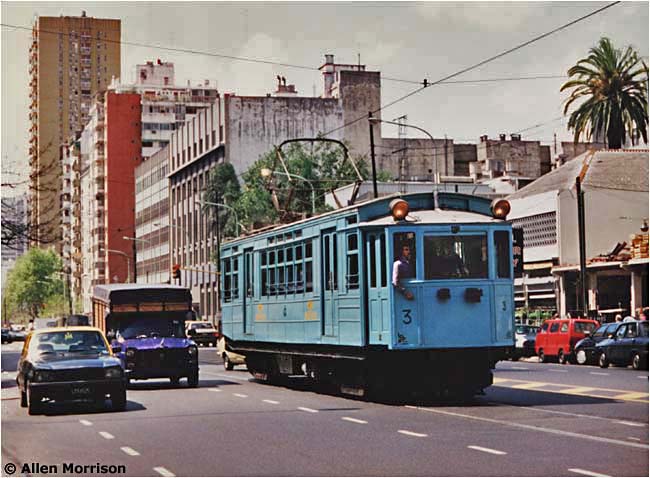 The
Tramway Histórico
operates every Sunday morning, and every Saturday and Sunday afternoon, year round. In September 2008 the AAT ran car 652 for two days over a short section of long-abandoned tram track in Quilmes, a suburb 15 km south of the city. The car was towed by a gasoline generator, but wire was strung and tram 3361 ran electrically over the same track two months later. The operations were popular with residents and 3361 was taken back to Quilmes and run electrically again in August 2010. There are plans to restore more of the line and make the operation permanent.
Inspired by its success of these AAT enterprises, the rapid transit company constructed a completely new tram line in 1986. Premetro route "E2" is a 7.4 km surface extension of subte line "E", from its terminus at Plaza de los Virreyes to Barrio General Savio [see map]. Revenue service was inaugurated in 1987 with eight rebuilt subte cars, which were replaced the following year by 17 completely new trams built by Materfer, a railway equipment manufacturer in Córdoba. The photo below shows Materfer tram PM8 at General Savio terminus [Ralph Forty]: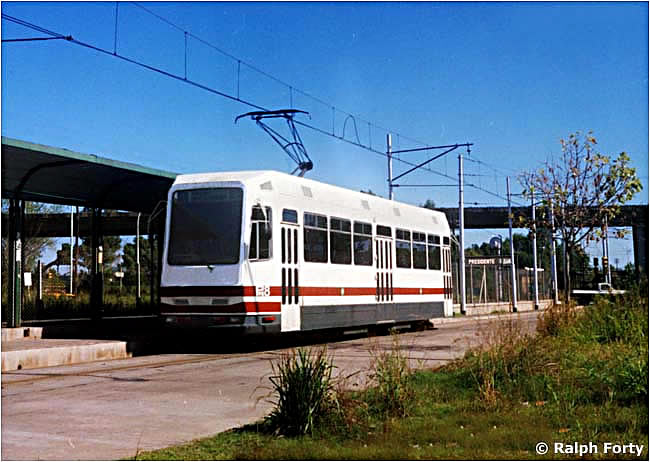 That was only the beginning. In 1995, a new company called Sociedad Comercial del Plata built a 15.5 km light rail line along the roadbed of a suburban railway that closed in 1961 ['1' on the map]. Track gauge of the Tren de la Costa, as of the Tramway Histórico and E2 lines, is standard 1435 mm, but its nine articulated units built by CAF in Spain operate left-hand, English style. Number 2 approaches in this view [M. Cáceres Miranda]: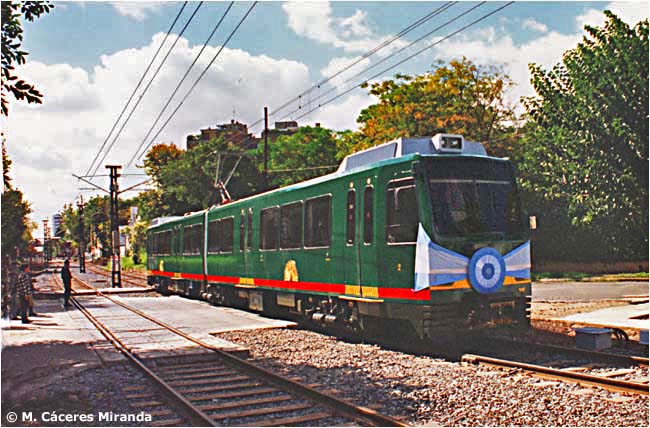 There's more! In 2006 the rail operator Ferrovías built a 16-block "demonstration" tramway called Tranvía del Este along a disused freight line in the Puerto Madero district, just east of the city center ['TE' on the map]. The French manufacturer Alstom sent two of its multi-section trams, on loan, from the tramway system in Mulhouse, France, and the Puerto Madero Tramway began operation on Bastille Day, 14 July 2007. The Mulhouse cars returned to France in 2008 and a similar tram was purchased from Metro de Madrid. But the line ran basically "from nowhere to no place" and did not carry many passengers. Operation ceased on 10 October 2012 and the fates of the tramway and the tramcar are unknown. This picture was taken in 2008 [Bruce Russell]: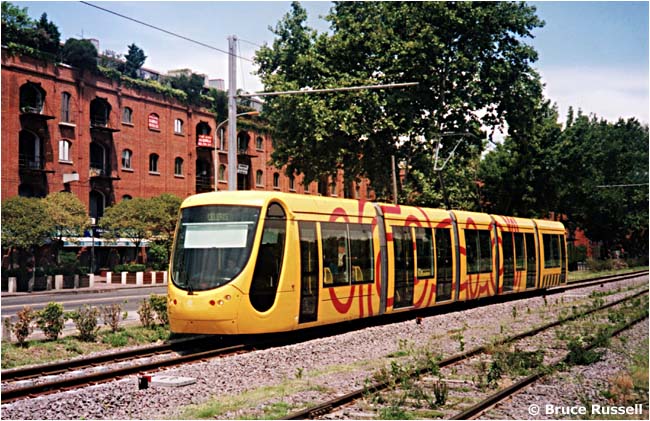 Aquilino González Podestá, president of the Asociación Amigos del Tranvía, has posted a detailed Historia del Tranvía en Buenos Aires. The Córdoba tramway amigos present a general history of the Tranvías Argentinos, which considers all cities including Buenos Aires. There are Wikipedia pages and photo surveys of all the lines. A chapter entitled Tren CAF describes the vehicles that Construcciones y Auxiliar de Ferrocarriles built for the Tren de la Costa. There is a forum on the Tranvía del Este (Puerto Madero) and there are numerous YouTube videos of the Tramway Histórico including (1), (2), (3) and (4); Premetro line E2 at (1); Tren de la Costa at (1); and Tranvía del Este at (1) and (2). New videos are added frequently.

Rosario
The large Belgian-built tramway system in this city, located about 240 km/150 mi northwest of Buenos Aires, closed in 1963. In 1981 members of the Asociación Rosarina Amigos del Riel (A.R.A.R.) enthusiast group located tram 277, one of three experimental models built by the tramway company in 1938-1939, sitting on the shore of the Paraná River. It had been used for years as a shelter for fishermen. Over the next three decades the car was rebuilt, with a truck from a fan group in Montevideo and motors and other equipment from the Tervuren Museum in Brussels. The local trolleybus company strung wire on Av. Wheelwright, where old tram rails remained. The photograph below shows the inauguration of the new service on 4 March 2015 [A.R.A.R.]: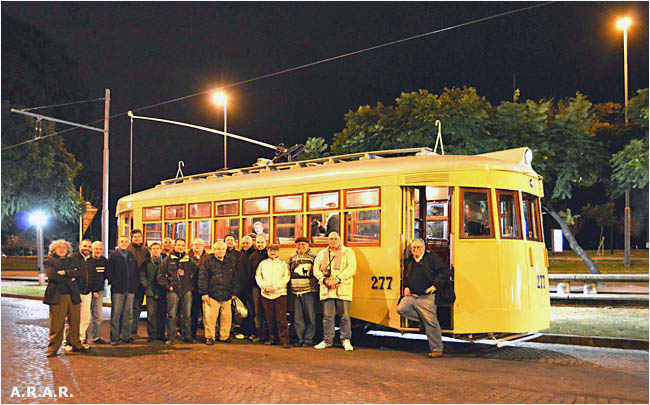 Mar del Plata
The original tramway system in this Argentine seaside resort, 400 km south of Buenos Aires, closed in 1954. In 1995 a local radio announcer and a group of tramway enthusiasts laid 1.5 km of track along a coastal highway and imported two 4-axle trams from Lisboa, Portugal: number 342 built by J. G. Brill in 1906 and number 343 built by John Stephenson in 1907. Operation began at Christmas 1997 and the line was extended 4 km to Parque Camet, farther up the coast, in 1999 [see
map
]. A tram garage and a 3 km circuit were built inside the park, the coastal line closed, and the two cars began running in the park in 2000. Operation has been intermittent since that time, but the line was recently reconstructed and extended. The photograph shows Brill tram 342 in 2000 [Aquilino González Podestá]: