The Tramways of
Guadalajara

BY
Allen Morrison
The capital of Jalisco state, 600 km west of Mexico City, is the nation's second-largest conurbation. Population today is about 5 million. The Mexican Central Railway line from Ciudad Juárez reached Irapuato in 1884; the branch to Guadalajara opened four years later.
The first franchise for an animal tramway was awarded in 1866, but Tranvías de Guadalajara did not begin operation until January 1878. The city's first horsecars were built by the John Stephenson and J. G. Brill companies in the United States [postcard, col. AM]: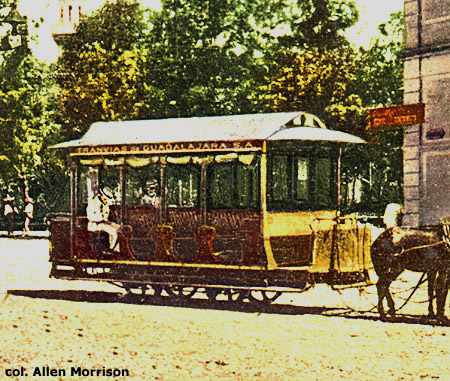 Two other systems opened soon after, Tranvías de Mexicaltzingo in 1880 and Tranvías de San Pedro in 1881. San Pedro, whose full name is San Pedro Tlaquepaque, was the destination of the city's first electric tram line 26 years later [see map]. The car in the illustration below was typical of the equipment supplied by Stephenson in New York [Brill's Magazine, Philadelphia, July 1907, p. 135]: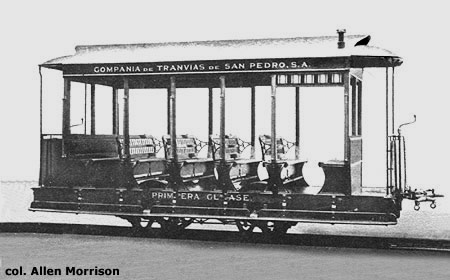 In the 1890s new tram routes crisscrossed the city and extended to Los Colomos, Oblatos, Atemajac and Zapopan [see map]. Cars on the Oblatos line were sometimes pulled by small locomotives. There were 40 km of track by century's end. The car below is traveling west on Calle Morelos, part of Plaza Tapatía today [postcard, col. AM]: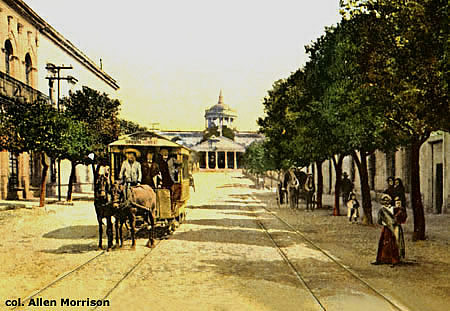 In 1900 a group of textile mills in the Atemajac district [see map] tried to build an electric tram route to the city. They failed. The electricity company and several horsecar operators formed the Compañía de Tranvías, Luz y Fuerza in 1905 and ordered 42 electric streetcars from McGuire Cummings Manufacturing Co. in Chicago, Illinois: 32 single-truck cars, 2 double-truck double-deckers, 2 funeral cars and 6 double-truck passenger trailers. A parade of 10 trolleycars inaugurated Guadalajara's first electric tram lines, to Agua Azul and Tlaquepaque, on 14 September 1907. The postcard below shows a McGuire Cummings car on Calle Tolsa in Colonia Moderna [see map] [col. AM]: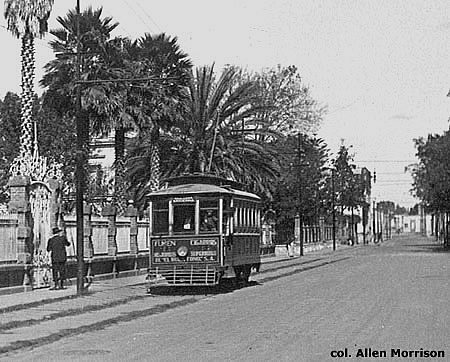 This postcard shows a similar car and trailer about to turn from Calle de Hidalgo onto Av. Chapultepec about 1910 [see map]. Some of those white pillars on the left side were still there (but painted red) in 1995 [col. AM]: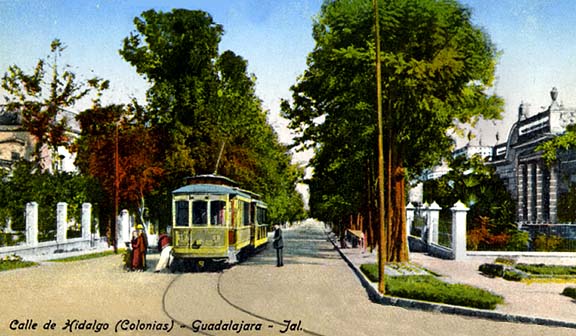 In 1908 CTLFG ordered a dozen more passenger and freight trams from American Car Co. in St. Louis and electrified the horsecar routes to Zapopan and La Experiencia [see map]. La Experiencia was one of the textile mills that tried to build an electric line in 1900. In 1909 CTLFG was absorbed by the Compañía Hidroeléctrica e Irrigadora del Chapala, which had a power plant at Juanacatlán Falls - "the Mexican Niagara" - 30 km south of town. Here is a CHIC tram ticket [col. AM]: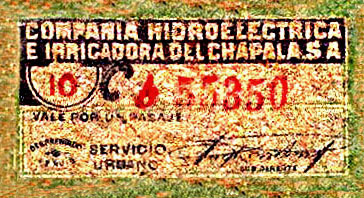 Guadalajara's double-deck trams, built by McGuire Cummings, were numbered 50 and 51. This rare view of 50 shows the "decency drape" that enabled respectable ladies to go upstairs. The cameraman was looking north on Calle Corona, with the Cathedral in the distance [see map] [postcard, col. AM]: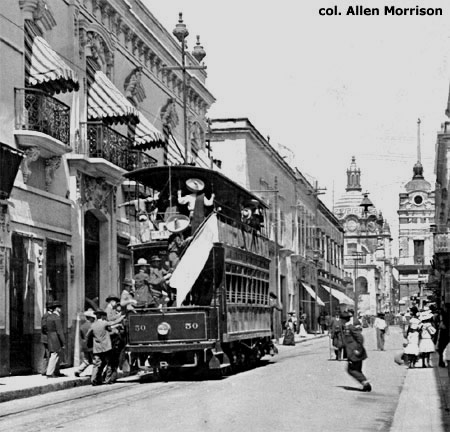 CHIC purchased 10 double-truck passenger trailers from Danville Car Co. in 1910 and 10 matching motor cars from American Car Co. in 1911. Here is a train of these cars headed south on Av. Colón, near the railroad station [see map]. Guadalajara's double-truck cars ran on the suburban routes to Tlaquepaque and Zapopan [col. AM]: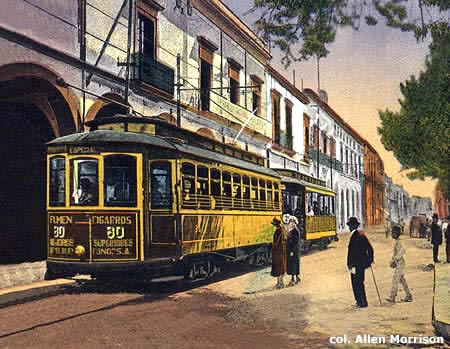 The McGraw Electric Railway Directory reported 110 trams and 96 km of track in Guadalajara in 1918. The postcard below shows the private right-of-way between Atemajac and Zapopan, which later became Calzada de Atemajac and is called Av. Niños Héroes today [see map] [col. AM]: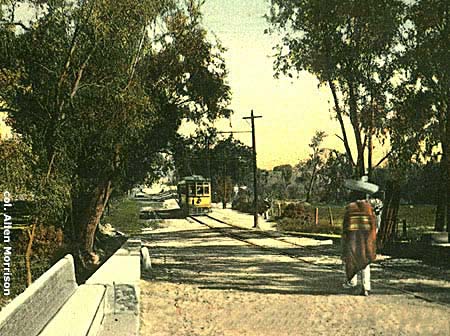 This postcard exhibits a problem in urban archeology. The caption says "Calle Libertad", but the author could not find a map of any era that shows a street of that name in Tlaquepaque. This long thoroughfare is probably Calle Independencia [see map] [col. AM]: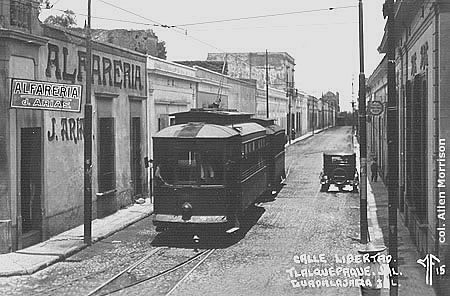 In 1921 CHIC commissioned Mexico Tramways Co. in the federal capital to build it nine new arch-roof, 11-window, 8-wheel trams. The cars were numbered 41-49 and entered service in Guadalajara on 29 July 1922. Here is a rare view of car 44, probably on Av. Juárez [see map]: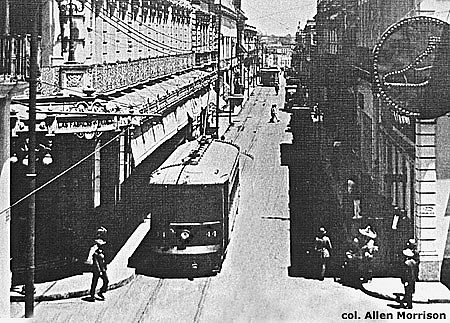 After the Guadalajara tramway closed in the 1940s, trams 41-49 were sold back to Mexico City, where they were renumbered 241-249 and ran many more years. The photograph below was taken in the 1950s in the capital, but is included here for it shows this model better than the Guadalajara view above. Note that 243 has only one pole, was unidirectional in Mexico City; in Guadalajara it had two poles and ran both ways [col. AM]: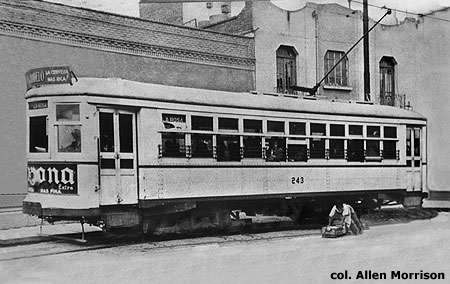 The first buses appeared in Guadalajara in 1924, charged lower fares and ran faster than the trams. CHIC sold its rail division in 1925 to the Compañía Occidental de Transportes, controlled by American Central Utilities in San Antonio, Texas. COT closed most of the city's tram routes in 1928, leaving only the suburban lines to Tlaquepaque and Zapopan and a few short services in the center. In 1933 the remaining tram lines were transferred to the state of Jalisco, which sold them - for a very low price - to the Cooperativa de Tranviarios de Guadalajara (tram workers cooperative) in 1936. The system struggled along for eight more years and the city's last trams finally ran to Tlaquepaque and Zapopan on 3 July 1944.
Happily, electric transport in Mexico's second city did not end there. In 1974 it plowed a highway named Av. Federalismo through the town center [see map], replacing part of Calle Mezquitán where electric trams once ran to Atemajac and Zapopan. With unusual foresight, a 2-lane tunnel was placed underneath. Funds were not immediately available for a rapid transit rail line, so a trolleybus system was built instead - through the tunnel and to suburbs on the north, south, east and west. 124 trolleybuses were imported from Chicago and a 73-km X-shaped trolleybus system opened - in its entirety - in early 1977.
The photograph below, taken in 1984, shows a trolleybus on a surviving section of Calle Mezquitán in the Atemajac district north of the tunnel [see map]. Fifty years earlier, electric trams ran here along a dirt path [Foster M. Palmer]: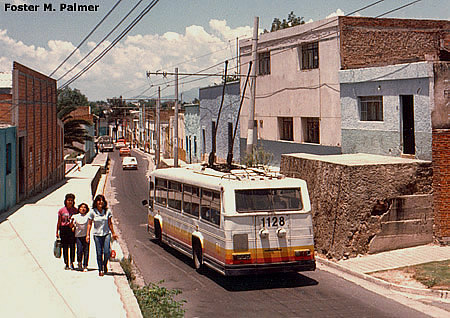 In 1988 trolleybuses were removed from the tunnel so that tracks could be laid for the first line of the city's new Sistema de Tren Eléctrico Urbano. "SITEUR" opened the following year. Here are two views, from the same spot, of the southern portal of the tunnel under Av. Federalismo [see map]. The photograph on the left shows a trolleybus in 1984. That on the right shows a light rail car in 1989 [Foster M. Palmer]: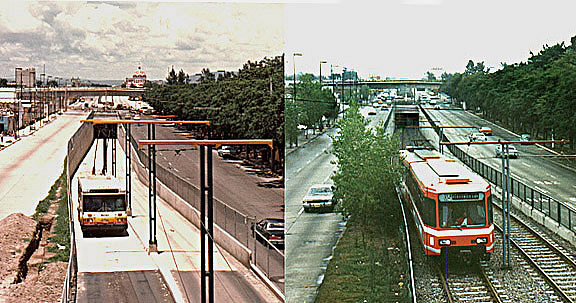 Guadalajara's new articulated light rail car is a German design built by Concarril in Mexico, with motors and electrical equipment from Mitsubishi in Japan. It is about the same size as the motor car and trailer that used to run over Calle Mezquitán. Have the trams returned? [Foster M. Palmer]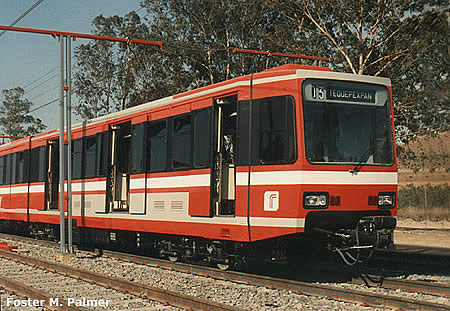 SITEUR opened a second, east-west route, also underground, in 1994. Both the light rail lines and the trolleybus system are still going strong in 2003.
In addition to the books and articles listed below, the author is indebted to Foster M. Palmer of Massachusetts and Luis León Torrealba of Mexico City for the invaluable information that they provided about urban transportation in Guadalajara. Señor León rode the trams there in the 1930s and 40s, drew maps of the routes and collected historical data. He was perhaps the first genuine tramway enthusiast in Latin America.
BIBLIOGRAPHY (in order of publication)
"El Material Rodante y Propulsor para una Vía" in Mexico Moderno (México), 10/1906, p. 46. Announcement of the McGuire Cummings contract to build Guadalajara's first electric trams.
"Electric Equipment Ordered in 1906" in Electric Railway Review (Chicago), January 1907, lists the trams that McGuire Cummings Co. will build for Guadalajara.
Illustrated articles about Guadalajara trams built by Stephenson, Brill and American Car Co. in Brill [or Brill's] Magazine of 7/ 1907, 135; 8/1908, 177-181; 9/1910, 264-265; and 6/1916, 180-182.
Directorio del Estado de Jalisco, 1912. Guadalajara tramway itineraries, pp. 106-107. An unnumbered page has an advertisement by the Agencia de Inhumaciones de Alberto Reneaum for "El Servicio Eléctrico de Carros Funébres" (electric funeral car service), with an illustration of a motorized funeral car.
Ignacio Saldaña. Plano de la Ciudad de Guadalajara. Guadalajara, 1919. Good map of the tramway lines in the city center.
"Desde hoy dejará de haber tranvías eléctricos aquí" in El Informador (Guadalajara), 4/7/1944. Report that the city's last trams ran the previous day.
José T. Laris. Guadalajara de las Indias. Guadalajara, 1945. Tramway development, pp. 37-39.
J. Jesus Martínez Vallejo. 100 Años de Actividad Social en la Fábrica La Experiencia. Guadalajara, 1951. Streetcar and bus service to La Experiencia textile mill, pp. 46-49.
Enrique Francisco Camarena Martínez. Narraciones Tapatías, 1900-1950. Guadalajara, 1953. A 4-volume collection of newspaper columns. "La Inauguración de los Trenes Eléctricos" in vol. 1, no. 1, pp. 47-55, contains valuable information, as does a discussion of abandonments in vol. 1, no. 2, pp. 218-219.
"Guadalajara System Opens!" in Trolley Coach News, Louisville, no. 38 (Winter 1976-1977), pp. 2, 21-27. Inauguration of the trolleybus system.
José María Muria. Historia de Jalisco. Guadalajara, 1982. Tramway history in vol. 4, pp. 167-170. Quotes Camarena (1953).
Rodolfo Sánchez Gómez. El Transporte Colectivo de Pasajeros en la Zona Metropolitana de Guadalajara. Guadalajara, 1983.
"LRT Developments in Mexico" in Mass Transit (Washington, DC), June 1989, pp. 16-22. Development of the Tren Eléctrico Urbano.
Steve Morgan. Excellent series of articles, with photos and maps, about the trolleybus system in Trolleybus Magazine (England) nos. 173 (9-10/1990), pp. 104-115; 208 (7-8/1996), pp. 89-96; and 209 (9-10, 1996), 110-118.
Francisco Javier Uribe Topete. "Los Transportes de los Tapatíos" in vol. 1, pp. 107-238, of Capítulos de Historia de la Ciudad de Guadalajara. Guadalajara, 1992. Good tramway history; "Tranvías Eléctricos" section quotes Camarena (1953).
Bernardo Carlos Casas. Estampas de Tlaquepaque. Guadalajara, 1994. Nice photos of an electric tram and of the trolleybus inauguration in 1977.
Sistema de Tren Eléctrico Urbano. Official website of the light rail system: history, map, photos, etc.
Ver versión en español de esta página
return to
INTRODUCTION & INDEX MAP
Copyright © 2003 Allen Morrison - ALL RIGHTS RESERVED