The
Hershey Cuban Railway
BY
Allen Morrison

In 1916 the Hershey Chocolate Corporation of Pennsylvania purchased large tracts of land and built a sugar mill 45 km east of Havana, about halfway between the capital and Matanzas [see map of Havana province]. To transport its produce to nearby ports and its workers to adjacent towns, it built a network of 135 km of electric railways. The first branches were steam-powered, but in 1919 Hershey Cuban Railway began ordering electric equipment from J. G. Brill and General Electric. Electric passenger service between Matanzas and "Central Hershey" (the sugar mill) began in January 1922 and was extended to Casablanca, across the bay from Havana, the following October. United Railways, the English company that operated all the other railroads in Havana Province, would not let the American line into town [see map showing the harbor area].
By 1924 Hershey Cuban had a fleet of 17 electric passenger cars and 7 electric locomotives. In addition to pantographs the vehicles carried trolley poles in order to cross streetcar lines in Matanzas and Regla - especially in the latter town, which used a 2-wire system [Tramway & Railway World, London, 19 May 1921, p. 235]: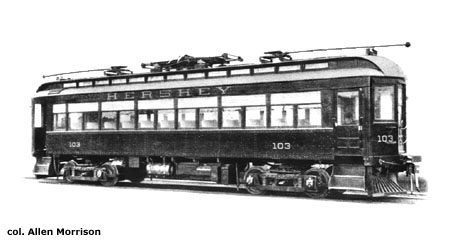 The railway prospered and still operates today. This mule grazing at Corral Nuevo near Matanzas in 1956 seemed unfazed by the interurban (but was perhaps keeping an eye on the photographer). The Hershey train consisted of a Brill passenger/baggage car of 1920 and Wason 154 of 1924 [Ray DeGroote]: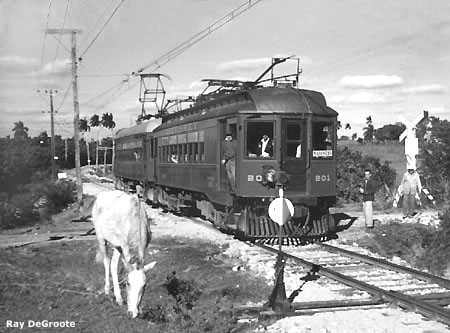 The same car 201 and another car running along the Río Yumuri on their approach to Matanzas [William D. Middleton, col. Roy Budmiger]: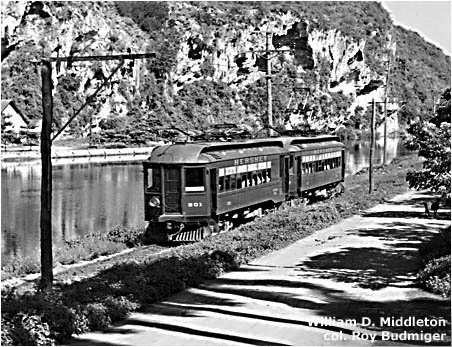 Hershey's oldest cars were not its first to run. The interurbans that Cincinnati built for Cienfuegos were completed in June 1919, three months before Hershey ordered its Brills. They sat unused in Cienfuegos until purchase by Hershey in 1924 (see builder's photo on the Cienfuegos page). Cincinnati 213 sits at Cojímar terminus in 1956. The Cojímar line closed the next year [Ray DeGroote]: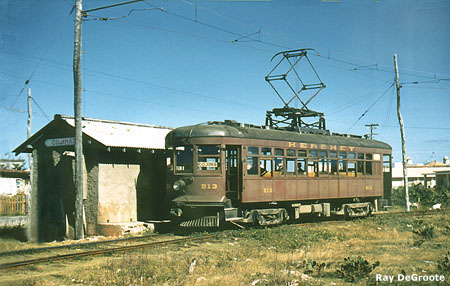 Here is Cincinnati car 211 at Central Hershey station in 1958 [Richard Omer]: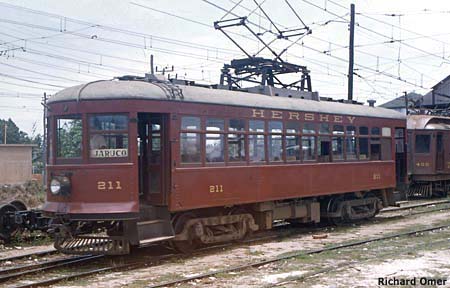 The photograph below, taken in 1958 at Casablanca terminus across the bay from Havana [see map], shows two of the company's oldest Brill cars – numbers 107 and 103, delivered in 1920. Number 103 in the distance is the same car shown in the builder's photograph at the top of this page [Richard Omer]:
In 1960 the Hershey Cuban Railway became the Camilo Cienfuegos Division of Ferrocarriles de Cuba. Cuba's last electric line - "the world's last interurban" - continued unchanged for the next 40 years. One of its (rebuilt) Brill cars was commemorated in a postage stamp in 1988 [col. AM]: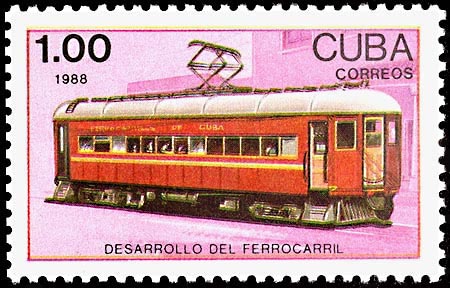 In 1998 Ferrocarriles de Cuba acquired eight electric cars second-hand from Ferrocarrils de la Generalitat de Catalunya in Barcelona, Spain. Number 405 below was built by Sarriá in Spain in 1944 and remodeled by the Barcelona company in 1979 [A. G. Piette, 22 April 1998]: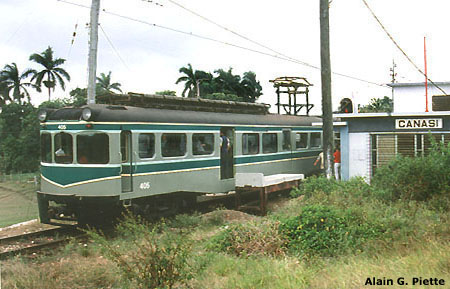 In 1999 the Hershey railway finally reached Havana. Ferrocarriles de Cuba began running some of its Hershey trains into the capital over the de-electrified tracks around the bay. Diesel locomotives towed electric cars to a new station called La Coubre at the foot of Calle Egido. The photo below shows a Hershey train under the elevated structure built by Havana Central Railroad in 1906 [see map]. The pantograph seems to be powering the train, but actually there is no wire [Earl W. Clark, 23 December 1999]: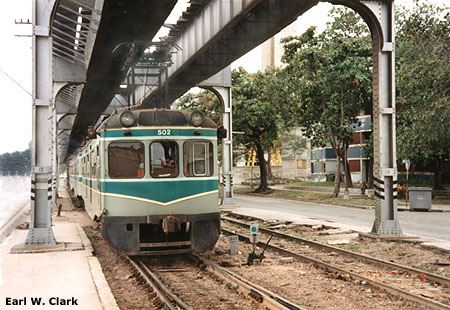 Alas, due to a declining sugar market the Hershey sugar mill closed in July 2002, after 86 years of operation. The future of the railway is uncertain and many rail enthusiasts visited the line in the following months - perhaps for the last time. This photograph of car 501 and trailer was taken near Matanzas [Lee DeGolyer, 6 March 2003]: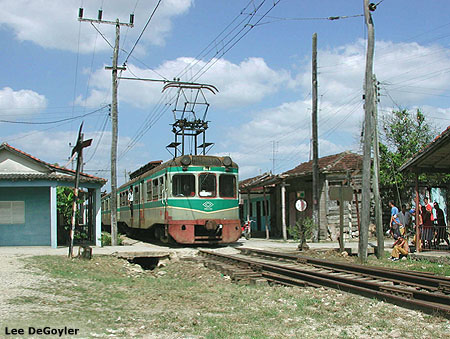 Good news! Cuban railfan Ángel Álvarez rode the line and photographed 501 again at Jaruco station on 25 March 2008 [see map]. The Hershey is still going strong [Ángel Álvarez, 25 March 2008]: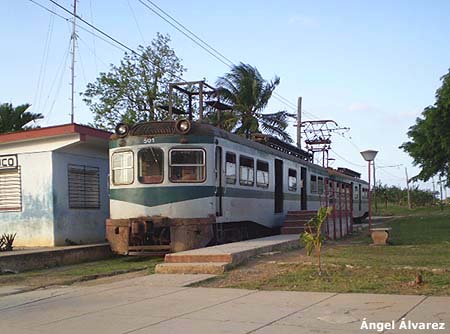 British visitor Andrew Beech took this photograph in front of the ticket office in Casablanca in December 2013 [Andrew Beech]: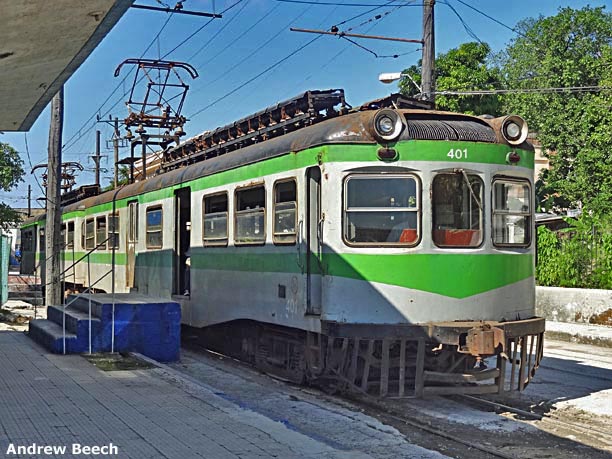 After the refinery closure in 2002, Ferrocarriles de Cuba noticed that foreign transport enthusiasts were visiting Cuba just to ride the ex-Hershey railway, so rebuilt Brill cars 3008 and 3009 for their delight. Each was christened "TRANS HERSHEY". This rare photograph that shows them together was taken by a Brazilian fan on 9 January 2004: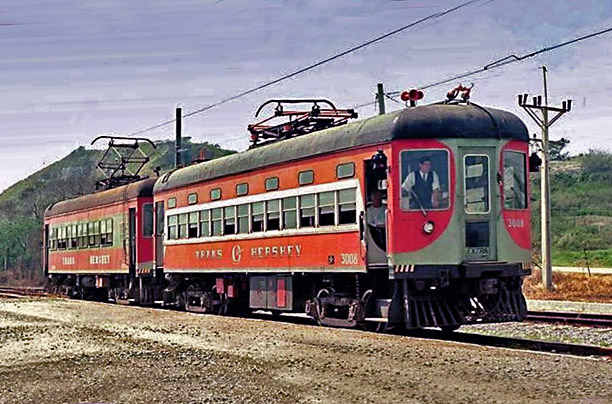 But in 2015, car 3008 was transferred to Santiago de Cuba to run on a tourist line that it was building to celebrate the city's 500th anniversary (see The Streetcars of Santiago de Cuba). The car ran briefly on a few feet of track, but then was locked away, inaccessible to visitors. Transport enthusiasts all over the world wondered if 3008 would ever be TRANS HERSHEY again. Information was difficult to obtain.
Luckily, a German visitor answered that question when he took the following picture of 3008, back at the Hershey yard, on 14 August 2018. Thank you, Michael! [Michael Krolop]: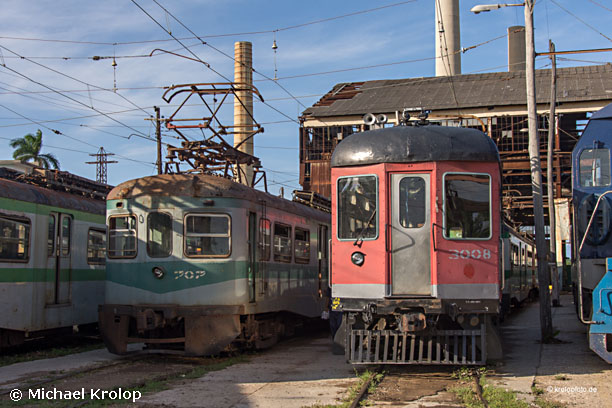 The ultimate fate of "the world's last interurban" remains unknown. Today the internet is filled with photographs and videos showing this fascinating, courageous railway.

BIBLIOGRAPHY (in order of publication)
"Hershey Cuban Railway Being Electrified." Electric Railway Journal (New York), 10 April 1920, pp. 757-758.
"Electrification of the Hershey Cuban Railway." Tramway & Railway World (London), 19 May 1921, pp. 235-236. Text, 2 photos, diagram.
"Passenger and Baggage Cars for Electrified Hershey Cuban Railway." Brill Magazine (Philadelphia), June 1921, pp. 352-355. Text, 6 photos, 2 drawings.
"Los Eléctricos de Matanzas a Hershey Se Inauguran el Dia 2o de Enero." La Lucha (La Habana), 1 January 1922. Inauguration announcement.
"New Electric Train Service in Cuba." Cuba Review (New York), November 1922, p. 11. Electric trains now run through to Havana.
"Electric Railway Construction and Operation in Cuba." Electric Railway Journal (New York). 2-part article: 28 July 1923, pp. 127-132, and 11 August 1923, pp. 211-215. Text, map, 15 photographs.
Long, W. Rodney. "Railways of Central America and the West Indies". U.S. Bureau of Foreign & Domestic Commerce. Trade Promotion Series no. 5, Washington, 1925. History and description of the Hershey line, pp. 231-240.
Canfield, Joseph M. Canfield. "The Hershey Cuban Railway." Headlights (Hoboken), October 1957, pp. 1-3. Pioneer railfan article. Map, 5 photos.
Russell, Bruce. "Just South of Miami: Cuba's Railways Revisited." Passenger Train Journal (Chicago), December 1979, pp. 20-28. Description and 4 photos of the Hershey electric line.
Foss, Clive. "Hershey Cuban: The Last Interurban." Railfan and Railroad (New York), March 1996, pp. 40-47, 60. Text, map, 17 photographs.
Foss, Clive. "The Hershey Cuban Interurban." Headlights (New York), January-March 1997, pp. 8-24; and January-June 1999, pp. 38-40. History, map, roster, many excellent photographs.
"Cuba compra ocho trenes a Ferrocarrils de la Generalitat de Catalunya." Vía Libre (Madrid), January 1998, pp. 34-35. Two photos.
"Nuevo servicio entre Matanzas y el Centro Histórico de la capital." Granma (La Habana), 18 May 1999. Photo of electric train.
return to
INTRODUCTION & INDEX MAP
Copyright © 2002-2102 Allen Morrison - ALL RIGHTS RESERVED