Most of the south side of the line, which uses overhead wire, had been completed [see
map
] [col. AM]: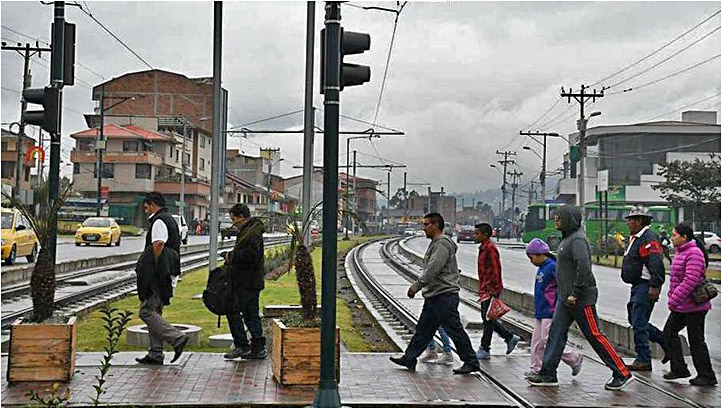 But there was still much work to do on the north, along Av. España near the airport, and in the hilly section around the bridge over Río Milchichig [see map] [Tranvía Cuenca]: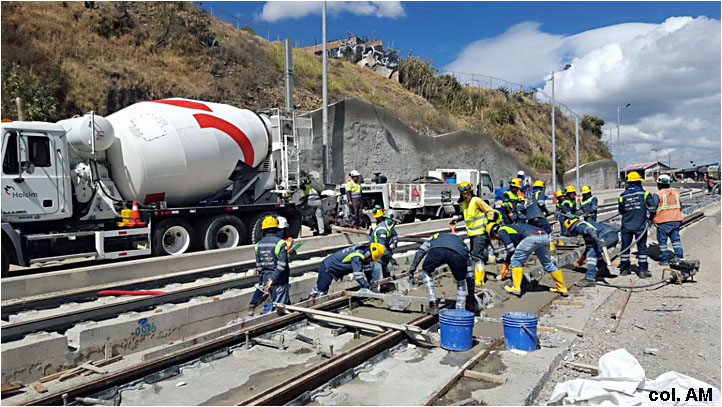 Alas, new technical problems arose and the 3 November deadline seemed impossible. In August 2018 Tranvía Cuenca signed a $3.5 million contract with Metropolitano de Tenerife, the tramway operator in Santa Cruz de Tenerife, capital of the Canary Islands (Spain). According to the new arrangement, MT will complete construction by March 2019 and operate Tranvía Cuenca for the next 3 1/2 years [Tranvía Cuenca]:

Residents are optimistic: "We are making it possible"
To be continued...

The author wishes to express his gratitude to Cuenca resident Xavier Ochoa for his extraordinary contributions to this page.
[ Ver versión de esta página en español ]
[ See version of this page in Lithuanian ]
See my index of
ELECTRIC TRANSPORT IN LATIN AMERICA
If you have comments, criticism or suggestions,
please write to Allen Morrison! Leo y escribo español.
This site was first placed online
on 18 October 2015.
It was updated on 1 August 2018.

Copyright © 2015-2115 Allen Morrison
ALL RIGHTS RESERVED
TODOS LOS DERECHOS RESERVADOS