Ecuador's principal port and largest city (2000 population: 2 million) sprawls along the west bank of the Guayas River, about 20 miles from the Pacific Ocean [see area map]. At sea level and latitude 2° S, its climate is quite different from that of the country's capital, Quito, up in the mountains at 9,350 feet, but is tempered by the icy waters of the Humboldt Current. Guayaquil is the center of Ecuador's manufacturing and fishing industries.
The Ferrocarril del Sur (later Guayaquil & Quito Railway) started construction in 1871 at Durán, on the other side of the Guayas River, and began carrying passengers to Milagro in 1874 [see area map]. The G&Q never crossed the river into Guayaquil. Another line, Ferrocarril a la Costa, ran west from Guayaquil to Salinas, but didn't begin operation until 1923. The first rail operation in Guayaquil was a horsecar line that Empresa del Salado opened along Av. 9 de Octubre, from Plaza Rocafuerte to a park on the Estero Salado, on 20 July 1873 [see city map]. Track gauge was 30 inches and the trams were built by John Stephenson Co. in New York [see Brown in BIBLIOGRAPHY].
Tramway development in the 1880s is unclear, but Empresa del Salado seems to have built a branch to the cemetery in 1882 [see map]. The Empresa de Carros Urbanos, founded on 20 November 1883, acquired the Salado lines and ordered an assortment of trams from John Stephenson in New York – both single- and double-deck, and for both 30 inch and 56 1/2 inch ("standard") gauge track. Here is one of its single-deck standard gauge cars – the same type as shown in the color view above. [postcard, col. AM]
The Stephenson car above is similar to a model that J. G. Brill Co. of Philadelphia built in 1884 for Bogotá, and it is possible that Brill also supplied horsecars to Guayaquil. Brill order 951 of 11 January 1884 was for a tram of this type, 30 inch gauge, but the purchaser was not recorded. An 1890 inventory of Empresa de Carros Urbanos reported 1 open and 7 closed trams for use on vía angosta (narrow track), and 4 open and 10 double-deck cars for vía ancha (wide, standard gauge). Here is another picture of a Stephenson tram running in Guayaquil. [col. AM]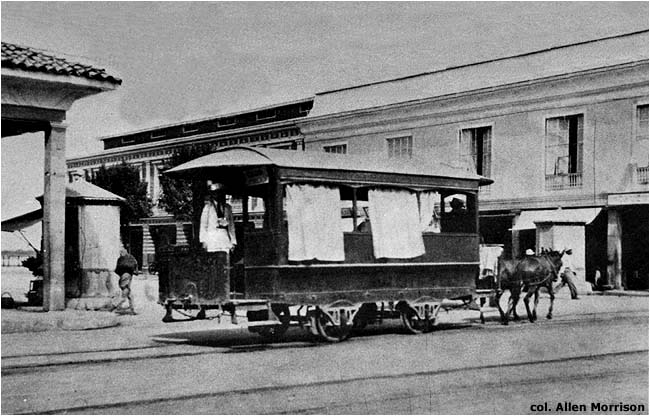 This funeral car is running on the 30 inch gauge track originally installed by Empresa del Salado. Both the hospital and the cemetery were located on Calle Julián Coronel, on the north side of town [see map]. [col. AM]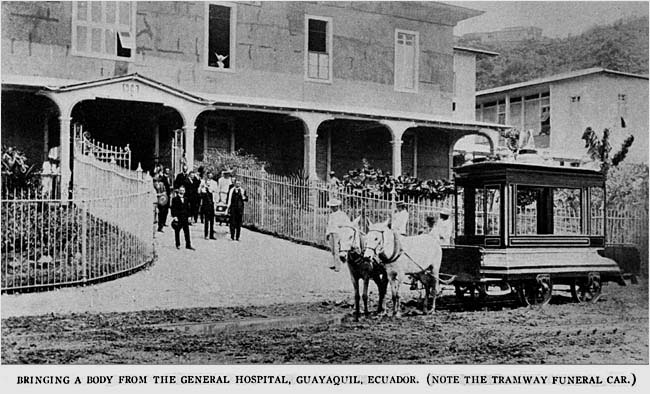 The photograph below was taken in 1884 at the Stephenson factory on 27th Street in New York, before the car was shipped to Ecuador. The ten double-deck trams were possibly numbered 3-12. [White, Horsecars: see BIBLIOGRAPHY]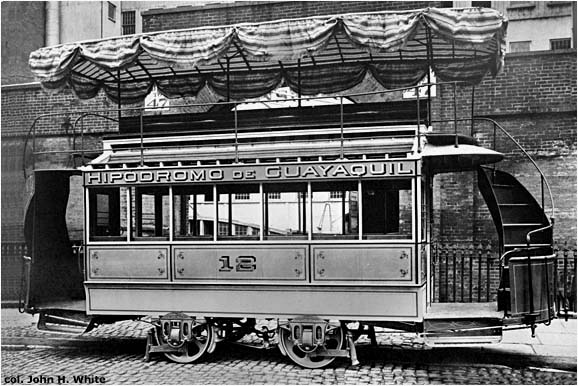 Most of the tram routes in Guayaquil were "circular" – down one street, return on a parallel street a few blocks over. ECU opened a standard gauge circular line on 5 November 1884 that went north along the Malecón (levee) to Plaza Colón, then returned on Calle Rocafuerte [see map]. The postcard below shows a double-decker on this line, at Calles Rocafuerte and V. M. Rendón. Merced Church in the background was badly damaged in a fire that destroyed much of the city in 1896. A smaller church stands on the spot today. [postcard, col. AM]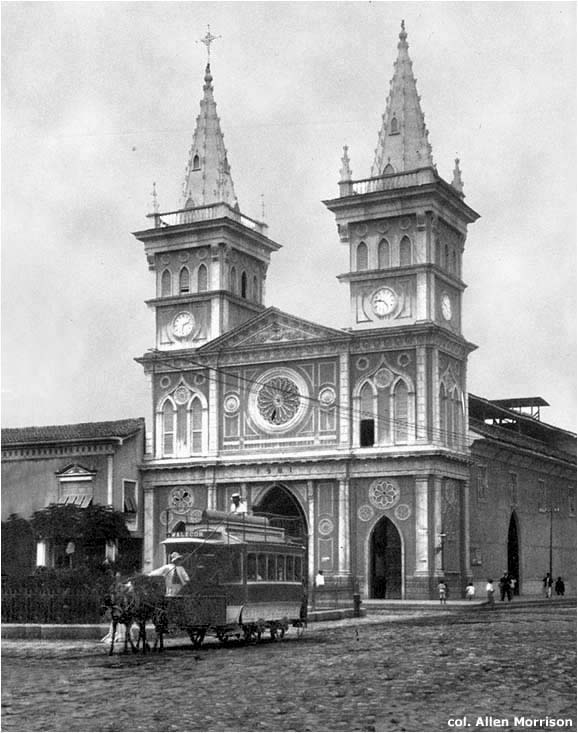 ECU extended its standard gauge line over Calles Chile and Chimborazo to the Hipódromo in 1887 and built a large tram depot on Calle Noguchi [see map]. The next postcard shows a pair of double-deckers passing the market on the Malecón. View is south. The rails closer to the water belonged to the Ferrocarril de Aduana: see below. [postcard, col. AM]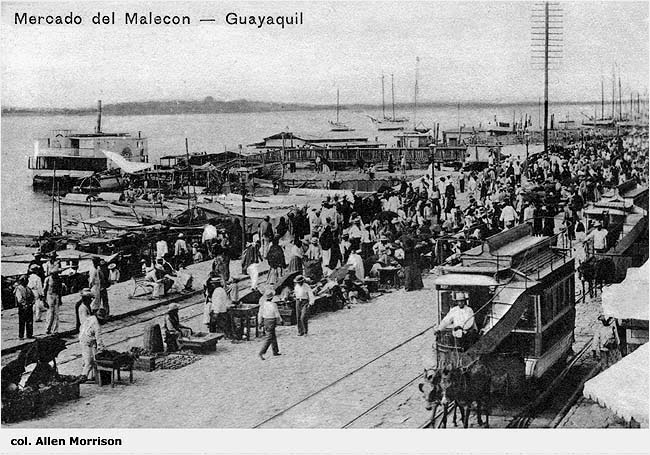 Ferrocarril de Aduana de Guayaquil was a steam-powered freight railway that ran along the waterfront, parallel to the tramway, from the center of town to the customs house near Plaza Colón [see map]. Operation began 1 April 1888 and track gauge was an odd 48 inches. This postcard shows one of its first locomotives, built in 1887 by H. K. Porter in Pittsburgh. [col. AM]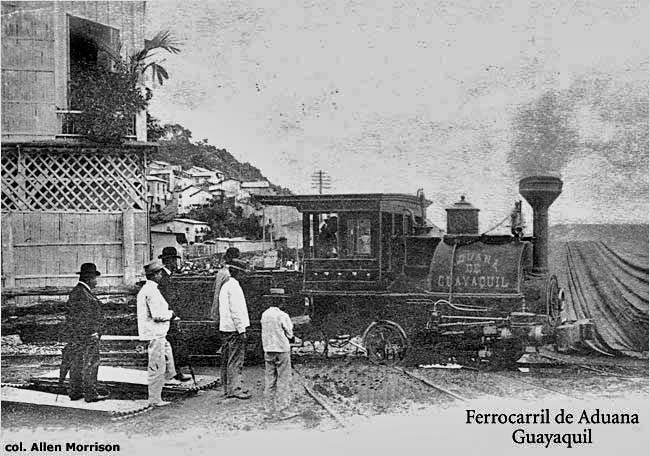 ECU began building horsecars in its shops in 1894 and by 1900 claimed 17 tram routes. In 1909, perhaps impressed by the steam operation on the Aduana railway, ECU decided to try the same on its lines and purchased 16 "steam dummy" locomotives – 12 from H. K. Porter in Pittsburgh and four from Orenstein & Koppel in Berlin. Here is an illustration from the Porter catalog of one of the engines that it built for Guayaquil. [col. Christopher Walker]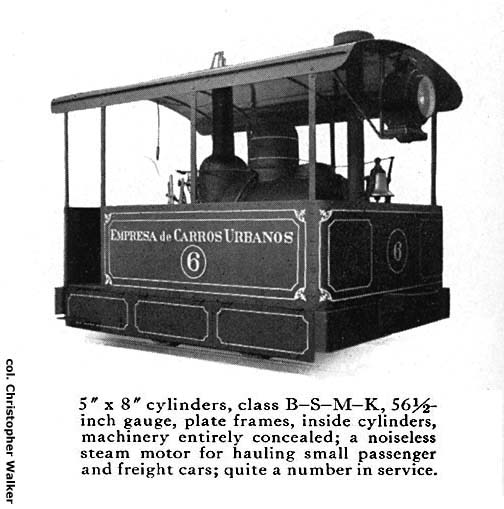 Locomotives replaced the horses on ECU's principal standard gauge lines. The public was happy to see fewer animals on the streets, but did not like hot, noisy, smoky locomotives running near their homes. Newspapers and magazines reported numerous accidents and complaints. The caption on this cartoon announces: "Another noisy new monster has arrived to puff through our streets" [Patria, Guayaquil, 3/1909]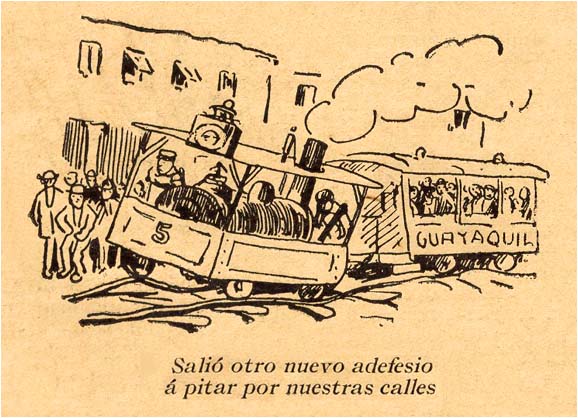 Meanwhile, a new company, Empresa de Luz y Fuerza Eléctrica, had been founded in 1904 to provided electricity to Guayaquil. ELFE obtained permission in 1906 to operate an electric tramway and ordered 10 electric cars from Ateliers Métallurgiques in Nivelles, Belgium. They were convertible models with removable sides. The first illustration shows one in summer mode, with sides removed [col. AM]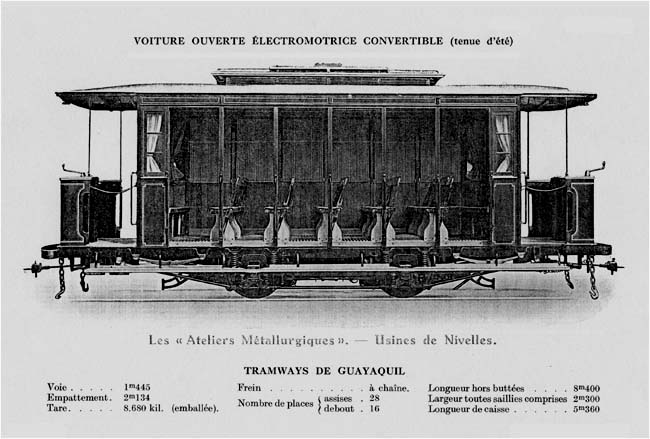 The second picture shows the same car prepared for cooler weather. It had a center aisle. [col. AM]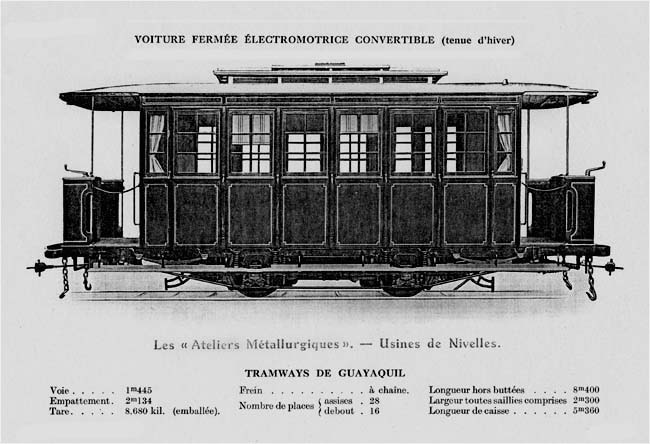 Empresa de Luz y Fuerza Eléctrica inaugurated electric tramway service in Guayaquil on 15 January 1910. The first route ran along Calles Chile and Eloy Alfaro to the ELFE shops at the south end of town [see map]. On 12 February ELFE opened another electric line that ran north along Rocafuerte to Plaza Colón, then south on the Malecón. [col. AM]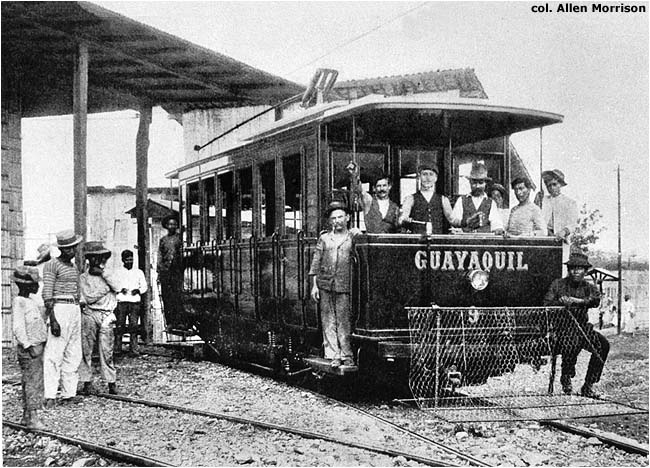 ELFE's third line, which opened on 30 April 1910, went west on Calles Sucre and Colón to Ejército, returned east on Vélez [see map]. These three circular lines – extending south, north and west – comprised the basic electric tramway network in Guayaquil for 40 years. The photograph below shows Belgian tram 2 signed "SUCRE - VÉLEZ". Its platforms have been enclosed. [col. AM]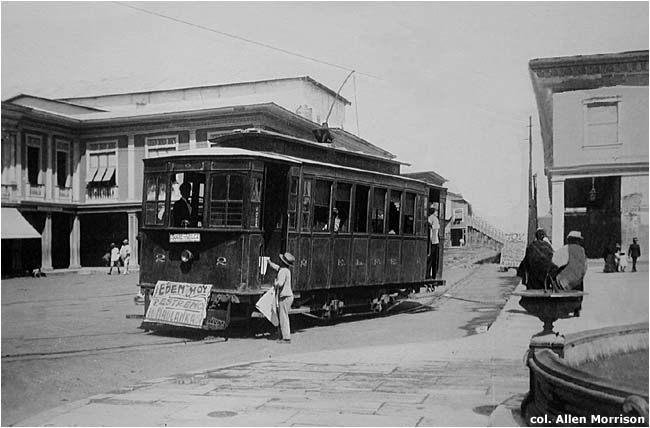 Here is another tram numbered 2. Is it the same one photographed at a later date – and after remodeling? [col. Roy Budmiger]: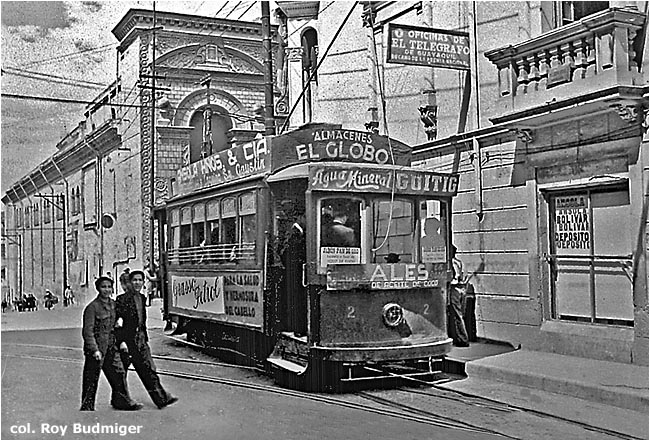 The public loved ELFE's electric cars – especially in comparison to the trams pulled by horses and steam locomotives used by ECU. However, judging from the sarcastic drawing below, electric tramway service was not always reliable: "Electricity! Nobody can resist the modern trolley!"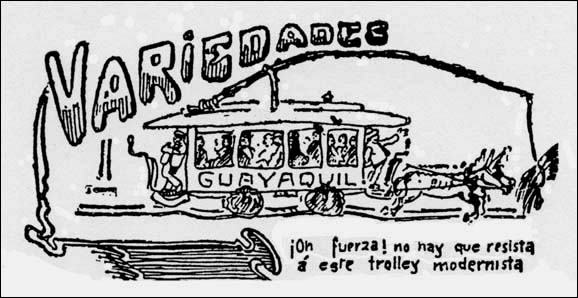 Collision between an electric tram traveling on Calle Vélez and an ECU steamer on Calle Chimborazo [see map]. [col. Antonieta Palacios]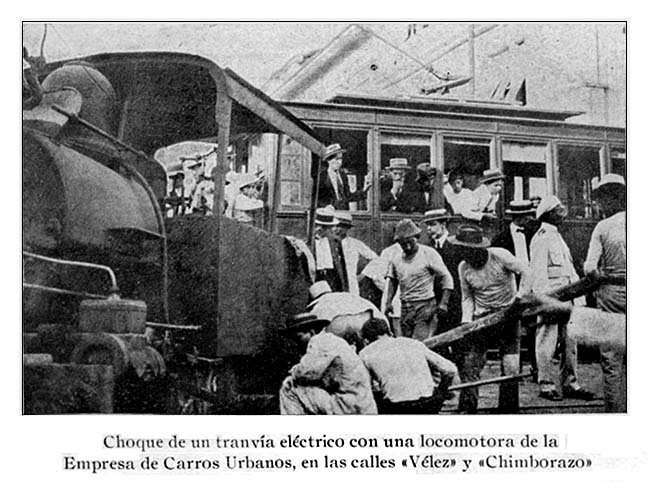 In 1916 ELFE ordered six more electric trams, numbered 11-16, this time from J. G. Brill Co. in Philadelphia. [Brill Magazine, May 1916]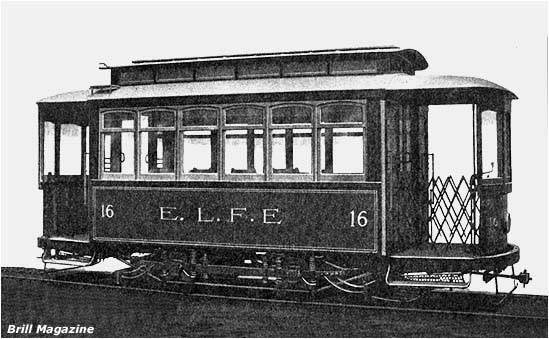 Interior view of the Guayaquil car above. [Brill Magazine, May 1916]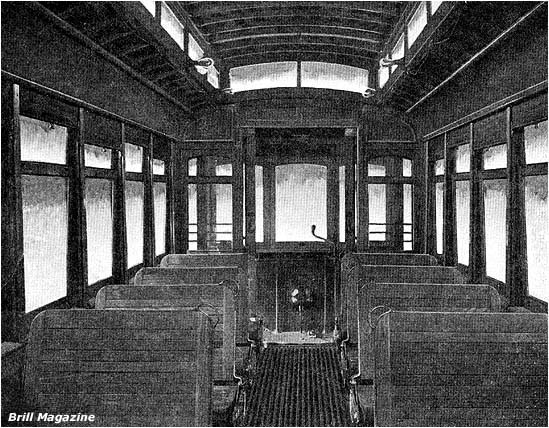 The postcard view below, taken in front of Universidad de Guayaquil on Calle Chile [see map], shows Brill car 15 after repainting. [col. AM]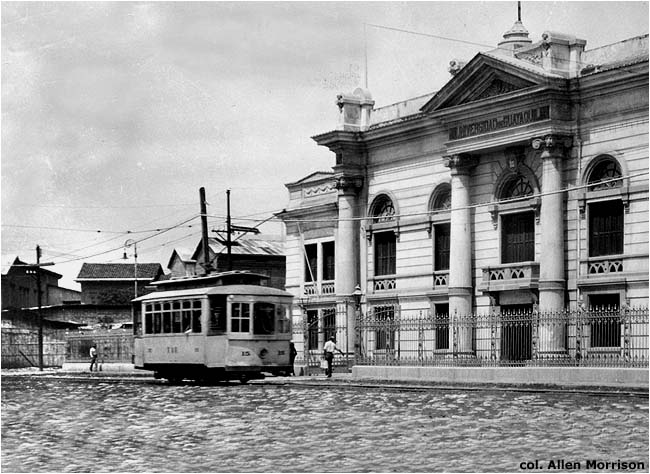 In 1918 J. G. Brill Co. received an order from "Guayaquil Tramways" for a vehicle powered by an electric battery. The photograph below shows the car that it built, but it is not known precisely which Guayaquil company ordered it – or where, when, or even if – the car ran in Guayaquil. Note battery compartment between the axles. [col. AM]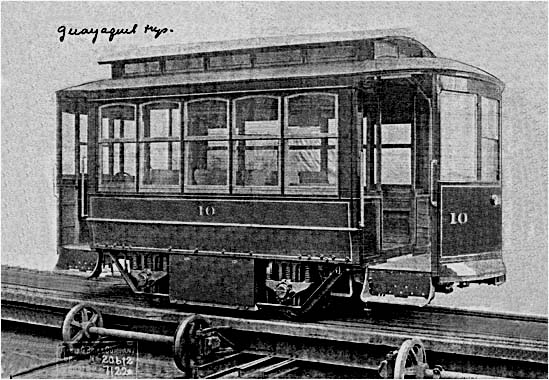 By 1920 there were tram tracks – of both narrow and standard gauge, for horsecars, electric cars and locomotives – on almost every street in central Guayaquil [see map]. There were four sets of tracks on the Malecón. Double-deck horsecars, electric trams and steam locomotives ran side by side. The first buses appeared on Guayaquil streets in 1922 and Empresa de Carros Urbanos began to close some of its horsecar lines. A few continued operation into the 1930s, some say until 1940.
In 1925 ELFE was acquired by the U.S. conglomerate Electric Bond & Share Co. ("Ebasco"), which split off the tramway operation into the new Compañía de Tranvías de Guayaquil. The McGraw Electric Railway Directory of 1927 reported 18 electric tram cars and 10 trailers running on 13 kilometers of track. In 1929 the new North American owners closed the Malecón-Rocafuerte route and imported a dozen "Birney" type cars from the system in Trenton, New Jersey, USA. Constructed by American Car Co. in 1919, the cars were altered from Trenton's 62 inch gauge to standard 56 1/2 inches for use in Guayaquil. The postcard view below shows one of them on Calle Pichincha [see map]. [col. AM]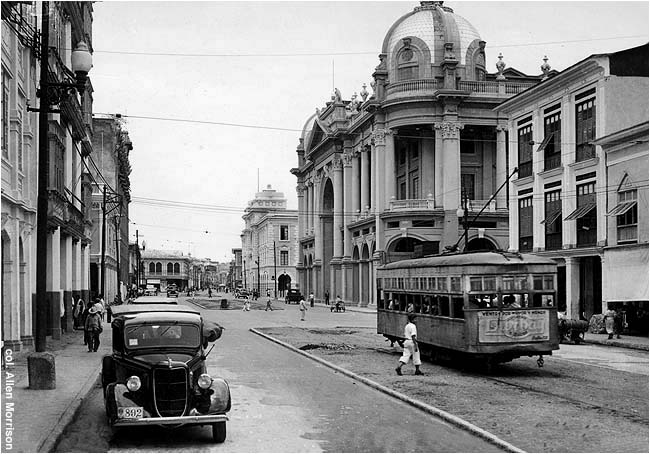 This aerial view shows an ex-Trenton car crossing Calle 10 de Agosto [see map]. The barely legible inscription on the sides of both the tram above and the tram below reads "TRANVÍAS DE GUAYAQUIL". [col. AM]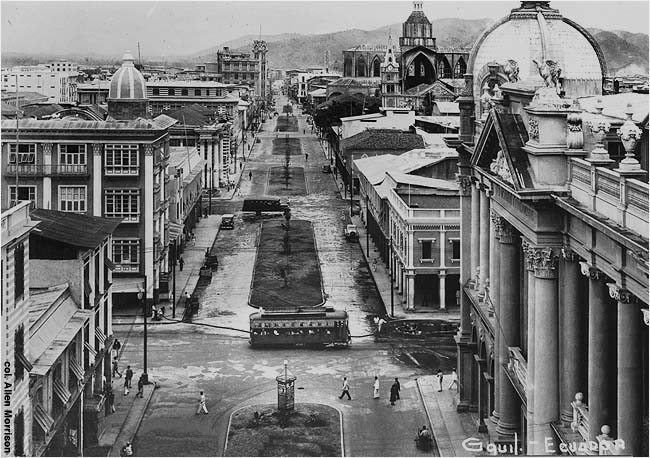 The World Survey of Foreign Railways of 1933 [see BIBLIOGRAPHY] reported 24 electric passenger trams and five freight cars running on 16 km of track in Guayaquil. An Industrial Reference Service article published in 1946 recorded 14.7 km of track on two lines, "Eloy Alfaro" and "American Park". The postcard view below is south across Parque Montalvo [see map]. The Birney car is traveling north. [col. AM]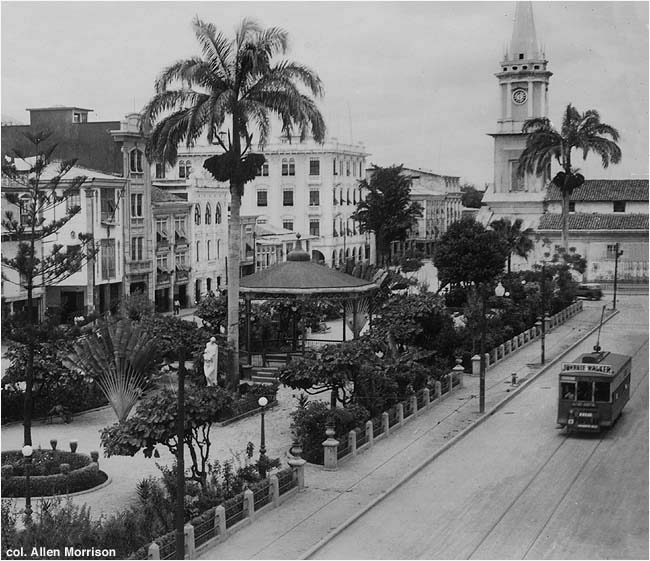 This poorly cropped 1940s view shows a well-traveled Belgian tram near the end of its line, literally and figuratively, at the electric plant on Calle Eloy Alfaro [see map]. The small curved inscription on the car's side reads "TRANVÍAS DE GUAYAQUIL". [postcard, col. AM]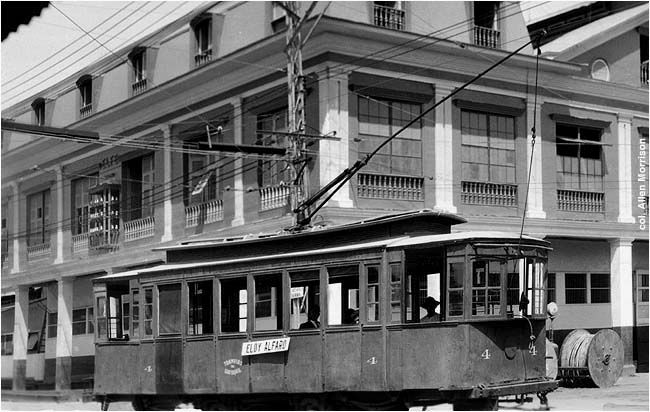 A Tranvías de Guayaquil ticket, date unknown. [col. AM]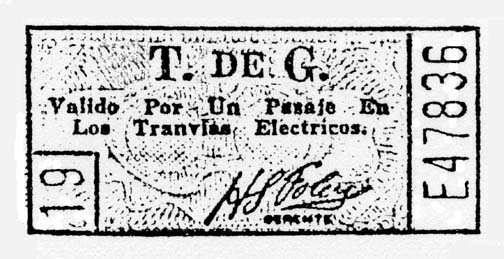 Guayaquil's horse- and locomotive-pulled trams disappeared in the 1930s and its last electric tram ran about 1950. The precise dates could not be found. Gasoline-powered buses have provided all urban transport since that time. In 2006 the city inaugurated a reserved-lane bus route along the river called Metrovía, which resembled the reserved-lane trolleybus line that had opened in Quito in 1996. Metrovía has since been extended throughout the city.
In 2007 the Banco Central del Ecuador sponsored the construction of a "historical park" on the peninsula in the Guayas River between the airport and Durán [see area map]. The Parque Histórico Guayaquil tries to recreate the city as it was 100 years ago, and has an operating horsecar line! The illustration below was borrowed from its nice website: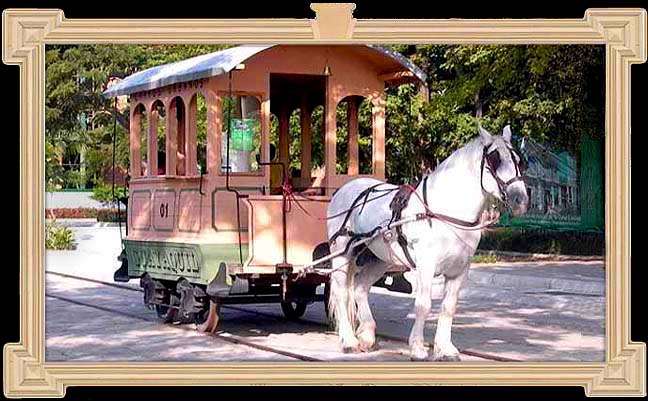 BIBLIOGRAPHY
(in order of publication)

William H. Brown. The History of the First Locomotives in America. 2nd edition, New York, 1874. A note on p. 241 of the "Street-Car Works" chapter notes trams built for Guayaquil by the John Stephenson Co. of New York. These must be cars constructed for the Salado line.
Plano de Guayaquil despés del Incendio del 5 de Octubre de 1896. Lima (Peru), n.d. Nicely drawn street map shows tram routes and areas of the city burned in the great fire.
Otto von Buchwald. Plano de Guayaquil. Guayaquil, 1903. Scale 1:5,000, size 26 x 44 inches. Magnificent street map with detail of tram tracks [!] and the Ferrocarril de Aduana.
Juan B. Ceriola. Guayaquil a la Vista. Barcelona, two editions: 1910 and 1920. Several large tram photographs in the 1910 edition (but not in the 1920 edition).
Informe del Presidente del I. Concejo Cantonal de Guayaquil Referente al Movimiento Administrativo durante el Año 1910. Guayaquil, 1911. Nice descriptions of the horsecar operation and the inauguration of the electric tramway, pp. 16-17.
"La Ciudad de Guayaquil" in Zig-Zag (Santiago de Chile), 1/6/1912. Feature article contains tram views found nowhere else.
"Equipment for Guayaquil, Ecuador" in Brill Magazine (Philadelphia), 5/1916, pp. 154-157. Long article about the six trams built for Guayaquil. Two photographs and two diagrams.
Contratos de la Empresa de Carros Urbanos con la Municipalidad de Guayaquil. Guayaquil, 1920. Statistics of track length and gauge, inventory of rolling stock, pp. 6-9.
Almanaque ilustrado ecuatoriano. Guayaquil, 1920. A full-page article entitled "Transporte Urbano" on p. 145 provides ample tramway history of the Salado, ECU and ELFE lines. The text notes locomotive operation by Ferrocarril de Aduana, but not by ECU.
America Libre. Plano de la Ciudad de Guayaquil. Guayaquil, 1923. Street map shows lines of both "tranvías eléctricos" and "tranvías urbanos" (drawn by animals or locomotives).
U.S. Bureau of Foreign & Domestic Commerce. Trade Promotion Series #39. Washington, 1927. Ecuador tramways, pp. 154-156. The new Empresa Eléctrica del Ecuador in Guayaquil.
Modesto Chávez Franco. Crónicas del Guayaquil Antiguo. Guayaquil. 1930. "El Salado – Chongón i Compañía", pp. 356-362" describes the Salado park and the tramway that went there.
Carlos A. Rolando. Obras públicas ecuatorianas. Guayaquil, 1930. A 346-page list of contracts, constructions, inaugurations and other events in Ecuador's development. Some items note tramway inaugurations and extensions.
U.S. Bureau of Foreign & Domestic Commerce. World Survey of Foreign Railways. Washington, 1933. Inventory and fleet report of Guayaquil tramway, p. 152.
U.S. International Trade Office. Industrial Reference Service, vol. 4. Washington, 1946. Ecuador section contains four paragraphs on Tranvías de Guayaquil.
John. H. White, Jr. Horsecars, Cable Cars and Omnibuses. New York, 1974. Reproduction of 107 photographs from the John Stephenson Company Album of 1888. Plate 71 is the double-decker shown on this page. The flat car marked "T. de G." shown in plate 5 may also have been built for Guayaquil.
Banco Central del Ecuador. Guayaquil de Ayer. Guayaquil, 1985. Picture album has nice tram views on pp. 108, 136, 137 and 138. Text and photo selection by Julio Estrada Ycaza [see below].
Desarrollo histórico de Guayaquil: la ciudad a través de sus planos. Guayaquil, 1987. Large folio with reproduction by Universidad de Guayaquil of 22 old city maps. Only a few show tram lines.
Milton Rojas M. Proceso urbano de Guayaquil 1870-1980. Quito, 1988. Nice history of urban transport, pp. 73-77. No pictures, but two charts of passenger traffic and tram routes.
Graciela García de Véliz. La transportación urbana en Guayaquil (1895-1990): realidad y perspectivas. Guayaquil, 1993. Three paragraphs on tramways, p. 14. The book's remaining 90 pages concern buses. The work is mentioned here only because of its misleading title.
Julio Estrada Ycaza. Guía Histórica de Guayaquil. Guayaquil, 1995.
"Los Transportes y El Astillero" in El Universo (Guayaquil), 17/3/1996. Large newspaper article. Tramway survey notes steam locomotives. Three illustrations.
José Antonio Gómez Iturralde. Diario de Guayaquil. Segundo Tomo: Siglos XIX al XX. Guayaquil, 1999. A chapter entitled "Transporte público: el pato feo" on pp. 241-249 is the best survey of Guayaquil tramway development that has been found. Documentation from newspapers of the period. One photograph.
Carlos Julio González L. Remembranzas de Guayaquil / Remembrances of Guayaquil. Guayaquil, 2006. Elegant picture album with several nice tram and locomotive views. See especially p. 18.
Efrén Avilés Pino, Melvin Hoyos Galarza. El libro de Guayaquil. Four volumes, [Ecuador], 2006-. Tomo 2: Independencia, República;
Tomo 3: Siglo XX. Magnificent, elegantly-produced set of four volumes, each a foot square and an inch thick. Extraordinary collection of old photographs and maps. A very impressive work. Brief description of "El Transporte Urbano" in Tomo 3, p. 26.
Del tranvía a la Metrovía, 126 años de avances in El Universo, 25/7/2007. "Pdf" download of a newspaper article: brief tramway history, map of the system in 1896, diagram of an electric tram, and information, drawings and map of the Metrovía, the city's new bus rapid transit line which began operation on 31/7/2006.
Parque Histórico Guayaquil. Website noted above. To see photographs of its operating horsecar, click "Mapa del sitio", then "Carros Urbanos" in the right-hand column, then "Galería".
In addition to the authors noted above, I wish to express my gratitude to John Rossman of New York, Christopher Walker of London, Roland Dussart Desart of Brussels, Harold Cox of Wilkes-Barre and Antonieta Palacios of Guayaquil for the valuable information that they provided.
Also see
The Tramways of Quito
See my index of
ELECTRIC TRANSPORT IN LATIN AMERICA
If you have comments, criticism or suggestions,
please e-mail me! Leo y escribo español.
This site was placed online on
15 June 2008
Copyright © 2008-2108 Allen Morrison
ALL RIGHTS RESERVED