The Tramways of
Havana Province

BY
Allen Morrison
Havana Central Railroad
Western Railway of Havana
United Railways of Havana
see separate pages on
Havana City (urban tram system)
Guanabacoa (La Prueba Railway, Cuban Electric)
Hershey Cuban Railway
In addition to its urban system, the Havana area had a network of suburban, interurban and long-distance rail lines, both steam-powered and electric. Some of the electric operations were simply along steam railroads. But three electric lines - to Guanajay, Güines and Matanzas - were completely new railways.
Steam-powered trains began carrying passengers from Villanueva station to Bejucal in 1837, from Fesser station to Guanabacoa in 1858, from Cristina station to Rincón in 1861, and from Concha station to Marianao in 1863 [see maps of Havana metropolitan area and Havana Province]. An animal-powered line between Regla and Guanabacoa was converted to steam power in 1884. After the Spanish-American War the English-owned United Railways of Havana acquired most of these lines and formed the largest rail empire in Cuba. American capitalists acquired the Guanabacoa line and the streetcar system in Havana and formed a new company, Havana Central Railroad, on 4 April 1905.
HCRR ordered 20 interurban trolley cars from Wason in Massachusetts and opened an electric railway from the Havana waterfront to Guanajay, 50 km southwest of the capital, on 12 November 1906. This was a completely new railroad. (A steam line reached Guanajay via Rincón: see map.) The English and the Americans competed for control of Havana harbor and URH forced HCRR to build an elevated line over its piers. That structure is still there today [pc, col. Christopher Walker]: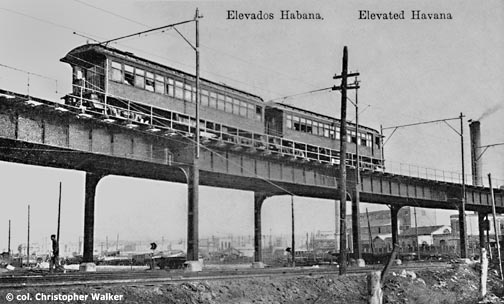 (Havana Electric Railway built an elevado farther north in 1904, which was dismantled in 1940.)
Unlike the local streetcars in Havana and Guanabacoa, the Havana Central vehicles used a single trolley pole and wire. The photograph below appeared in a United Railways of Havana brochure published in 1914 [see text and BIBLIOGRAPHY below]: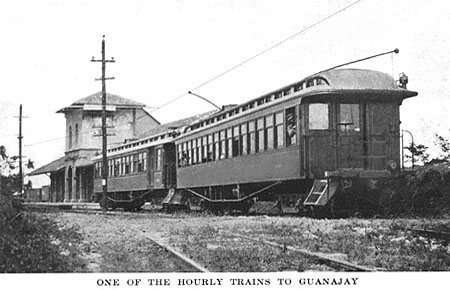 Havana Central Railroad opened a second line to Güines, 56 km southeast of the capital, on 16 March 1907. This also was a completely new railroad (Güines was also served by a steam line via Rincón: see map). Here is one of the 20 Wason/General Electric cars on the Güines line [Electrical World, New York, 15 April 1909, p. 912]: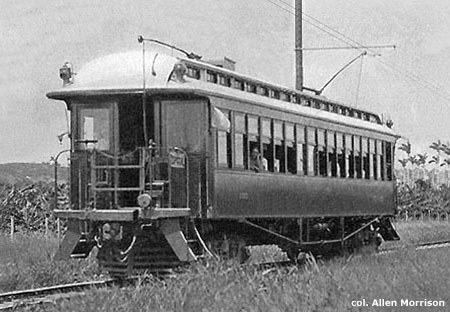 The rare postcard below shows a two-car train at Güines station. Havana Central's electric line continued another 5 km along the tracks on the left to a sugar mill at Providencia [col. AM]: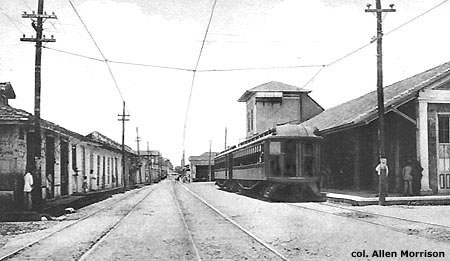 The U.S. stock market crash of 1907 gave the English their chance. United Railways purchased 51% of the stock of Havana Central Railroad and thereafter controlled all the rail lines in the Havana area except the Havana Electric Railway streetcar system. It operated the Havana Central lines as a separate division and kept that name on its cars. The photograph below, from a 1908 United Railways brochure, shows a festive group on Havana Central car 100 at the Providencia sugar mill [see BIBLIOGRAPHY below]: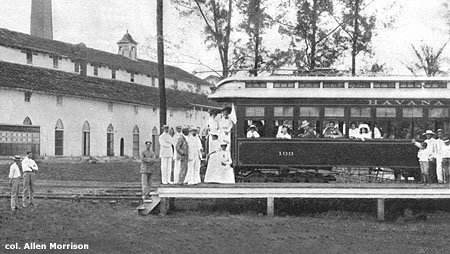 Havana Central also operated ten 40-ton locomotives built for it by General Electric. Transporting sugar cane, tobacco and pineapple from Cuba's rich farm lands to the docks on Havana Bay constituted a large part of its business [Tramway & Railway World, London, 1 April 1909, p. 243]: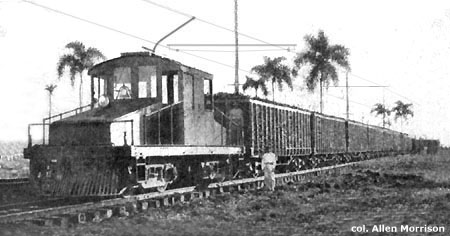 In 1910 United Railways ordered a fleet of 15-window vehicles from American Car & Foundry and electrified its steam line from Concha station to Marianao [see map]. The illustration below appeared in a 1912 United Railways brochure [see BIBLIOGRAPHY below]: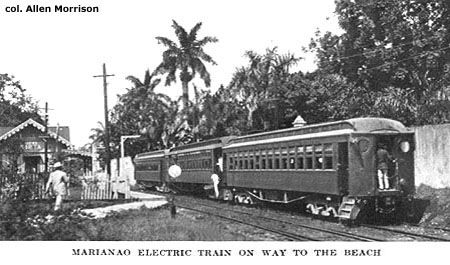 Central Station (Estación Central) opened on the harbor in 1912. Villanueva station closed and the steam railroad tracks were cut back to the corner of Zanja and Galiano streets [see map]. United Railways ordered three double-truck battery-powered cars from Federal Storage Battery Co. in New Jersey and inaugurated battery train service from Galiano St. to Ciénaga on 8 January 1913. This was the first known use of battery-powered trams in Cuba [see photo]. It was not successful and the vehicles were transferred to the San Antonio line [see below]. United Railways carved a tunnel under Calle Reina and extended its Marianao electric line to Galiano St. in early 1914. In June 1914 Western Railway of Havana, another United subsidiary, electrified its steam line to Rincón, 20 km south of Havana. (This was not the 1837 route to Rincón, which was never electrified; Western Railway ran parallel, a few kilometers east; see map.) Here is a Rincón train on Calabazar Bridge about 15 km south of the capital [col. AM]: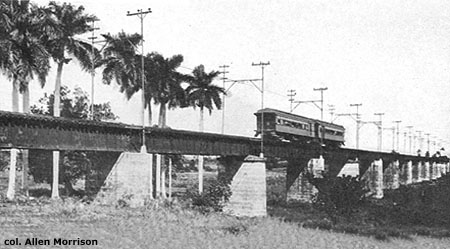 Using the three vehicles purchased for its Galiano-Ciénaga operation, United Railways inaugurated battery tram service on a 14-km extension of the Rincón line to San Antonio de los Baños in October 1914 [see map]. The photograph below appeared in a 1914 United Railways brochure [see BIBLIOGRAPHY below]. Note the battery compartment between the trucks - and compare this photograph to the last photograph on this page, taken at the same spot 74 years later!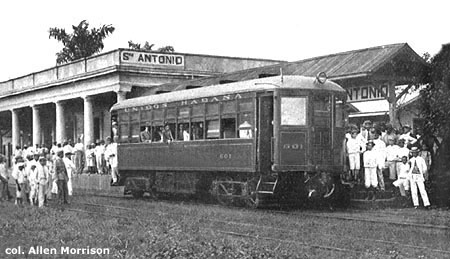 By 1915, United Railways operated electric vehicles with trolley poles on five routes [see maps of Havana and Havana Province]: from the corner of Zanja and Galiano streets to Marianao, from Central Station to Guanajay, Rincón and Güines, and from Agua Dulce to Naranjito. It also operated local tram services in Marianao and battery-powered trams from Rincón to San Antonio de los Baños. And it controlled the electric streetcar system in Guanabacoa, which ran a line west to Agua Dulce.
In 1923 United Railways of Havana, renamed Ferrocarriles Unidos de la Habana, ordered steel trolleys like 871 from Wason [Brill Magazine, Philadelphia, November 1924, p. 208]: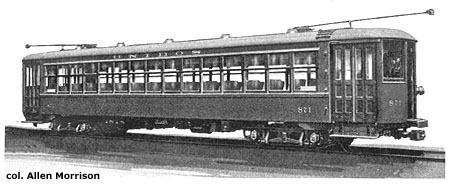 Here is a 1924 view of a "Unidos" freight train on a street near the Estación Central. The G.E. locomotive seems to be the same type as in the 1908 photo above [col. Christopher Walker]: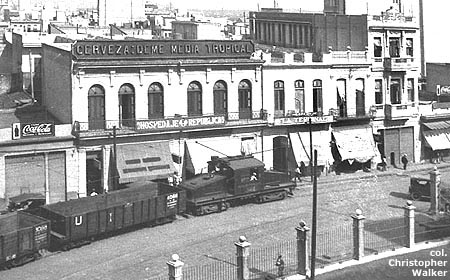 The decline of tram operation in Cuba, as elsewhere, began with the Depression. The timetables reproduced below, published in 1914 (left) and 1929 (right), show the reduction of service on the electric lines to Guanajay, Güines and Rincón, and on the line from Regla to Guanabacoa [Cuba Review, New York]: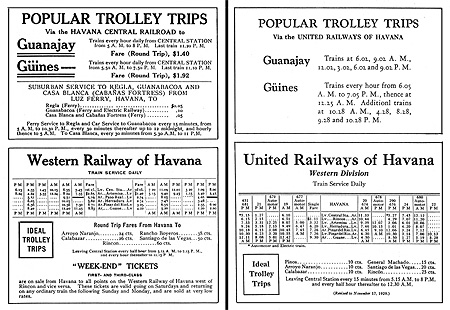 The Guanajay and Güines lines were de-electrified in 1939 and the Rincón line reverted to steam traction in 1940. During the 1940s United Railways operated a special service for its employees: every morning a steam locomotive and passenger car brought them from Concha station to its Ciénaga shops; the little train took them back at night. On 24 July 1953 the remaining long-distance operations of Ferrocarriles Unidos were renamed Ferrocarriles Occidentales de Cuba.
Today, the Guanajay and Marianao lines have disappeared, but diesel-powered railcars still run on the former interurban tracks from Havana to Güines. They also still run on the interurban tracks to Rincón - although that line now terminates at José Martí International Airport, which was built just north of Rincón. Diesel trains also run on the 1837 steam line to Rincón, which has been diverted around the airport. The photograph below shows a "Gas-Car" at San Antonio in 1998 [Bruce Russell]. Compare it to the earlier photograph of the battery-powered tram at the same spot in 1914!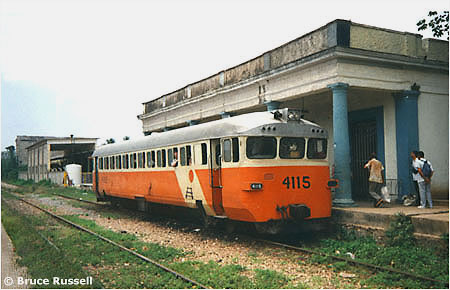 In 2004 Daniel López traced the abandoned right-of-way of the Zanja-Marianao electric railway which had closed in 1940. [The 6th photograph above shows a train on this line.] The stations are gone, but some of the track is still intact! He took the following pictures of the trestle over the Almendares River [see map], which separates the cities of Havana and Marianao [Daniel López]: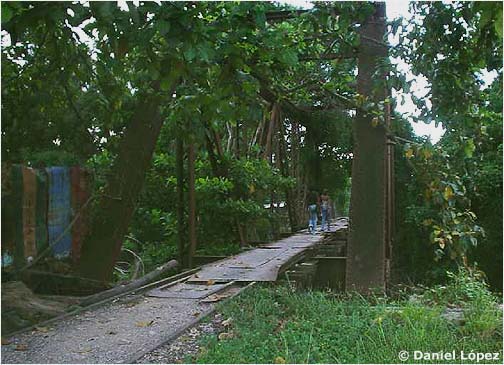 The view below was taken on the bridge, looking in the other direction [Daniel López]:
BIBLIOGRAPHY (in order of publication)
United Railways of Havana. Cuba: A Winter Paradise. 1908-1909, 1912-1913, 1914-1915 and 1915-1916 editions. New York, 1908, 1912, 1914 and 1915. Maps, photos and descriptions of suburban and interurban electric lines.
"Electric Traction in Cuba". Tramway & Railway World (London), 1 April 1909, pp. 243-244. Map, photos and description of Havana Central Railroad.
"The Havana Central Railroad." Electrical World (New York), 15 April 1909, pp. 911-912. Text, 4 photos.
"Three-Car Storage Battery Train." Electric Railway Journal (New York), 28 September 1912, p. 501. Photo and description of Cuban battery cars.
"Storage Battery Train for Havana." Electric Railway Journal (New York), 4 October 1913, pp. 629-631. Problems on the Havana line.
Long, W. Rodney. "Railways of Central America and the West Indies". U.S. Bureau of Foreign & Domestic Commerce. Trade Promotion Series no. 5, Washington, 1925. Data, maps, descriptions of Cuban railways, pp. 157-282.
United Railways of Havana/Ferro-Carriles Unidos de La Habana. Time Tables of Passenger Trains/Itinerarios de Trenes de Viajeros. Havana, 15 November 1936. Schedules and maps of electric lines.
Zanetti Lecuona, Oscar. Caminos para el azúcar. La Habana, 1987 [published in English as Sugar & railroads: a Cuban history, 1837-1959. Chapel Hill and London, 1998]. The best history of Cuban railways.
Berta Alfonso Gallol. Los Transportes Habaneros. Estudios Históricos. La Habana, 1991. The definitive survey (but no pictures or maps).
José Altshuler. "Impacto Social y Espacial de las Redes Eléctricas en Cuba." Scripta Nova (Universidad de Barcelona), 1 April 1998. Online text describes the development of electricity in Cuba.
José Altshuler. Etapas de la electrificación en Cuba. Continuation of the article above.
return to

INTRODUCTION & INDEX MAP
Copyright © 2002-2102 Allen Morrison - ALL RIGHTS RESERVED