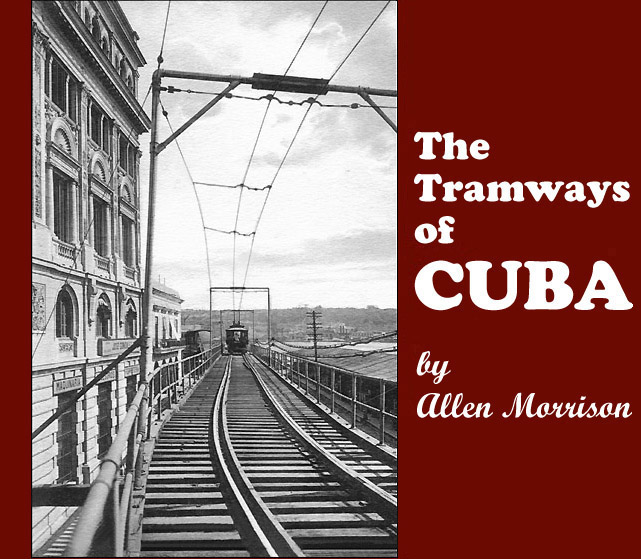 This website is part of my series on the tramways of Latin America. The Tramways of Brazil and The Tramways of Chile were published (on paper) in 1989 and 1992. The Tramways of Cuba was uploaded to the Internet in 2002, The Tramways of Mexico in 2003, and The Tramways of Peru and The Tramways of Haiti in 2004, and The Tramways of Bolivia in 2005. A new page about Cuban Tram Stamps was also added in 2004. A "tramway" is a passenger railway that provides frequent service in an urban area.


Cuba has an extraordinary railway history. It had one of the world's first railways: the steam line that opened between Havana and Bejucal in 1837 predates rail operation in all other countries of Latin America, Asia, the Orient and most of Europe - including Spain, of which Cuba was then a colony. Steam locomotives still ply Cuba's sugar plantations today. It had one of the world's first animal-powered railways: the line that opened in 1843 between Regla and Guanabacoa was one of the first of its kind and became Cuba's first electric railway 57 years later. Havana built an urban street railway in 1858, before any city in Europe except Paris. On the other hand, one of the oddities of Cuban rail history is that, except on a few plantations and in Camagüey, it never built animal railways anywhere else. None of its other cities had horsecar lines. (The Camagüey cars were used to smuggle guns and ammunition from New York!) In the early 20th century six cities built electric tramway systems that used overhead wire: Guanabacoa, Havana, Santiago, Camagüey, Matanzas and Cienfuegos. Five cities used storage batteries to power their streetcars: Havana, Cienfuegos, Cárdenas, Matanzas and San Antonio de los Baños. The Guanabacoa and Havana trolley systems were among the very few in the world that used twin trolley poles. Havana also had a suburban trolley network that used single poles. The Hershey railway between Havana and Matanzas used both trolley poles and pantographs. All tramways in Cuba used the same 1435 mm gauge. All but one had discontinued electric service by 1954: the Hershey line still runs today and attracts rail enthusiasts from around the world.
Click on the NAME of a place
for a description, map and photos
of its tramway lines: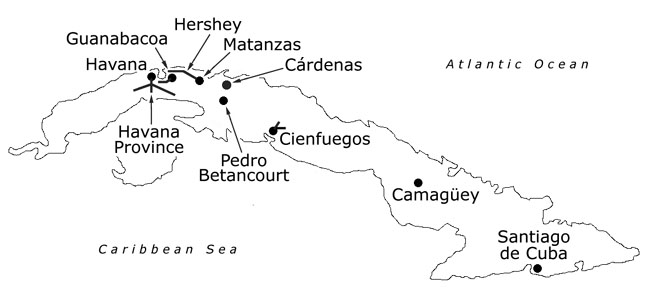 The Camagüey page also has a Spanish version.
La página de Camagüey tiene una versión en español.

NOTE
In February 2004 Correos de Cuba (the Cuban Post Office) issued a series of postage stamps that commemorate Cuba's tramway heritage. All the illustrations on the stamps were taken from this website. See Cuban Tram Stamps (Spanish version: Los Sellos Cubanos de Tranvías).
This website was originally launched on
22 August 2002
Please send comments, corrections & suggestions to
Allen Morrison
Also please see my pages on
The Tramways of Mexico,
The Tramways of Bolivia
and
The Tramways of Peru
and visit my website about
Electric Transport in Latin America
Copyright © 2002-2102 Allen Morrison - ALL RIGHTS RESERVED