The Tramways of
GUANABACOA
BY
Allen Morrison

This small city 4 km east of Havana Bay [see map] had Cuba's first animal-powered railway and also its first electric line. The story began in a coal mine.
The Prosperidad (Prosperity) mine near Guanabacoa needed a way to transport its coal to Havana, so in 1842 the Empresa de Vapores de Bahía, which operated ferryboats on Havana Bay, began construction of a railway from its dock in Regla. By the time the 4 km line reached Guanabacoa the following year, the mine had dried up, so it was extended into town for passenger service. Since it passed a fairgrounds and recreation area called Circo La Prueba, the EVB called its railway Ferrocarril La Prueba. Where EVB acquired its passenger trams and exactly when they began carrying passengers is unknown - but in any case this was doubtless the first passenger tram service in Cuba and one of the first in the world. FLP's original wood rails were replaced by iron rails in 1848.
In 1858 a steam railroad penetrated Guanabacoa's south side - a branch of the Matanzas line of the FC de la Bahía de la Habana [see map]. EVB's successor, the Primera Empresa de Vapores de la Bahía, extended the FLP to the railroad station and replaced its mules with small steam locomotives in 1884. An 1891 advertisement for the John Stephenson Company of New York indicates that it built FLP's passenger cars, but no photograph showing them could be found. However, the illustration below shows both sides of PEVB's token. José Cabrero was the company's director.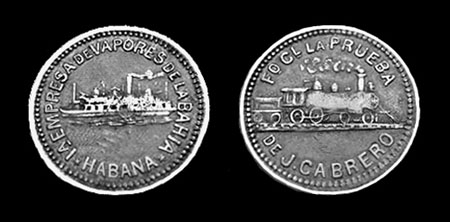 On 16 January 1899, shortly after the end of the Spanish-American War, PEVP's railway and ferry service were purchased by the Cuban Electric Company of New Jersey, USA. CEC ordered four large 10-window electric streetcars with Eureka maximum traction trucks from J. G. Brill in Philadelphia [photo from the SRJ article cited below]: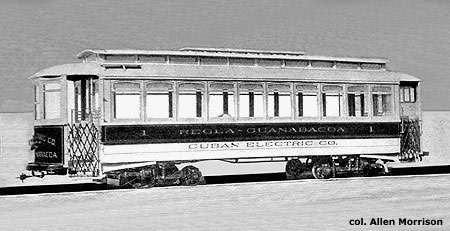 CEC electrified the Regla-Guanabacoa railway with double trolley wires. The twin-pole system was chosen "because the military governor objected to the usual American system of a single trolley wire, necessitating the return circuit being completed through the rails" [quoted in the EW&E article cited below]. Had the governor observed the twin-pole trolley system in nearby Key West, Florida? In any case, the twin-pole system in Guanabacoa preceded the twin-pole system in Havana by 12 months, and in succeeding years Cuba's two twin-pole trolley systems remained among the very few in the world. The photograph below shows the inauguration of Cuba's first electric railway on 9 March 1900 [illustration from the EW&E article]: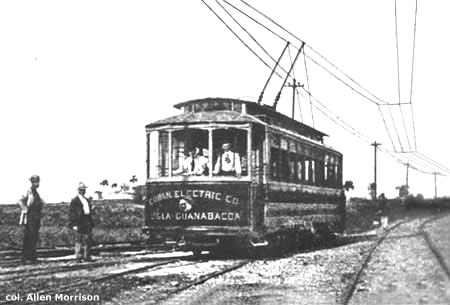 Track gauge remained 1435 mm and CEC used FLP's Stephenson cars as trailers. In 1907 CEC sold its tramway to the Havana Central Railroad, which had just constructed interurban lines to Guanajay and Güines. HCR opened a new line along Av. Corral Falso to La Jata in 1909 and ordered ten new cars (similar to the first four) from Brill in 1910. Later that year it also electrified the 1858 steam line to Fesser, via Guanabacoa's south side [see map]. Havana Central Railroad was controlled by United Railways of Havana.

The photograph below shows electric tram number 14 at the "F.C.U." (Ferrocarriles Unidos) station in Guanabacoa. Signs on both the front and side identify the route: "Regla - Guanabacoa" [col. AM]: