The Tramways of
MARACAIBO
Venezuela
BY
Allen Morrison
Maracaibo is the capital of Zulia state in the oil-rich western part of Venezuela that borders Colombia. Its 2.2 million residents in 2005 made it the nation's second most populous city after the capital, Caracas (3.6 million). Short railroads served the ports on the Gulf of Venezuela and Lake Maracaibo [see area map], but there was never a rail connection between Maracaibo and the federal capital or with neighboring Colombia. Maracaibo was the second Venezuelan city, after Caracas, to have a tramway system.
The Tranvía de Maracaibo, organized in 1883 and known officially as the Empresa El Cojo, inaugurated a 3.2 km tram line to Los Haticos on 5 October 1884 [see city map]. Its first cars were built by the John Stephenson Co. in New York [col. AM]: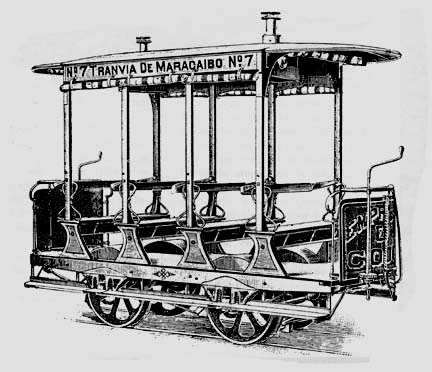 Venezuelan trams – both animal-powered and electric – were often very narrow. Track gauge was also very narrow: 762 mm / 30 in. The line on Calle de Venezuela, called Calle 95 today, went to the cemetery [see map]. [postcard, col. AM]: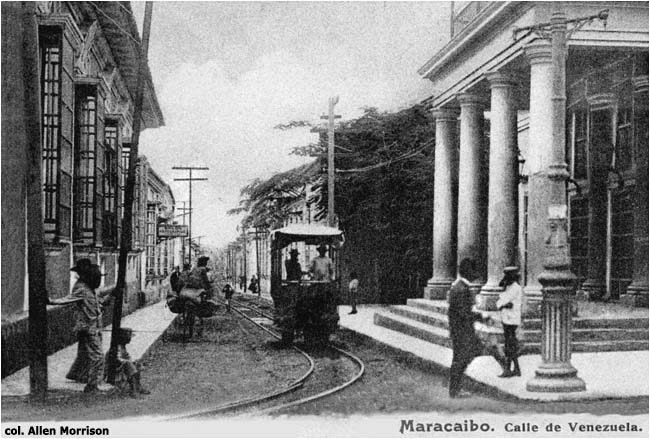 A new line opened to Empedrado in 1886, and in 1891 the Compañía de Vapor de Bella Vista inaugurated a steam-powered tramway to Bella Vista [see map]. This postcard shows its terminus on Lake Maracaibo [col. AM]: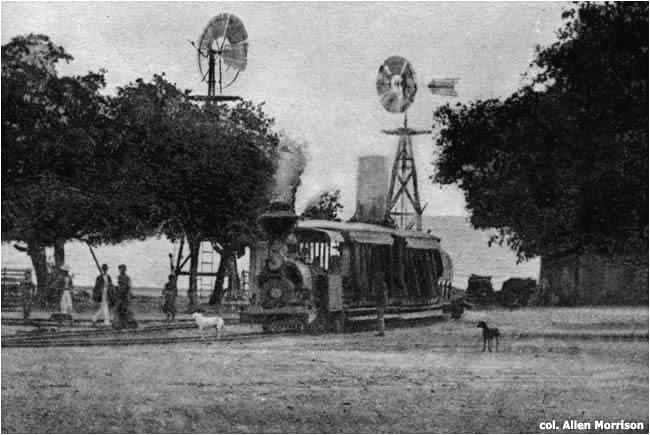 Caracas ran its first electric tram in 1907 and Maracaibo wanted the same. The cartoon below appeared in a local magazine in 1911: "The key to the future is the dynamo. No more asphyxiating smoke. No more anemic animal power. The electric rail is a marvel of progress!"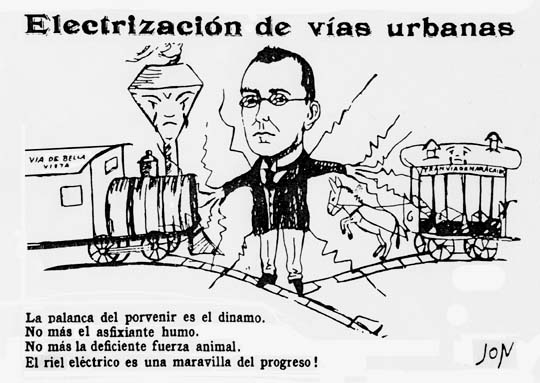 Tranvía de Maracaibo ordered a battery-powered tram from Jackson & Sharp Co. in Wilmington, Delaware, in January 1915 and the city's first "electric" tram began carrying passengers to Los Haticos the following May [see map]. Here it is about to splash across Plaza Baralt [postcard, col. AM]: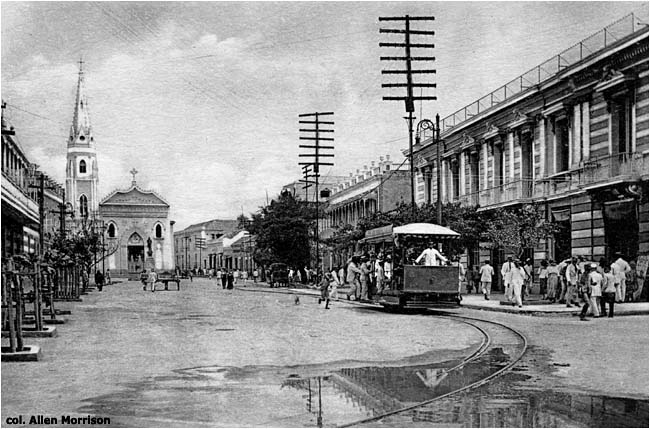 Tranvía de Maracaibo ordered more battery trams from J&S later that year. This one is traveling west on Calle del Comercio, called Calle 99 today [see map] [postcard, col. AM]: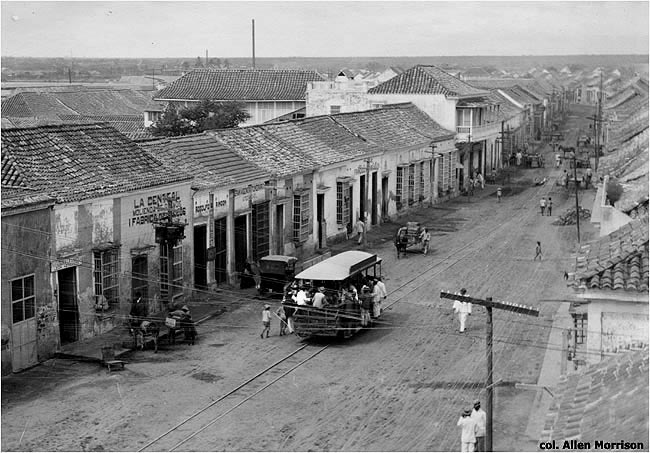 The Bella Vista steam tramway company renamed itself Empresa Tranvía Eléctrico de Bella Vista and, on 28 July 1916, ordered four electric trams, with 10 benches and 8 wheels, from J. G. Brill Co. in Philadelphia. These were genuine trolley cars that drew power from overhead wire. The picture below, taken at the Brill factory, shows the first real electric tram built for Maracaibo [col. AM]: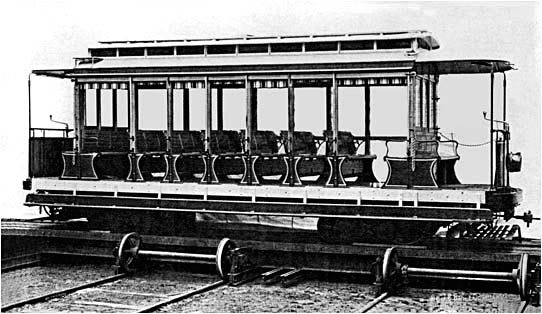 ETEBV inaugurated the city's first genuine electric tram line on 18 May 1917. In this view of ETEBV car 3, the words "Bella Vista" are barely legible below the headlight [postcard, col. AM]: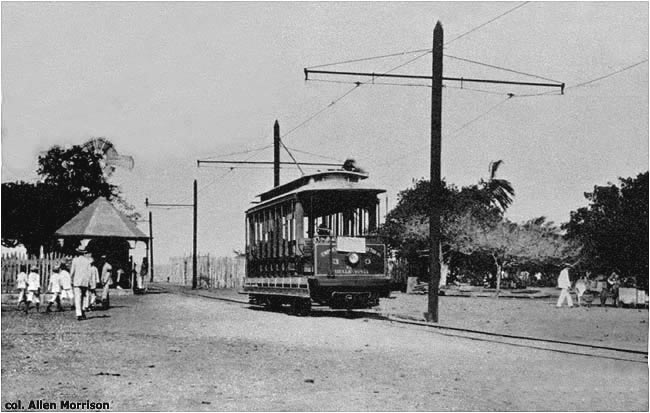 Tranvía de Maracaibo, reformed as Empresa Tranvías Eléctricos de Maracaibo, ordered ten smaller electric trams from Brill on 23 June 1920. They had a single truck (4 wheels) and only 8 benches. This photograph of car 1 was taken at the factory in Philadelphia. Note the order number, 21160 [col. AM]: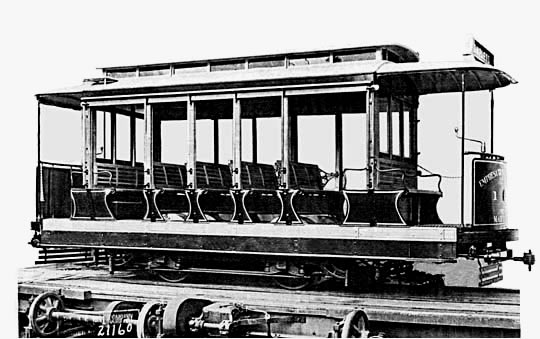 ETEM opened the city's second tram line with overhead wire, from Los Haticos to El Milagro, in late 1920 [see map]. This postcard shows ETEM car 3 in Los Haticos [col. AM]: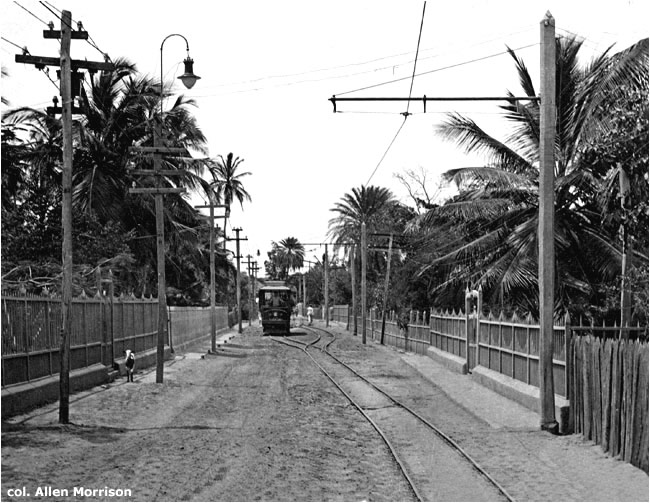 A detail of the previous view. This may be the terminus in Los Haticos [see map] [col. AM]: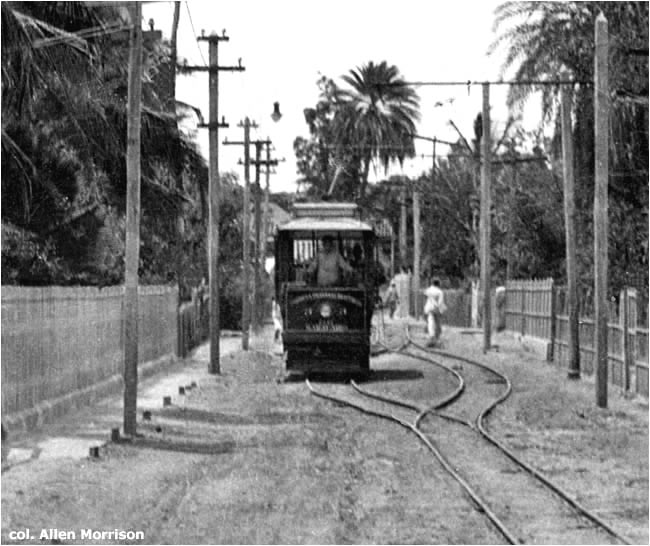 The next postcard view shows ETEM tram 7 somewhere in the city center [see map]. [col. AM]:
This postcard shows the northern end of the line at El Milagro [see map]. [col. AM]: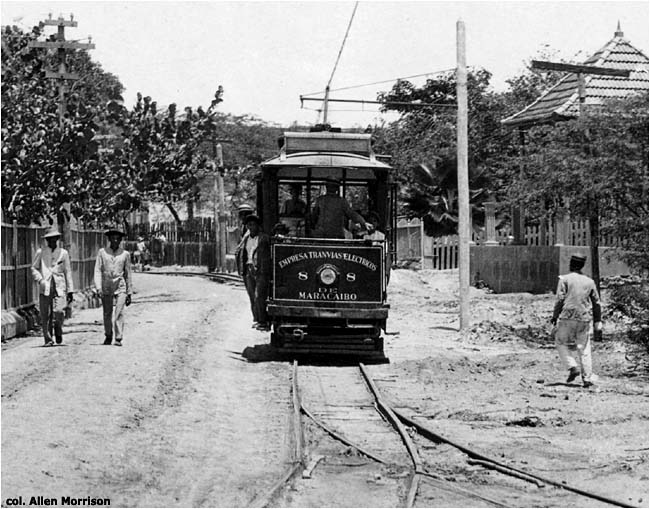 The postcard below shows cars 6 and 7 at El Milagro terminus [see map]. This is the reverse angle of the view above. Note the same track switch in the foreground. The fence on the right is on the left above [col. AM]: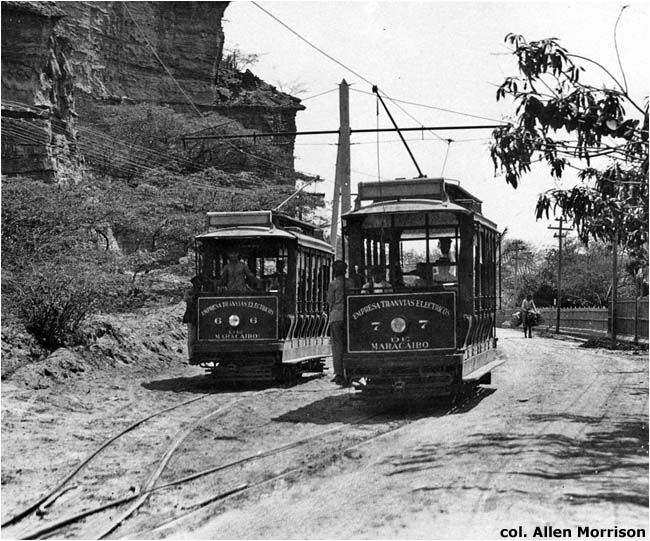 The junction of Avenidas El Milagro and 5 de Julio in March 2012 [see map]. It is believed that this photograph shows the location of the last two tram views – 90 years later. That's Lago de Maracaibo in the distance [Ed Mattos]: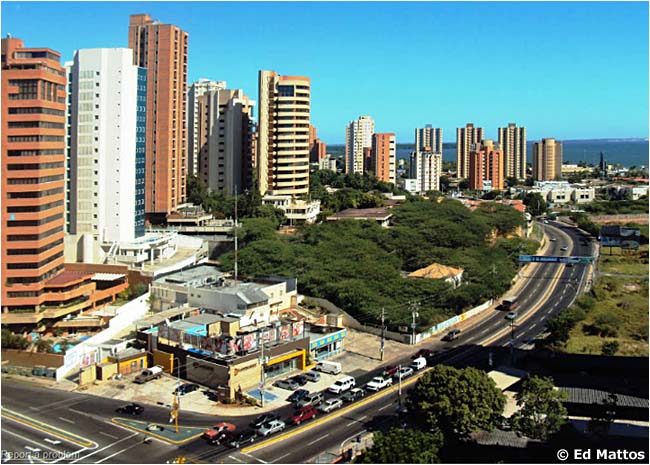 A third electric tramway company, Empresa de Tracción y Fuerza Eléctrica, ordered five 8-bench cars from Brill in 1924 and inaugurated the city's third electric tramway system in November 1925. The line formed a large loop around Las Delicias and El Paraíso on the west side [see map]. Photographs of ETFE equipment taken at the Brill factory show both 2- and 4-axle vehicles similar to those shown above. No pictures of ETFE trams running in Maracaibo could be found.
The city's three tramway companies, ETEBV, ETEM and ETFE, continued to order rolling stock from Brill until 1928, and each purchased both 2- and 4-axle cars. A 1933 survey reported 36 electric trams running on 41 km of track in Maracaibo. Track gauge of all lines was 762 mm / 30 in, but it is not known if the three networks were ever joined. Both the Trade Promotion report of 1927 and the 1933 survey [see BIBLIOGRAPHY, below] state that all three tramways were "owned by a stock company controlled by Joshua da Costa Gómez" and the 1933 text adds that all three companies were Dutch – a fact that suggests an alliance with one of the Dutch oil firms active in the area and the Netherlands Antilles nearby.
Maracaibo's entire tramway network disappeared abruptly in 1934. Some cars had run as little as six years! The disposition of the rolling stock is unknown. It does not seem to have been transferred to tramway systems in Caracas or Valencia, where track gauge was 1067 mm / 3 ft 6 in. (The tramways in Carúpano and La Guaira had closed in 1933.)
Sixty-five years later . . . construction began in 1999 on a "light metro" system that will serve newly-developed areas in the western and northern parts of the city. The first section to open, in 2007 or 2008, will run from Altos de la Vanega east along Av. Sabaneta (Calle 100) to Libertador, at the edge of the old commercial center [see area map and city map]. The second section, north along Av. 15 Delicias, will duplicate part of the former Las Delicias tram line . . .
BIBLIOGRAPHY
(in order of publication)

"Plano de la Ciudad de Maracaibo" dibujado para El Zulia Ilustrado por M. S. Soto. Maracaibo, 1889. Early street map shows mule tram lines to Los Haticos and Empedrado.
"Plan of the City of Maracaibo, Venezuela, May, 1908." Large U.S. Government street map based on maps published in El Zulia Ilustrado (Maracaibo) shows four mule car lines.
"Tranvías de Maracaibo" in El Zulia Ilustrado (Maracaibo), 31/7/1889, p. 68. Description of mule tram lines.
C. S. Hammond & Co. "Maracaibo, Venezuela" street map. New York, 1915. Good detail of streets and tram lines. Separate inset map of tramway system!
"Ten-Bench Open Cars for Maracaibo" in Brill Magazine (Philadelphia), 8/1925, p. 314. Description of the double-truck model that Brill built for the Empresa de Tranvías Eléctricos. Illustration with dimensions.
Guía comercial e industrial ilustrada del estado Zulia. Maracaibo, Belloso Rossell, ed., 1925. Financial data on the three electric tramway systems, pp. 101 and 213.
Plano de la Ciudad de Maracaibo. Maracaibo, 6/1927. Map at scale 1:10,000 shows three electric tramway systems.
"Maracaibo Street Railways" in U.S. Bureau of Foreign & Domestic Commerce, Trade Promotion Series #39 (1927), pp. 388-391. Impressive article with map and brief histories of the three electric tram systems.
"Venezuela: Tramways and Subsidiary Transportation Companies" in U.S. Bureau of Foreign & Domestic Commerce, World Survey of Foreign Railways. Washington, 1933. Finances and general operating data for Maracaibo's three companies.
Venezuela. Ministerio de Obras Públicas. Dirección de CartografIa Nacional. Topographical maps of Maracaibo region, scale 1:100,000. Two sheets, 1963 and 1974.
Banco de Maracaibo. El comercio de Maracaibo. Maracaibo, 1982. Reproduction of an unpublished description of the city written in 1912-1913. Long section on tranvías, with three illustrations, pp. 149-154.
Vaughan Salas Lozada and César Casas Rincón. Cámara de Comercio de Maracaibo: 90 Años. Maracaibo, 1985. Nice illustrations of a mule tram and battery tram.
Promociones Canaima C.A. Plano de Maracaibo, Edición 1988. Maracaibo, 1988. Large modern street map.
Julio Portillo. El glorioso ayer: Maracaibo, 1870-1935. Maracaibo, 1998. Nice photo album with numerous views of trams and tram tracks.
El Tranvía de Maracaibo. Webpage about the modern rubber-tired tram wannabes that escort visitors about the city. (Is nothing sacred anymore?)
Metro de Maracaibo. Official website of the metro system under construction.
See The Tramways of Macuto, La Guaira & Maiquetía
See The Trolleybuses of Mérida
See my index of
ELECTRIC TRANSPORT IN LATIN AMERICA
If you have comments, corrections or suggestions,
please send email to Allen Morrison
This site was uploaded on
8 July 2006
Copyright © 2006-2106 Allen Morrison
TODOS LOS DERECHOS RESERVADOS