The airport runway in the center of this satellite view is 1,373 m long and lies at altitude 1,526 m. Only two streets go around it. Private homes, shops and other structures crowd the edge of the precipice that drops 150 m toward the Chama River on the right. The
Teleférico de Mérida
,
the world's longest and highest aerial cableway and the principal tourist attraction in Venezuela, climbs from a point nearby to Pico Espejo at 4,765 m. Pico Bolívar next to it, at 4,981 m, is the highest mountain in Venezuela. Mérida's population today is about 400,000. It may be the smallest city in the world with a
mass transport system.
Mérida was never connected with the rest of Venezuela by railroad and never had a tramway of any kind. Urban and interurban transportation were always provided by gas- or diesel-powered buses. When traffic along the plateau reached the saturation point in the 1970s, the local government created the Oficina de Transporte to try to solve the city's transport problems. In 1976 the Oficina proposed an aerómetro, an elevated railway, from Mérida to Ejido, a suburban town 11 km southwest [see map]. It was not built. In 1983 engineers at Universidad de Los Andes proposed a ferrocarril magnético called "Telmagv" across the city. Nothing came of that plan. In 1996 the administration formed the Oficina Metropolitana de Transporte Masivo (OFIMETRO) which acquired $60 million from the federal government for the construction of a 13 km monorriel along the south bank of the Albarregas River. That plan also collapsed. Finally, in 1998, Ofimetro proposed a reserved-lane trolleybus system modeled on the very successful line that had opened in 1995 in Quito, Ecuador. Ofimetro wanted two trolleybus lines on either side of the Albarregas River and a funicular railway down the escarpment to San Jacinto in the valley. For its main lines, the trolebús was the technology that was chosen and is still being implemented in Mérida today. (See Ofimetro logo.)
A new agency called Transmérida, organized in 1999, secured a USD $108 million loan from the Spanish, French, German and Dutch governments for the construction of 45 articulated trolleybuses and the first trolleybus line, a 19 km route between Ejido and La Hechicera [see map]. A consortium of DYCVENSA and Grupo AM of Venezuela, Adtranz (DaimlerChrysler) of Germany, Mercedes-Benz España, the Spanish firm Dragados and Systra of France was organized to build the line. The contract for the construction of the 45 vehicles was awarded to the companies that had supplied 113 trolleybuses to Quito: Hispano Carrocera and Mercedes-Benz of Spain. Pininfarina of Italy designed the vehicle bodies, inside and out. Electrical equipment was originally supposed to be supplied by Kiepe Elektrik of Germany, but ultimately came from Bombardier of Canada. Here are photographs of the Mérida prototype vehicle (see paper model by Rodolfo Cammalleri). Note that it has doors on only one side and they are designed for high-level, platform loading. The trolleybus can operate electrically or by using an auxiliary diesel motor [Hispano Carrocera]: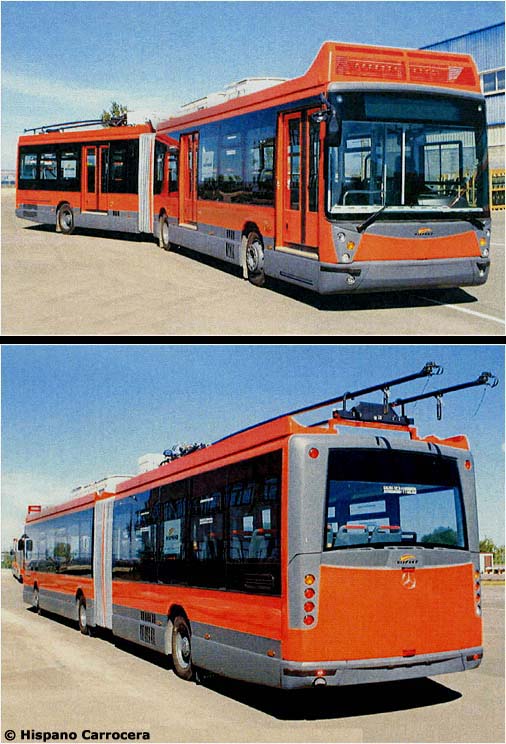 Construction of Mérida trolleybus line #1 began in February 2000 and was immediately beset with problems. The Ofimetro project was rejected, then supported, then rejected again by the federal government. Financing was erratic and work was interrupted for long periods. Motorists complained of disruptions along the Av. Centenario - Av. Andrés Bello corridor, the only direct route between Ejido and Mérida [see map]. They became angrier still when its traffic lanes were rebuilt as reserved lanes for trolleybuses. The trolleybus company was reorganized and renamed Trolmérida, but progress remained slow. Both Ofimetro and Trolmérida posted webpages on the Internet, but none was kept current or did much to establish good relations with future passengers.
Construction of the vehicles, however, kept on schedule and Hispano Carrocera delivered 45 trolleybuses to Mérida between May and July of 2003. The photographs below show the Trolmérida shops in Ejido [see map]. The posts and overhead wire visible in the first view are part of a vía de prueba (test track) around the yard. There is no wire connection between the yard and the trolleybus line. The vehicles use their diesel motors to reach Terminal Ejido. Engineer Arturo Rivas scaled a 25 m light tower to get the first picture . . . [Arturo Rivas, Trolmérida]: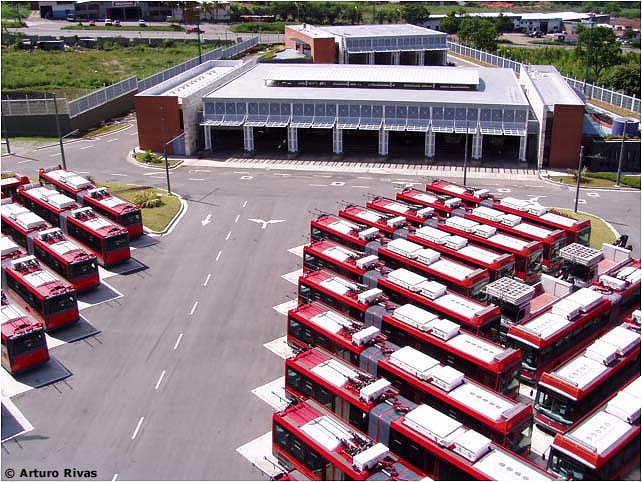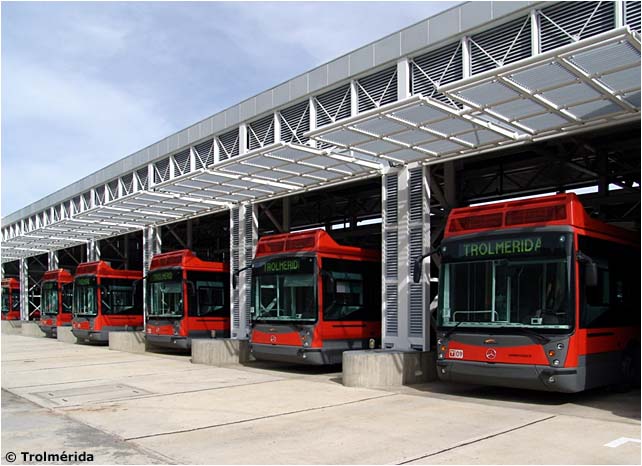 The government restored its support and finally, in 2005, after over five years of construction, Trolmérida completed the first 6.5 km of its trolleybus line between Ejido and Mérida [see map]. Except at level crossings the route is entirely in vías exclusivas, and since the stations are between the trolleybus lanes and the vehicles have doors on only the right side, they run left-hand, English-style, against other traffic. This photograph was taken from a station on Av. Andrés Bello [Jorge Paparoni]: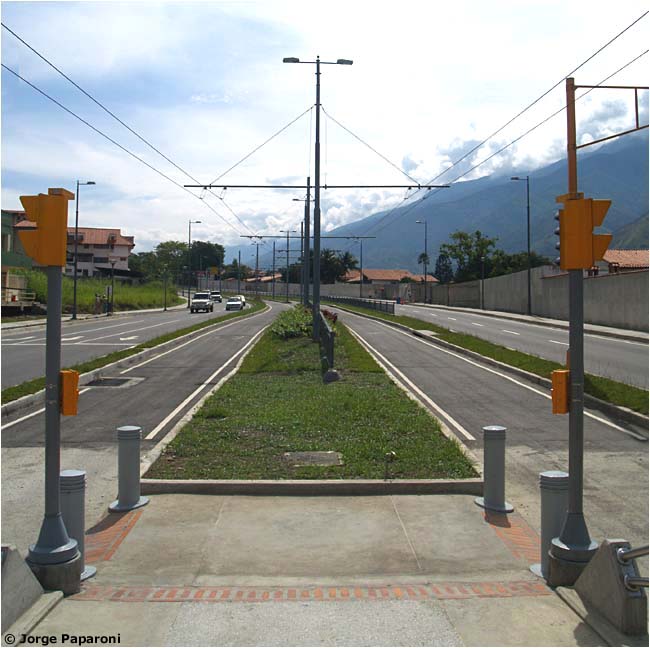 An unidentified station on Av. Andrés Bello, before service had begun. Trolleybuses will come forward in this lane [Jorge Paparoni]: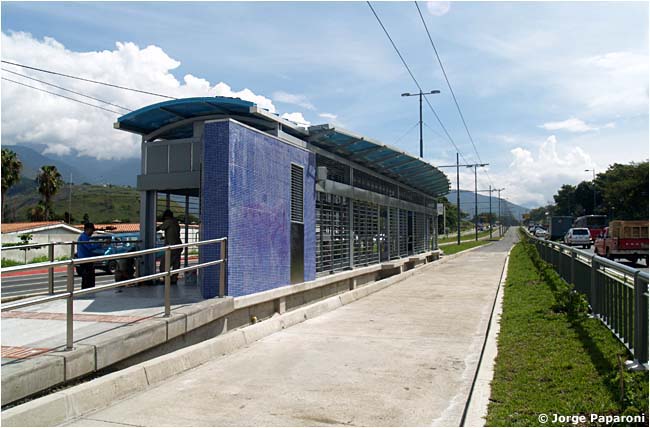 During the
Juegos Andes
(Andean Games) in December 2005, ten trolleybuses provided free rides for passengers between Ejido and the Estadio Metropolitano near Pan de Azúcar station [see
map
]. They used their diesel motors since installation of the overhead wire had not yet been completed. A year later, starting Sunday 26 November 2006 and continuing every Sunday thereafter, trolleybuses carried passengers between Ejido, Centenario, La Mara and Alto Chama stations. This time, except for reversals at both ends, operation was completely electric. Rides were still free. Finally, on 18 June 2007, Merideños celebrated the formal inauguration of the first section of their new trolleybus line, between Terminal Ejido and Pie del Llano station in Mérida, a distance of about 11 km [Gerardo Sánchez]: