Loading at Estación Quitumbe in February 2009 [see map]. [César Arias]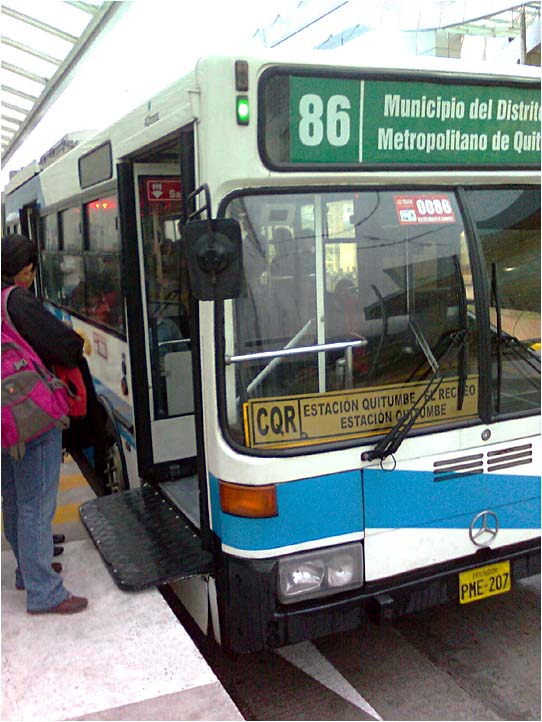 __________________________________________


Quito opened a second express busway called "La Ecovía" along Av. 6 de Diciembre, parallel to Av. 10 de Agosto, in 2001. It has central paradas, like "Trolesur", and its diesel buses run left-hand. Since that time several other "Metrobus" services have started. Operation of the trolleybus system passed to the Compañía Trolebús Quito S.A. in 2007, then to the municipal Empresa Pública Metropolitana de Transporte de Pasajeros de Quito – EPMTPQ – in 2010. The latter is also known as, simply, Empresa de Pasajeros de Quito – EPQ.
Plans for a 29 km light rail line named "Tren Rápido de Quito" – or TRAQ – were announced in 2006. But it was finally deemed inadequate and a new organization, Metro de Quito, was formed in 2009 to build a heavy rail line. Metro de Quito hired Metro de Madrid in 2010 to do the job and construction of the 22 km line finally began on 16 January 2013. Its southern and northern terminals will be the same as the trolleybus line's, but because of a more circuitous route the metro will be 3 km longer. The huge, multimodal Terminal El Labrador was built in a corner of the former airport, which closed in February 2013. See trolleybus/metro map.
Quito is a fascinating, colorful, friendly place, with unique transport needs. The trolleybuses are fun to ride and, since one of them passes every 90 seconds, fun to photograph. The ticket and token on the left are from March 1996 [col. AM]. The 10-trip pass on the right is from October 1996 – and according to its owner is still good for 7 rides (!) [col. Steve Morgan]. Ecuador adopted U.S. currency in March 2000 and sucres were abandoned completely six months later. The $0.25 ticket was purchased in October 2007 [col. Peter Haseldine].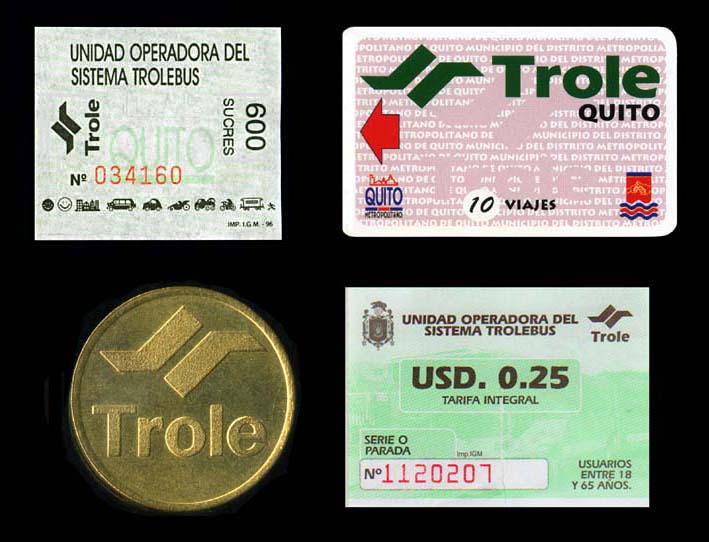 In 2005 UOST produced trolleybus models to commemorate its 10th anniversary. Units in all six colors were still available at Estación El Recreo in October 2007. This one is numbered 35. (The real 35 is also yellow.) [Peter Haseldine]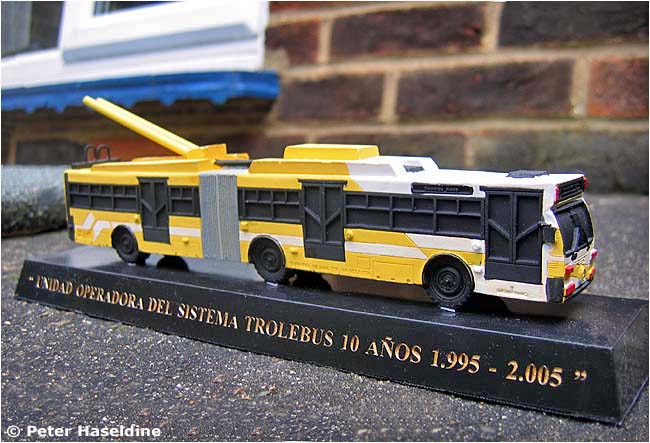 El Trole also put out a CD! Most of the music on the disk is conventional, but song number 10 is entitled "Himno del Trolebús" (The Trolleybus Hymn). The digital destination display on trolleybus 68 reads "AUDIOBUS". [Peter Haseldine]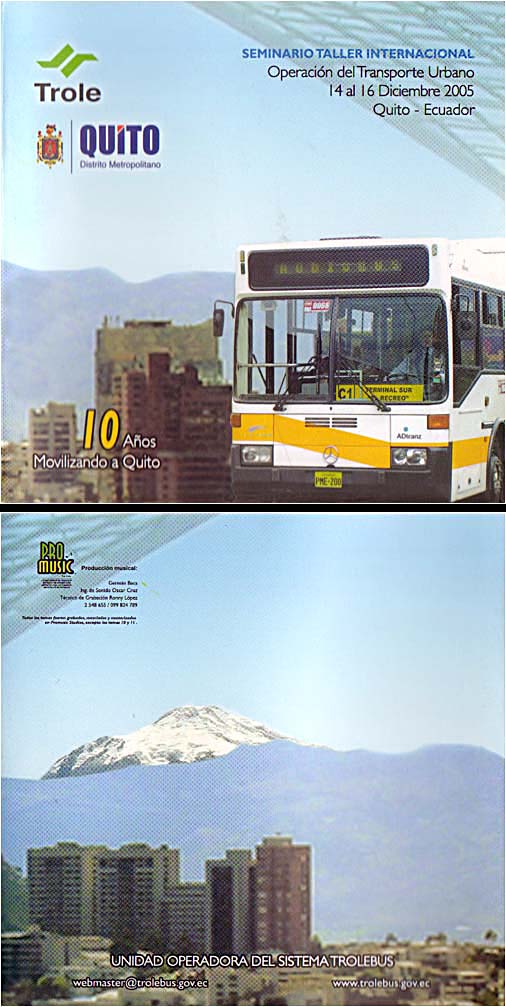 The author is grateful to John Kirchner in Los Angeles, César Arias in Quito, Omar Galarza in New York, Steve Morgan in Portland, and Peter Haseldine in London for the assistance that they provided in the production of this page. Without their photographs, information and encouragement, it would not exist.