TROLLEYBUS PIONEERS
in Latin America
TEXT BY / ILLUSTRATIONS FROM THE COLLECTION OF
Allen Morrison
My webpage about Trolleybus Installations lists the 35 places in Latin America where trolleybus lines were built during the last 85 years. Some cities have had more than one installation. Most of these lines were built since the Second War and are documented on line and off. A dozen still operate today. The photos and text below portray the half dozen lines that opened before the War and are not so well known. They used primitive, sometimes homemade equipment. (The very first electric buses in Latin America were not trolleybuses at all but six battery-powered vehicles that J. G. Brill built for Lima, Peru, in 1904. Battery-powered buses also ran in Havana, Cuba, and in Rio de Janeiro, Brazil.)
Mendoza, Argentina
The South American Railless Traction Company, organized in London in 1912, planned to cover the continent with trolleybus lines. As far as is known, it built only one line and ran only one bus – on a 3 km route in Mendoza between 1913 and 1915. No picture of the operation could de found. The photo below shows the Railless trolleybus that ran in Mendoza testing in Leeds, England, where it was built, in August 1913: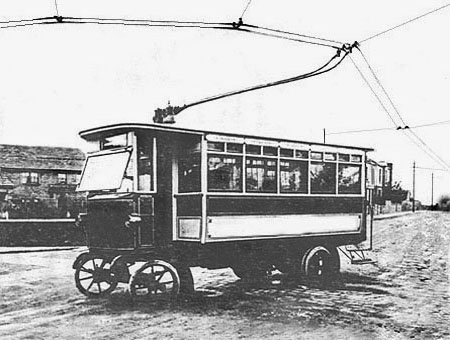 Lima, Peru
In 1927, two decades after it scrapped its battery buses, Lima Light, Power & Tramways Company ordered six trolleybuses from England – chassis by Garrett in Leiston, body by Roe in Leeds: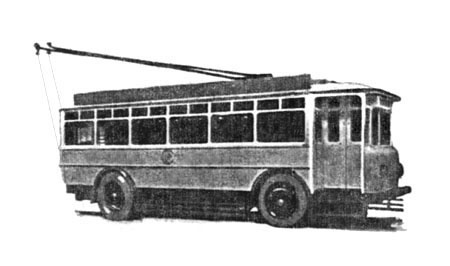 They had an unusual door arrangement – one in the front and another in the center of the rear. The photo below shows a Lima trolleybus testing in England: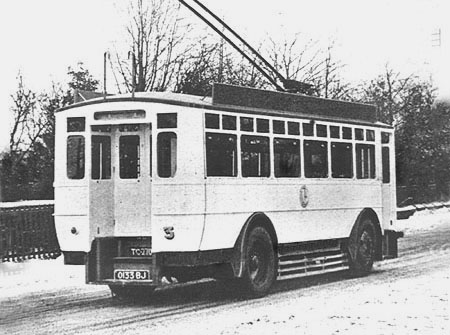 In 1928 trolleybuses replaced streetcars on circular route 3
which ran east on Jirón Puno and west on Jirón Cuzco in downtown Lima: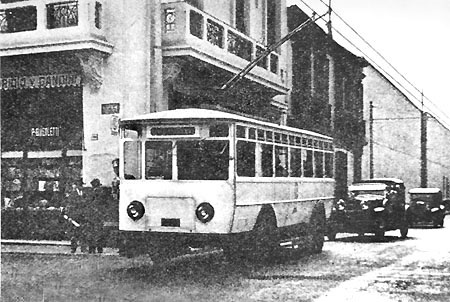 Lima's trolleybus line lasted only three years. In 1931 the six trolleybuses were rebuilt as trams – and ran as weird hybrids through the 1950s:
This was the only known example in world transport history of trolleybuses converted to trams.
Medellín, Colombia
The Tranvía Municipal de Medellín did not begin electrifying its tramway system until 1921. In 1927 it ordered two trolleybuses from Ransomes, Sims & Jefferies in Ipswich, England – which were similar to the Garrett trolleybuses in Lima. #1 was photographed in Ipswich: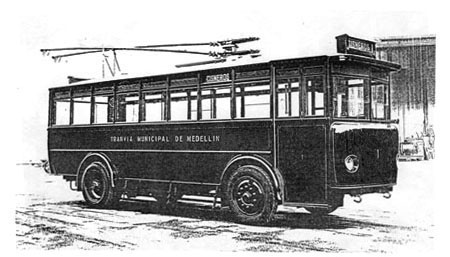 Medellín trolleybus service began on 12 October 1929 on route 6, which served the Los Angeles district. Ransomes #4, below, was one of two additional trolleybuses that Medellín acquired in 1930: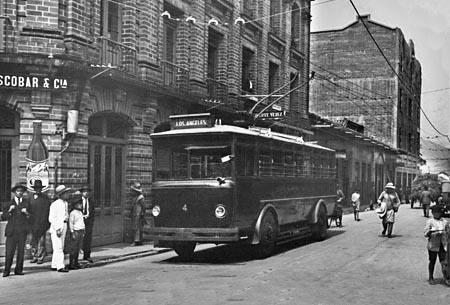 TMM began building its own trolleybuses in 1934. The picture below shows homemade #5: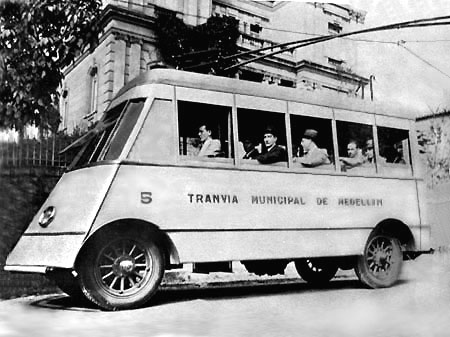 Nine trolleybuses were running on two routes in Medellín when TMM discontinued all electric transport in 1951.
Caracas, Venezuela
This Andean capital had the strangest trolleybuses on the continent – perhaps in the world. Tranvías Eléctricos de Caracas built its own trolleybuses by installing tramway equipment in gasoline buses. Here is its first creation, which began carrying passengers along the Catia tram route in July 1937: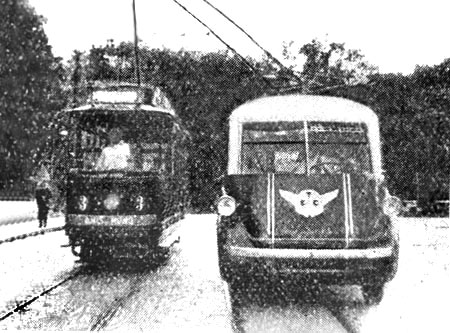 Homemade trolleybus #1 was so popular that TEC made 10 more out of gasoline buses that it purchased new from General Motors in the U.S.A. The photo below shows three of these at rest, poles down, in central Caracas about 1940: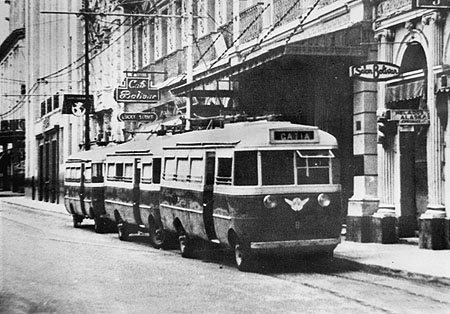 #10, below, had a single window pane in the front and a rather large TEC emblem: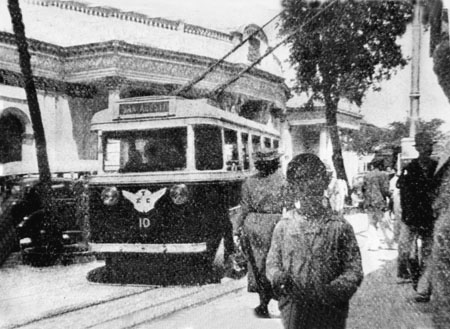 The door on the left side of this trolleybus is puzzling since street traffic in Venezuela always ran right, U.S.-style. Perhaps it loaded on both sides of the town's narrow streets: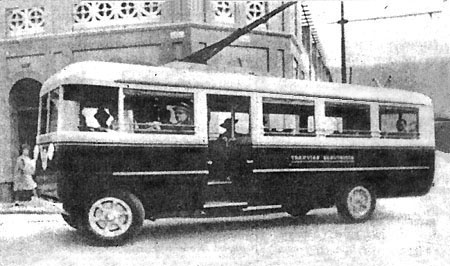 Caracas eventually had three trolleybus lines, but all closed during the rubber shortage of World War 2. The tram system survived until 1947.
Santiago, Chile (1)
The Ferrocarril Eléctrico Santiago Oeste, one of the suburban tram operators in this city, reportedly built a trolleybus – with one pole – which it ran along Calle Catedral in 1940. Unfortunately, no photos or other information about this experiment could be found.
Port of Spain, Trinidad & Tobago
The Trinidad Electricity Board operated the only trolleybus system in the West Indies and the only trolleybuses in the Western Hemisphere that ran on the left-hand side of two-way streets. The fleet consisted of 30 Ransomes – 14 acquired in 1941, 2 in 1942 and 14 in 1945. Port of Spain ran its first trolleybus on 1 October 1941 and its last on 31 December 1956. The picture below was painted in 1976 by Trinidad resident David Moore.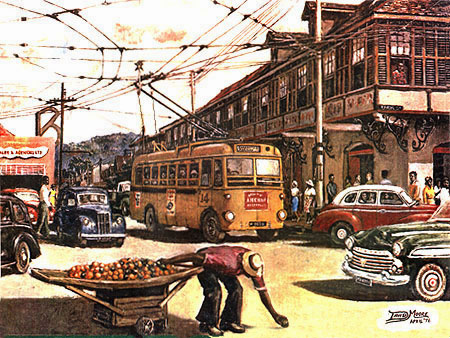 Santiago, Chile (2)
In 1947 Chile's Empresa Nacional de Transportes inaugurated the first route of what would become the first major trolleybus system on the continent. ENT soon operated 200 trolleybuses on 20 routes. Photos of trolleybuses in Santiago and Valparaíso can be seen on my webpage about Trolleybuses in Chile.
Pictures and data about trolleybuses in Brazilian cities are available on the website of Emídio Gardé. Links to pages about trolleybuses in Argentina, Ecuador, Mexico and Uruguay are indexed on my homepage entitled Electric Transport in Latin America. As far as is known, there were never any commercial trolleybus operations in Bolivia or Paraguay, in any of the Guianas, in any country in Central America, or on any of the other Caribbean islands.
Also see
TRAMWAY PIONEERS
in Latin America
This webpage was created by Allen Morrison
and launched on 27 November 1999.
I welcome your comments!
Ver versión en español.
Copyright © 1999-2099 Allen Morrison
ALL RIGHTS RESERVED