The next photograph, also taken in 1944, shows one of the five cars from the beginning of the century that had been remodeled and reconstructed single-end. Tram 7 is crossing the causeway between San Juan and Condado [see
map
], which was also shown in a postcard view above [col. Dave Deyo]: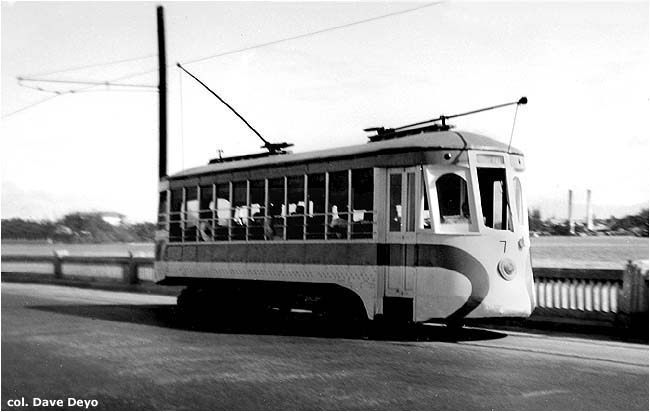 Some of the Perley Thomas trams were also streamlined [col. AM]: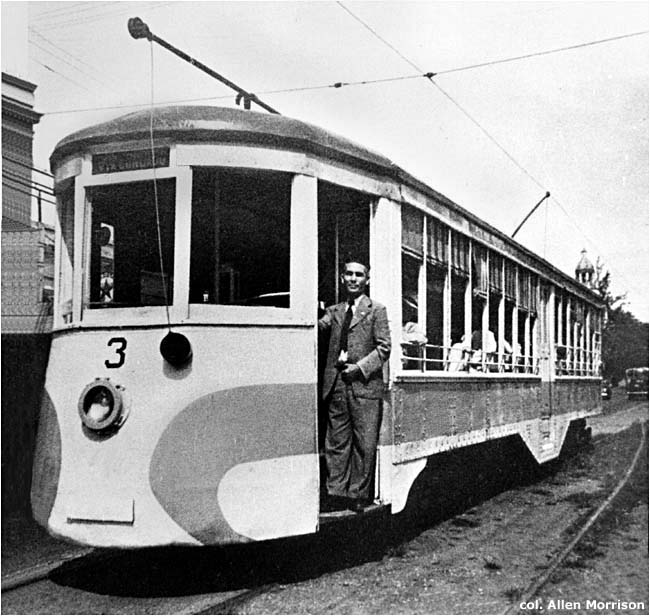 The Water Resources Authority/Autoridad de Fuentes Fluviales ran the last tram in San Juan (and Puerto Rico) on Monday night 30 September 1946. (Actually, according to newspapers, the last car, Perley Thomas number 4, pulled into Borinquen yards at 0:45 am 1 October [see map].) A rich chapter in Puerto Rican transport history had come to an end.
The photograph below, taken in 1947, after the system had closed, shows two of the four Birney trams that WRA/AFF had purchased in the United States in 1942, and which it planned to splice together to make two double-truck cars. Three of them, including the two shown here, came from the Third Avenue Railway in New York. The fourth, which came from the abandoned tramway in New Castle, Pennsylvania, was lengthened and rebuilt as a 4-axle tram. It was numbered 12 and ran for a short time in San Juan, but derailed frequently so was withdrawn. Nothing was ever done with the New York cars [col. Dave Deyo]: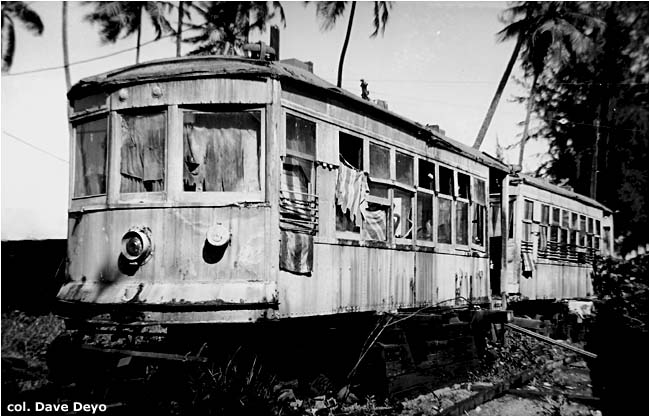 The American Railroad ran its last train in Puerto Rico in 1957. Construction began forty years later, in 1997, on the first stage of a heavy-rail metro in San Juan, called Tren Urbano. The initial 10.5 mile line, between Sagrado Corazón station in Santurce and Bayamón, began free rides for the public in December 2004 and finally inaugurated full commercial operation on 6 June 2005. Most of the line is elevated, but has a mile of tunnel, with two underground stations, in Río Piedras.
BIBLIOGRAPHY
(in order of publication)

"Trolley Road in Porto Rico" in Street Railway Review (Chicago), 15 January 1899, pp. 14-15. Good short article about the reconstruction of the San Juan & Río Piedras Railroad as an electric line. Eleven unlabeled photographs of the steam line (but not of its vehicles).
"Tranvía Eléctrico" in La Correspondencia de Puerto Rico (San Juan), 4 February 1901. A short article announces the operation of the first electric tram in the city – but doesn't indicate the date.
"Electric Railways" in Electrical Review (New York), 16 February 1901, p. 233. A news item announces the inauguration of San Juan's "new trolley system" on 1 January 1901.
"The Electric Railway at San Juan, Porto Rico" in Street Railway Journal (New York), 23 September 1905, pp. 446-448. Good, long article about the new electric tramway. Six illustrations, including a view of a horsecar in Mayagüez (incorrectly identified).
"Brill Semi-Convertible Cars for Porto Rico" in Brill's Magazine (Philadelphia), October 1907, pp. 192-195. Nice article about the eight trams that J. G. Brill built for the "Caguas Tramway Company". Good description of the vehicles and also of the line under construction between Río Piedras and Caguas. Five pictures.
"Baggage Car with Steel Underframe for Porto Rico" in Brill's Magazine (Philadelphia), February 1908, pp. 41-44. Long article about construction of the Caguas line and the rolling stock built for it. Four pictures.
"Trolley and Power Developments in Porto Rico" in Street Railway Journal (New York), 22 February 1908, pp. 274-277. Construction of the San Juan tramway, the Caguas extension and the dam and power plant at Comerio Falls. Map and 10 photographs.
"Brill cars for Steam Railway Service in Porto Rico" in Brill's Magazine (Philadelphia), August 1908, pp. 185-187. Description and picture of passenger car 106 built for the Caguas railway.
"Interesting Cars for Porto Rico" in Brill Magazine (Philadelphia), May 1911, pp. 141-145. Description and four illustrations of the jaulas (screened cars) shown on this webpage.
McGraw Electric Railway Directory (New York), 1918 and 1924 editions consulted. Corporate data, technical descriptions, inventory of rolling stock, track length, etc., of the San Juan tramway.
"Tranvía de San Juan" in Informe del Comisionado del Interior al Gobernador de Puerto Rico, 1919. San Juan, 1919. Nice system history, from steam through the early electric days.
Eugenio Fernández y García. El Libro de Puerto Rico/The Book of Porto Rico. San Juan, 1923. Photograph of the gasoline-powered car of the Línea Férrea del Oeste on p. 703 of the English-language edition.
"Porto Rico Railway Gets Six New Two-Man Cars" in Electric Railway Journal (New York), 23 April 1927, p. 761. Specifications, drawing and two photographs of new Perley Thomas vehicles.
"Revenue Doubled by Modernization of Porto Rico Railway" in Electric Railway Journal (New York), 31 December 1927, pp. 1193-1195. Acquisition of new Perley Thomas cars, reconstruction of old cars. System map (!) and four excellent large photographs.
United States. Bureau of Foreign & Domestic Commerce. World Survey of Foreign Railways: Supplement #50. Washington, 1938. Supplement to the original 1933 survey reports 19 standard gauge vehicles for the electric line: 11 passenger cars, 5 tank cars (?), 1 locomotive, 1 work car and 1 line car; and 91 meter gauge vehicles for the steam line, including 2 locomotives and 18 passenger cars.
[Anonymous, untitled article] in ERA Headlights (Hoboken, NJ), August 1946, p. 3. Track map and history of the San Juan Santurce Street Railway. Article states that "all of the street cars are second hand", which is untrue, but otherwise provides a nice description of the system's last days. The author was unaware how very few remained.
"Un ruidoso pasaje llegó hasta la última parada" in El Mundo (San Juan), 2 October 1946, p. 7. Feature article on the end of tramway service in San Juan. Large photographs.
Adolfo de Hostos. Historia de San Juan, Ciudad Murada. San Juan, 1966. This 590-page history has chapters on "El Tranvía de Ubarri", pp. 89-92; and "El Tranvía de Cataño a Bayamón", pp. 149-150. Latter chapter doesn't say when the line closed.
Emilio E. Huyke. Historia de la Transportación en Puerto Rico. San Juan, 1973. The chapter on "El Tranvía" provides a nice general history of tramways on the island, with emphasis on San Juan.
Oscar L. Bunker. Historia de Caguas. Caguas, 1981. The plan to extend the Río Piedras electric tramway to Caguas was abandoned and a steam-powered railway was built instead, Tomo II, pp. 229-230.
Robert A. Hall. Trolley-Car Memories, 1915-1960. Ithaca (NY), 1982. Professor Hall's recollections, photographs and maps from his residence in San Juan between 1937 and 1939. Two of his snapshots appear on this webpage
"Clang Clang Clang Went the Trolley: The Ultimate Trolley" in San Juan Star, Sunday Magazine (San Juan), 24 July 1983. Memories and testimonies from old motormen and conductors about streetcar operation in San Juan.
Aníbal Sepúlveda Rivera. San Juan: Historia ilustrada de su desarrollo urbano, 1508-1898. San Juan, 1989. Impressive, large format, 336-page survey of the city's development during its first 400 years. Hundreds of photographs and diagrams. Drawings of Ubarri's tramway terminal on pp. 210-211. Maps showing railways on pp. 238-239, 314-315 and 332-335. Unfortunately, there are no pictures of trains or trams.
Florencio Sáez. Río Piedras: estampas de mi pueblo, 1898-1945. San Juan, 1996. Chapters entitled "El Trolley", "Ruta del Trolley" and "Estación del Trolley", pp. 44-46, provide detailed information about the city's first electric line.
Moody's Manuals (New York). Annual editions provide historical background, information on finances, data on rolling stock, system length, etc., of the various tramway companies that existed in San Juan in the early 20th century.
Archivo Histórico y Fotográfico de Puerto Rico - Colección Rodríguez / Historical Ephemera and Photographic Images of Puerto Rico from the Rodríguez Archives Collection. Extraordinary assemblage of historic material, photographs, postcards and other documents, indexed and cross-indexed by subject and locale. Highly recommended.
––––––––––––––––––––
In addition to the authors and photographers noted above, the author would like to thank Dave Deyo of Somerset, Massachusetts, for the valuable information and illustrations that he provided. They have greatly enriched this page.
See also
The Tramways of Mayagüez
and
The Tramways of Ponce

and my index of
ELECTRIC TRANSPORT IN LATIN AMERICA
If you have comments, criticism or suggestions,
please e-mail me! Leo y escribo español.
This site was placed online on
1 November 2008
Copyright © 2008-2108 Allen Morrison
ALL RIGHTS RESERVED
TODOS LOS DERECHOS RESERVADOS