The picture below of one of the passenger cars was taken at the MAN factory on 7 July 1924. The entwined "SS" logo stands for Siemens-Schuckertwerke [Siemens-Museum, München; courtesy Wolfgang-D. Richter]: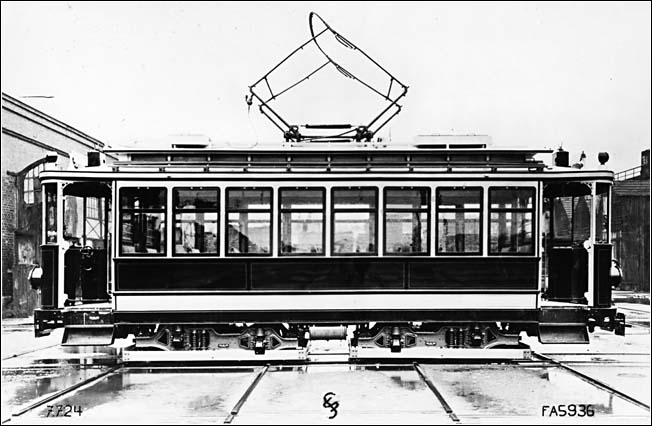 Both passenger trams had "maximum-traction" trucks. The inner axles near the center of the vehicle – on the right in the enlargement below – have smaller wheels than the outer axles:

The truck design is clearer in the following recent view, of a MAN truck on tram A-7 in Campos do Jordão. This was tram 5 in Guarujá – one of three that it sold to Campos do Jordão in 1956 [from the website
Estrada de Ferro Campos do Jordão
of the Governo do Estado São Paulo]: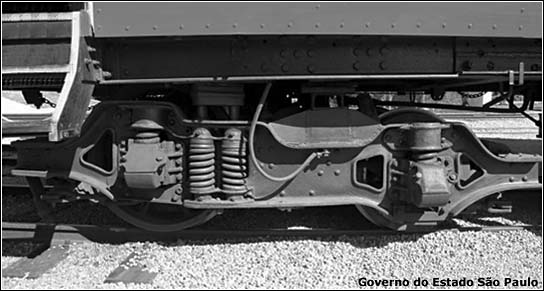 Maximum-traction trucks were common on tramcars in
Argentina
,
Bolivia
and
Chile
, but except on second-hand equipment they were rare in Brazil. This is one of the few known examples.
Guarujá's two passenger cars were numbered 3 and 5 (the
even
numbers were apparently reserved for the earlier passenger coaches). Here is number 3 at Guarujá terminus [see
map
] [col. Antonio Gorni]: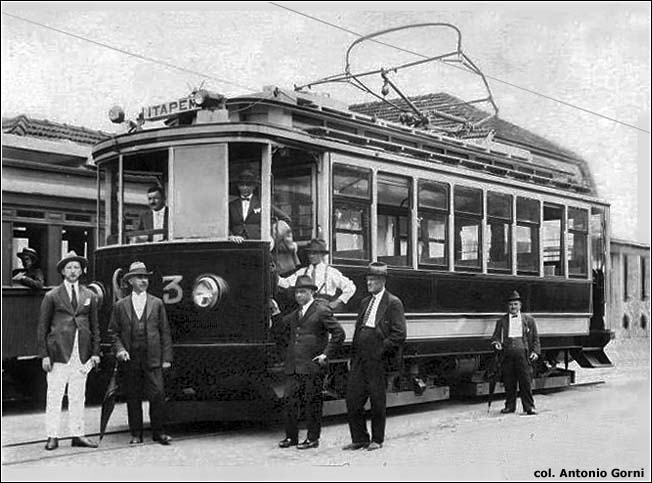 And here is tram number 5. Like the photograph above of the locomotive, this picture was reproduced in the 5 February 1925 edition of the transport journal Brazil-Ferro-Carril. That's the 1912 hotel in the background [see map] [col. Wanderley Duck]: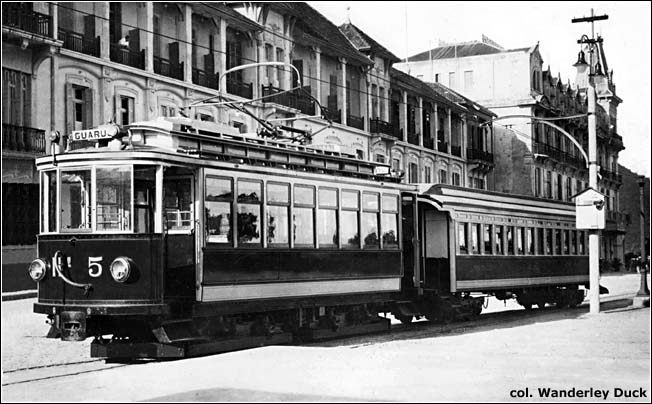 Companhia Guarujá inaugurated its new 9 km meter-gauge electric tramway between Itapema and Guarujá on Sunday 11 January 1925 [see
map
]. The line was municipalized in 1927 and the new operator became Serviços Públicos de Guarujá.
The postcard below shows number 5 passing the hotel in the late 1920s. View is west. The car is signed "Guarujá" so is apparently going away from the camera toward the station, which is beyond the hotel [col. AM]: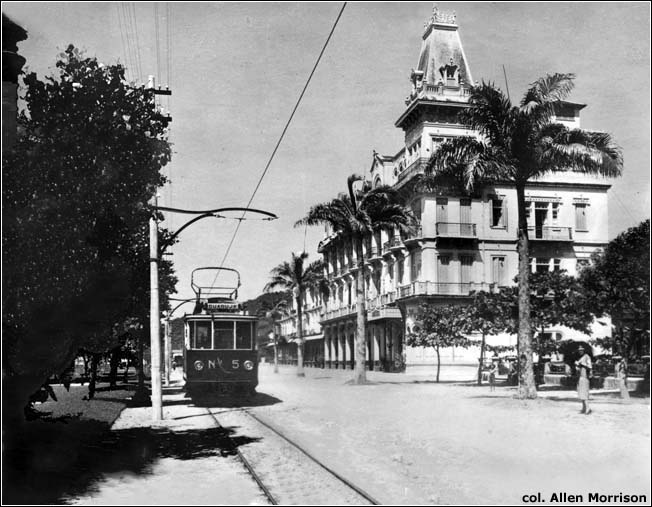 Car 3 traveling south at Bento Pedro, 5 km south of Itapema, 4 km north of Guarujá [see map] [postcard, col. AM]: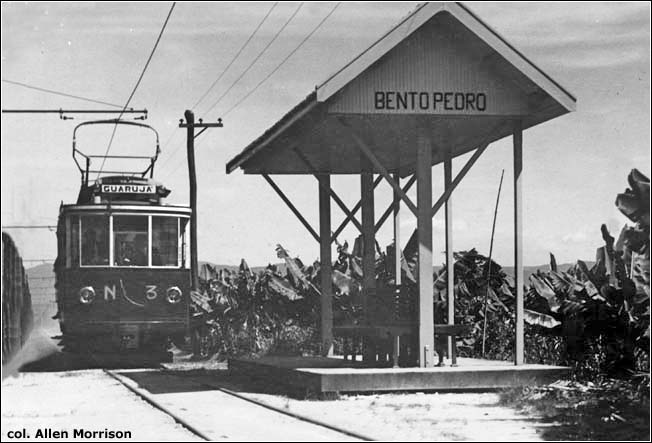 Tram 3 was scrapped after an accident in 1930. The defective – but rare – view below shows car 5 and locomotive 1 at the ferry terminal in Itapema. Date unknown [col. Antonio Gorni]: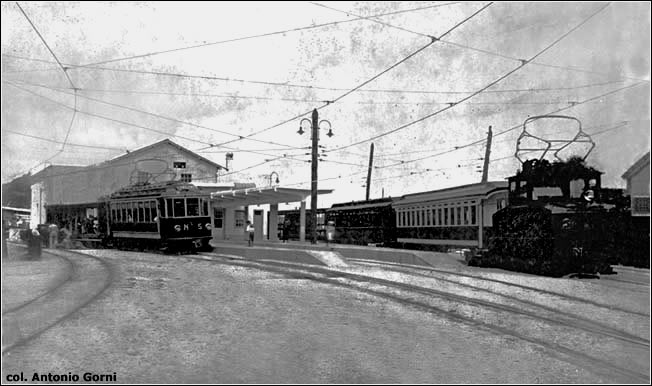 (See a
Google Maps "Street View"
of the ferry terminal today)
The 1912 hotel in Guarujá was never profitable and a new ferryboat service that opened in 1918 from Ponta da Praia in Santos brought automobile and bus competition to the railway [see
map
]. In an effort to improve service, Serviços Públicos de Guarujá ordered two more trams from MAN in 1930. Numbered 7 and 9, they had conventional bogie trucks and a door with a small window in the front – a design very different from that of cars 3 and 5 [MAN, col. AM]: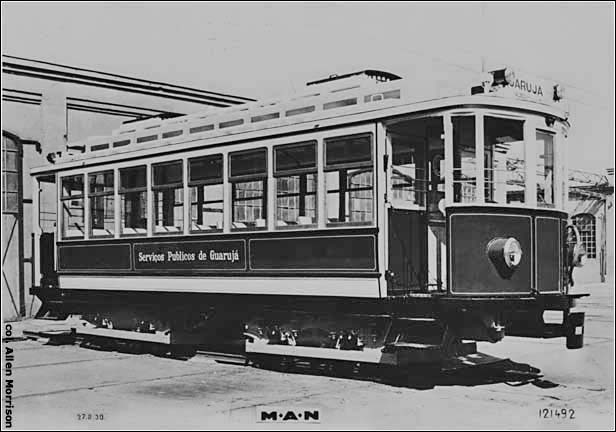 Enlargement of a truck in the photograph above: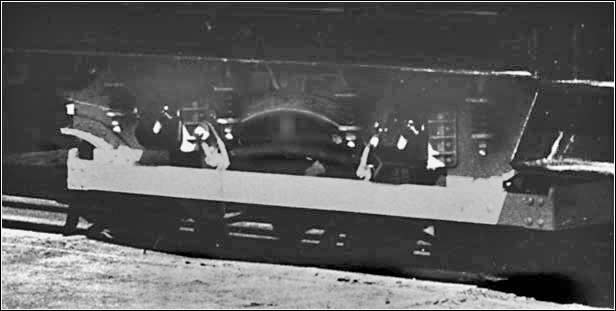 The next photograph, taken recently, shows the same type truck on either tram A-5 or A-6 in Campos do Jordão. These were cars 7 and 9 in Guarujá [photographer unknown]: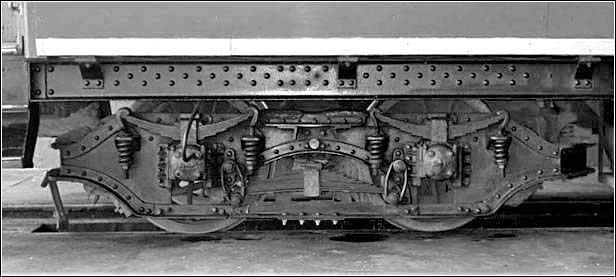 Interior of the 1930 model [MAN-Werk, col. AM]: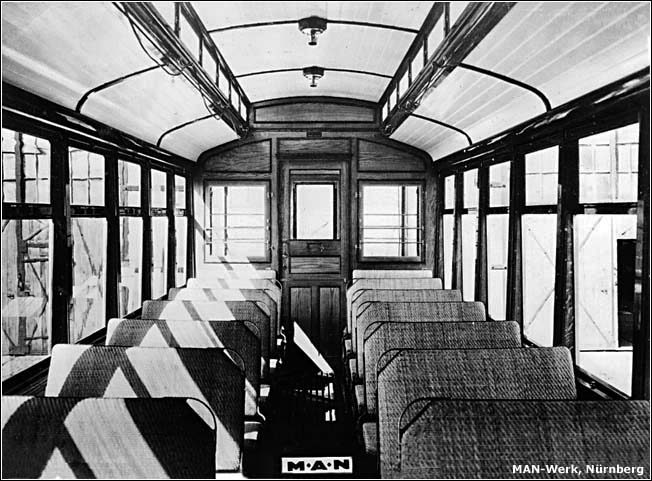 In 1930 SPG built a new 2.5 km freight branch to Sítio de Cachoeira east of Guarujá [see
map
]. The big news in 1932 was the suicide in the Grande Hotel of Brazilian aviation pioneer Alberto Santos Dumont. The event diminished the city's tourist appeal and in 1935 SPG moved its passenger terminal from the beach to the freight station, two blocks inland [see
map
]. The photograph below shows car 7 at the new station about 1940. Note the front door with handle [Carlheinz Hahmann, courtesy Charles S. Small]: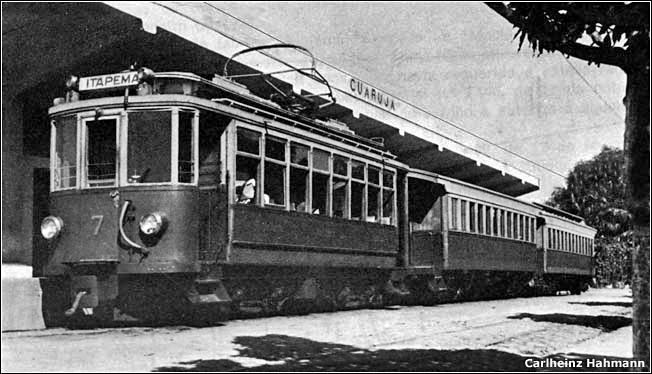 This postcard shows car 9 at the original beach terminal [col. AM]: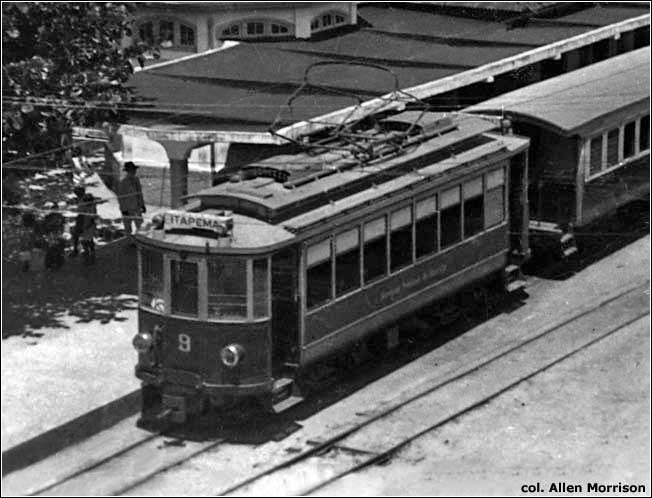 A view of Pitangueiras Beach from the tower of the Grand Hôtel (Grande Hotel). The trail cars were once pulled by steam locomotives [col.AM]: