Thailand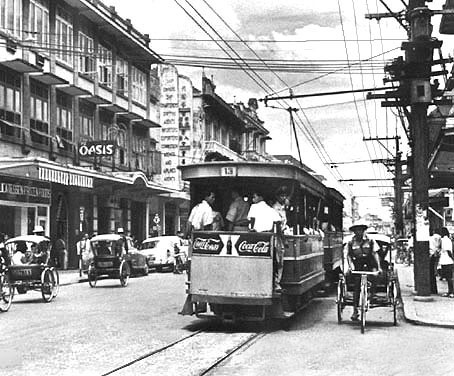 BANGKOK,
the capital of Thailand, spanning the Chao Phraya River, is a port and transport and manufacturing center. There are several hundred Bhuddist temples in the old section of the city, which is built on piles and pontoons with canals like Venice. The city was originally a fishing village and fort before becoming the imperial capital in 1782. A horse tramway opened on September 22, 1887. The electric tram system that was inaugurated by Bangkok Tramways Co. on Jan. 1, 1893, was the first in Asia. Bangkok Electric Light Syndicate opened another electric line in September 1901 and Siamese Tramways Co. opened a third on Oct. 1, 1905. The three companies merged on May 5, 1927, as Siamese Electricity Corporation, which eventually operated eight routes, 48.7 km of track and 206 trams. The photo shows a tram and trailer in the business district. Bangkok's urban system closed on Oct. 1, 1968.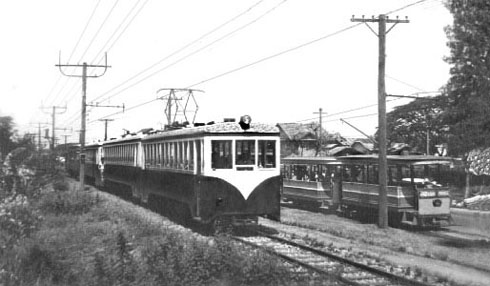 BANGKOK also had two suburban electric railways.
The Paknam Railway, Thailand's first rail line, opened on April 11, 1893, connecting Bangkok with the deep water port of Paknam near the Gulf of Siam. The 21 km route with 10 stations was electrified on September 13, 1926. The line began opposite the central railroad terminal and followed Rama IV Road and the Hualampong Canal south of the city. The illustration shows a suburban train racing a tram train of the city system on February 28, 1959. The line closed on December 31, 1959. Photo by J. W. Higgins.
BANGKOK's other suburban line,
the Meklong Railway, connected the Thon Buri section of Bangkok on the west bank of the Chao Phraya River with the town of Ma Klong. The 34 km route was divided into two unconnected sections by the Meklong River at the fishing village of Maha Chai. The eastern section of the line was electrified in 1926-27 after the company was purchased by the government. It was de-electrified in 1955.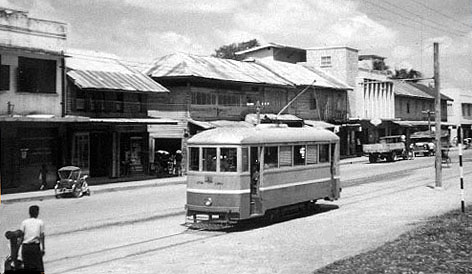 LOP BURI
is a provincial capital located north of Bangkok in central Thailand. The one tram route was opened on Jan. 31, 1955, with 5.75 km of track and 6 ex-Bangkok cars. It closed in 1962. Photo by J. W. Higgins.






RETURN TO INDEX