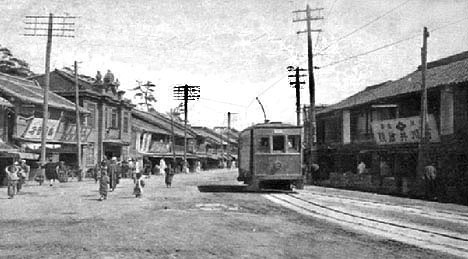 PUSAN
is a major seaport and industrial city, 200 miles southeast of Seoul. For centuries Pusan was the traditional point of entry for foreign trade, since the rest of Korea was closed to all countries except China. After Japan annexed Korea in 1910, the city became a major port. A steam tramway was built to the Tongnae Hot Springs in 1910 and an electric tramway system was opened on Oct. 31, 1915. By 1924 there were 24 km of track, which was regauged from 762 to 1067 mm in 1931. The postcard shows one of the original trams. In the 1950's the company acquired cars second-hand from Atlanta and Los Angeles, USA. Operation ceased on May 20, 1968.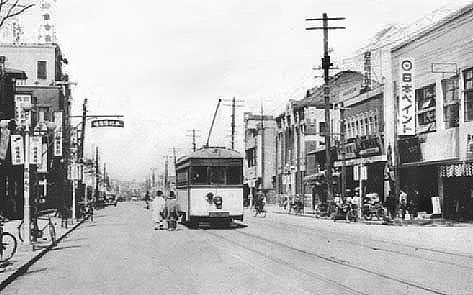 PYONGYANG,
the capital of North Korea, is a large industrial and manufacturing city on the Taedong River. The capital of the Koguryo Dynasty from 37 B.C. until 668 A.D., Pyongyang was extensively developed by the Japanese after 1910. An electric tramway system that opened May 20, 1923, replaced an earlier horse tramway. By 1933, there were seven miles of track and 14 cars in operation. Pyongyang's original tramway closed during the 1950-53 war. Tram service returned to the city on April 15, 1991. The postcard shows a tram in the business district sometime in the 1930s.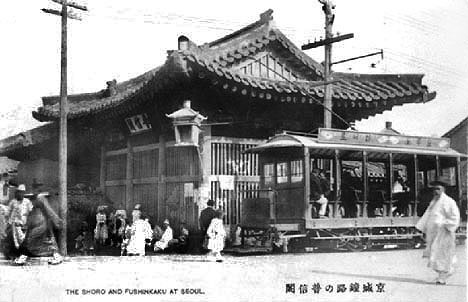 SEOUL,
the capital of South Korea, is a major commercial, cultural and industrial center on the Han River. The ancient city was the imperial capital of the Yi Dynasty from 1392 to 1910, when the country was annexed by Japan. The electric tram system opened on May 1, 1899, before the country's first railroad was built from Seoul to Inchon. In the 1950s the system acquired 20 cars second-hand from Atlanta and 15 from Los Angeles. In 1964 there were 16 routes operated with 223 cars over 76 km of track. The postcard shows one of the early trams in front of a temple. Rail service ended Nov. 29, 1968.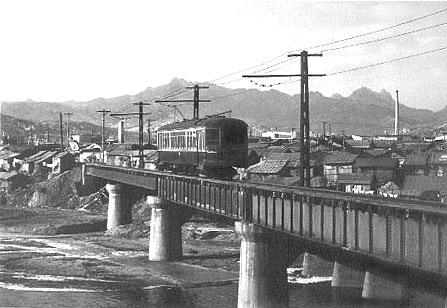 SEOUL also had a suburban streetcar system. The Kyongsong Tramway operated two suburban lines over 14.4 km of track in the semi-rural area east and southeast of Seoul. Service to Duksom and Kwangnaro began ca. 1933 from a terminal at Seoul's East Gate opposite the city tramway company's carbarns. Photo by J. W. Higgins.






RETURN TO INDEX