China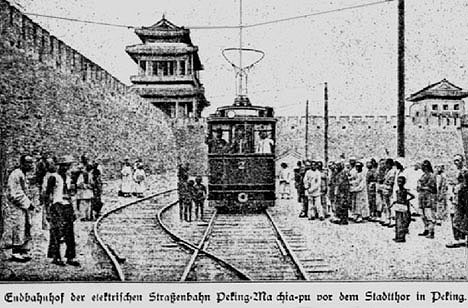 PEKING
sits on an extensive plain in northeast China. The center of the city consists of the Chinese (Outer) City and the Tatar (Inner) City, which contains the ancient Imperial or Forbidden City. Peking has been the capital of China since 1267 A.D. and was occupied by European forces in 1860 and 1900 during the reign of the Manchu Dynasty. It had two distinct electric tram eras. The first line, which opened on June 24, 1899, connected the Ma-chia-pu Railroad Station outside the city walls with the South Gate, shown above. The two-mile route used four motorcars and four trailers, and closed during the Boxer Rebellion.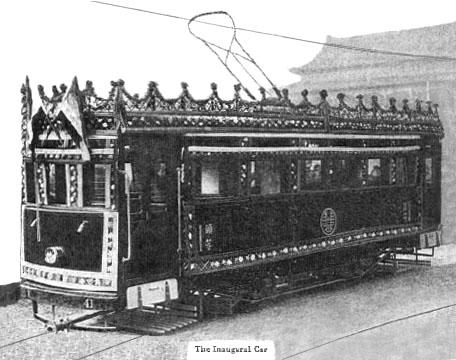 PEKING
opened its urban tram system on December 17, 1924, after ten years of political scandals, bank failures and prolonged negotiations between the Chamber of Commerce and the city's merchant and rickshaw guilds. By the 1930s there were 94 cars operating over 25 miles of track in both the Inner and Outer cities. Peking's last tram ran on May 6, 1966.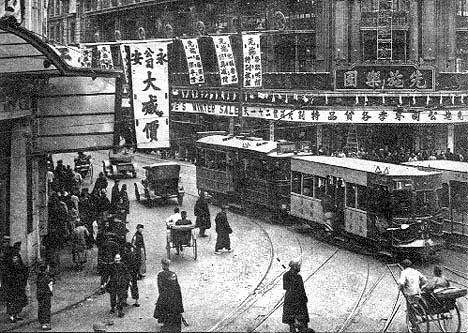 SHANGHAI,
located in southeast China on the Huang-p'u River 13 miles from the Yangtze, is one of the world's leading ports and a major commercial and manufacturing center. Opened in 1842 as one of the five original treaty ports, it became the largest city in Asia until 1932, and its cosmopolitan International Settlement was famous world-wide. Shanghai was served by three tram companies. The British system, which opened on March 15, 1908, was the largest with seven routes and 216 trams; the French system, which opened in May, 1908, had three routes and 60 trams; the Chinese company opened on Aug. 11, 1913, and operated 52 trams on four routes totaling 23.5 km in length. Operation is believed to have continued until the mid-1970s. The postcard shows British trams in the shopping district in the 1920s.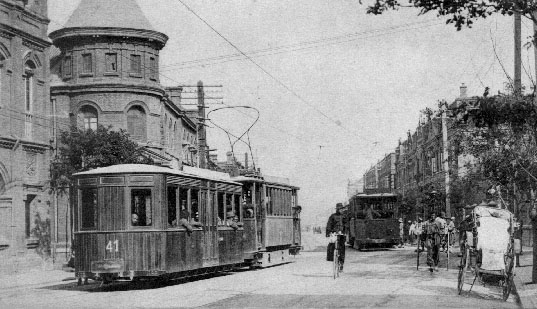 TIENTSIN,
on the Hai Ho River 80 miles southeast of Peking, is a major port and industrial center. It was opened as a treaty port in 1860 and developed rapidly with foreign concessions. During the Boxer Rebellion, the city was under siege and afterwards was placed under the control of an international commission. The tram system, which opened on Feb. 16, 1906, was China's second. By 1933 there were nine miles of track and 116 trams in service. A horse-drawn tramway connected the city with a large arsenal to the east. The postcard view shows the Japanese Concession. The last tram ran about 1972.





RETURN TO INDEX