The Animal-Powered Tramways of
Atlixco, Cerritos, Cuernavaca, Guaymas, León, Mazatlán, Oaxaca, Orizaba, Pátzcuaro, Tapachula, Teotihuacán, Uruapan and Zamora
BY
Allen Morrison
Mexico had tramways in about 1,000 towns. Most used animal power. The 1907 Anuario Estadístico lists 35 animal-powered tramways just in Veracruz state, 80 in Guanajuato state and 300 lines in Yucatán! Considering that by 1907 many tramway systems had already closed, and that new ones were built after that date, the statistic is extraordinary. Many of Mexico's tram cars were fitted with gasoline motors in the 1920s and some were pulled by steam locomotives. Only 15 tramway systems in Mexico were electrified.
This chapter shows a sampling of the animal-powered lines that thrived in the first half of the 20th century. [There is no way, on this website, to show them all!] Order is alphabetical and the choices are random. Criteria were variety of operation and the quality of the illustration. There are separate pages on the tramways of Celaya and Yucatán and on mechanically-powered lines. For the electric systems see the map on the title page.
Atlixco
is a small town in Puebla state, 47 km south of Puebla city, on the Ferrocarril Interoceánico route to Mexico City. The Ferrocarril Urbano de Atlixco opened a standard-gauge horsecar line in 1898 from the railroad station westward through the village of Gamboa to a textile mill near Metepec. Length was 8 km. The tramway continued operation until at least 1944. Here is a scene at Gamboa. That's Popocatépetl, Mexico's fiercest volcano, basking in the morning sun [postcard, col. AM]: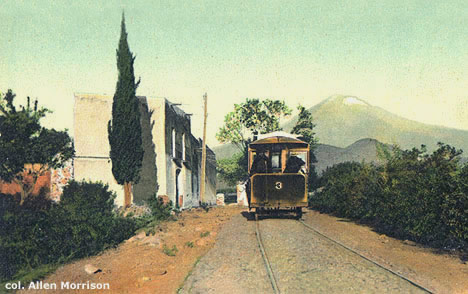 Cerritos
is a small town in San Luis Potosí state, about 60 miles northeast of its capital, also called San Luis Potosí. Population was 20,000 in 2000. In the late 19th century the Ferrocarril Urbano de Cerritos built a horsecar line along Calle Benito Juárez, between the railroad station and the plaza called Jardin Hidalgo. Length was one mile and track gauge was an odd 1560 millimeters (61.4 inches). The photograph below was taken in the 1920s near the tram depot at the corner of Calles Benito Juárez and Nicolás Bravo [col. Roberto Ruelas-Gómez]: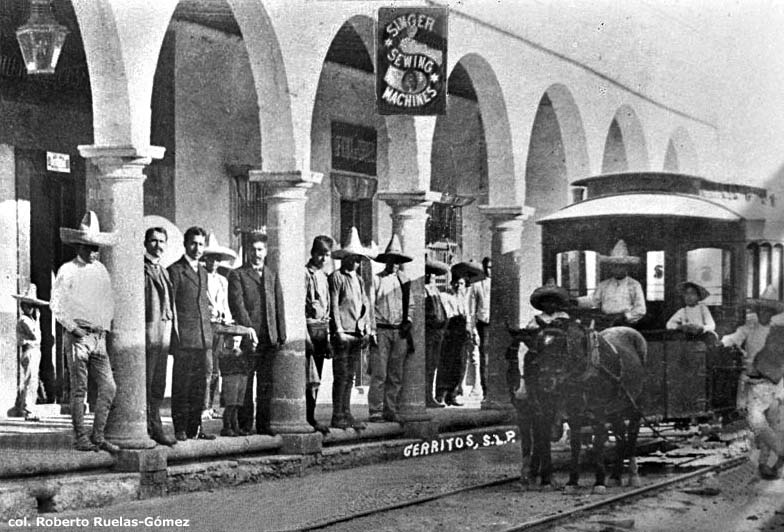 Cuernavaca
is the capital of Morelos state, just south of the Federal District. Beautifully set in the mountains, Cuernavaca was long a hideaway of the rich and famous - Hernán Cortés, Emperor Maximilian and Carlota, Benito Juárez, Porfirio Díaz, to name a few. More recently it has attracted Mexican and foreign tourists and acquired a million residents. The Anuario Estadístico first recorded a tramway in 1900 and listed 5 km of 3 ft gauge track in its last edition of 1907. The line is not mentioned in the Estadística de Ferrocarriles y Tranvías of 1922, so probably expired during the Revolution. The photo below shows a great variety of cars. The meaning of the "O" in "T O C" is unknown [col. AM]: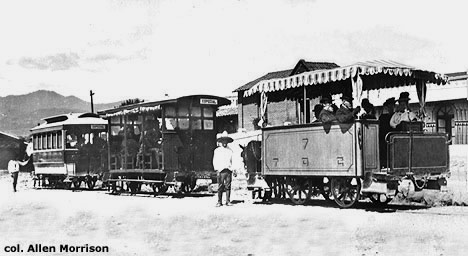 Guaymas
is a port in Sonora state, on the Gulf of California. This "photo postcard" has no inscription and puzzled the author for many years. Language on the signs is Spanish, but there is no city in the Spanish-speaking world called La Aurora. Someone scribbled "Panama City" on the back of the card, but there is no mountain like that in Panama. It was only after pictures were found of other trams marked "La Aurora" that the location was finally nailed. A Sonora history explains that the tramway ran from the railroad station to La Aurora plantation, a distance of 4 km. It operated from 1888 until 1917 [col. AM]: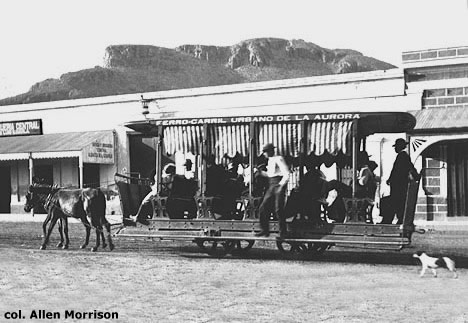 León
is the largest city in Guanajuato state and, with about 1.3 million residents, is the fifth most populous city in Mexico today. It is situated about 250 miles northwest of Mexico City and 150 miles east of Guadalajara. Its bus rapid transit system called "Optibús", inaugurated in 2003, was the first in Mexico. A horsedrawn tramway opened about 1882 and in 1923 the Tranvías del Centro had 22 passenger cars, 8 freight cars, 76 employees and 18.5 km of track. The view below shows Portal Aldama of the Main Plaza [col. Roberto Ruelas-Gómez]: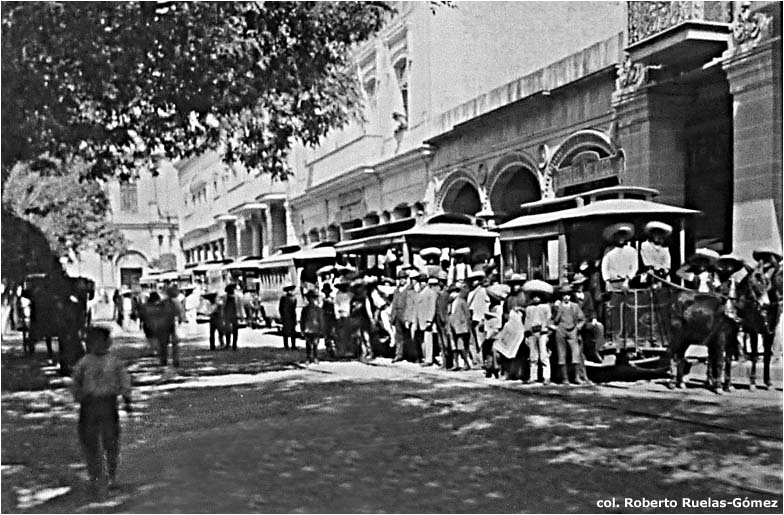 A tranquil scene on Av. Madero [col. Roberto Ruelas-Gómez]: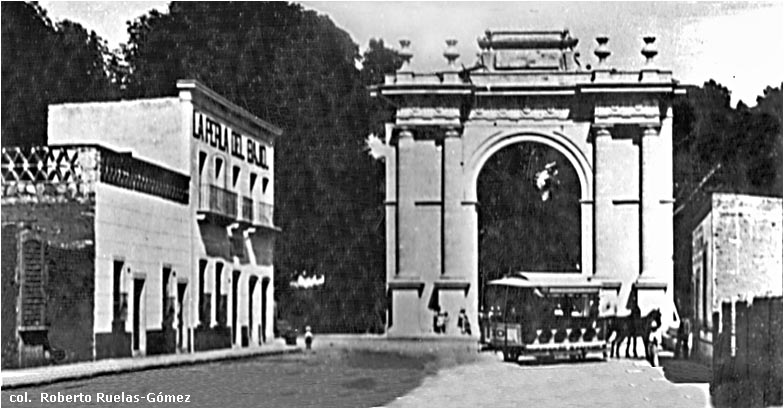 Mazatlán
is a busy port and vacation resort in Sinaloa state, on the Pacific Ocean. Mazatlán boasts that its beach is 26 km long. The Ferrocarril Urbano de Mazatlán built one of Mexico's first street railways in 1876, and had 6 km of 3 ft gauge track by 1905. Small steam locomotives replaced some of its mules in 1908, but the system closed in 1913, another victim of the Revolution. The postcard below was mailed in 1914 [col. AM]: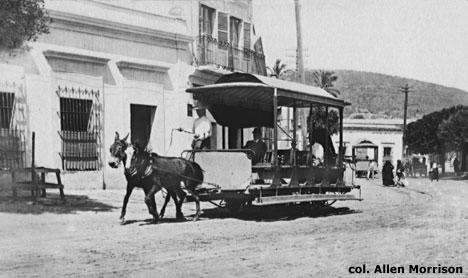 Oaxaca
is the capital of Oaxaca state, center of the Olmec civilization of 1000 B.C. The Ferrocarril Urbano y Agrícola, shown in the postcard below, opened about 1890 (A.D.). Six other tramway companies connected neighboring towns by 1905. Track gauge of all lines was 3 ft/914 mm and rolling stock came from American Car Co. in St. Louis. The Ferrocarril Urbano de Oaxaca y Oriente was still operating seven horsecars in the 1930s [col. AM]:
Orizaba
is in Veracruz state at the foot of eternally-snow-covered Pico de Orizaba (a.k.a. Citlaltépetl), Mexico's highest mountain (5,610 m/18,700 ft). The city's first tram lines opened in 1878 and extended to neighboring towns - Río Blanco, Nogales, Santa Ana, Santa Rosa and Cerritos. A hydroelectric plant at Tuxpango powered the trolleycars in nearby Puebla. Orizaba's mulecars were rebuilt with gasoline motors in the 1920s, but the street railway closed in 1933. The caption on this postcard, mailed to France in 1907, says "Avenida de la Libertad" [col. AM]: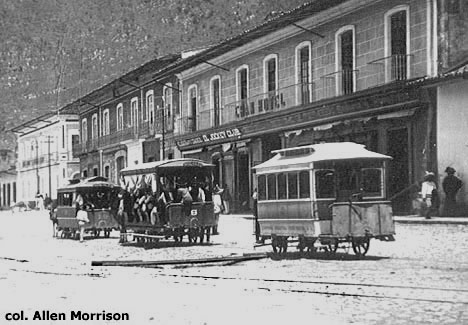 Pátzcuaro
is in Michoacán state, near Lago de Pátzcuaro, said to be one of the world's highest navigable lakes (2,210 m). Its tramway line, which used cars purchased from Brill in Philadelphia, opened in the 1880s and closed during the Revolution. The postcard below was mailed from Pátzcuaro to Mexico City in 1908 [col. AM]: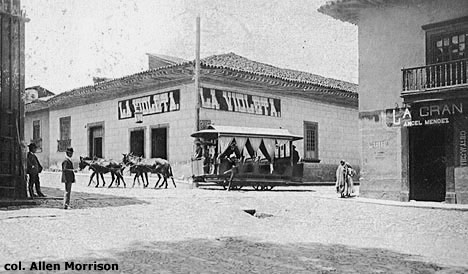 Tapachula
is Mexico's southernmost city, in the southern corner of Chiapas, Mexico's southernmost state. It is only 20 km from the Guatemalan border. Government surveys recorded tramways in other Chiapas towns around 1900, but none in Tapachula until 1922. The line must have opened earlier for the postcard below was mailed to Canada in 1913. Its caption says "Calle Zaragoza" [col. AM]: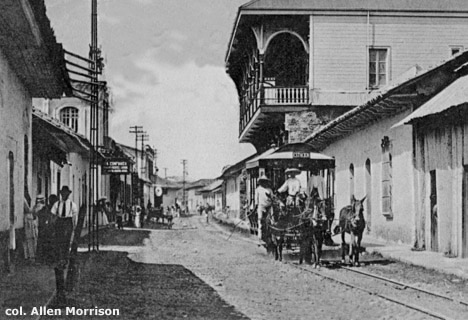 Another nice Tapachula postcard view. The destination box says "ESTACIÓN" [col. AM]: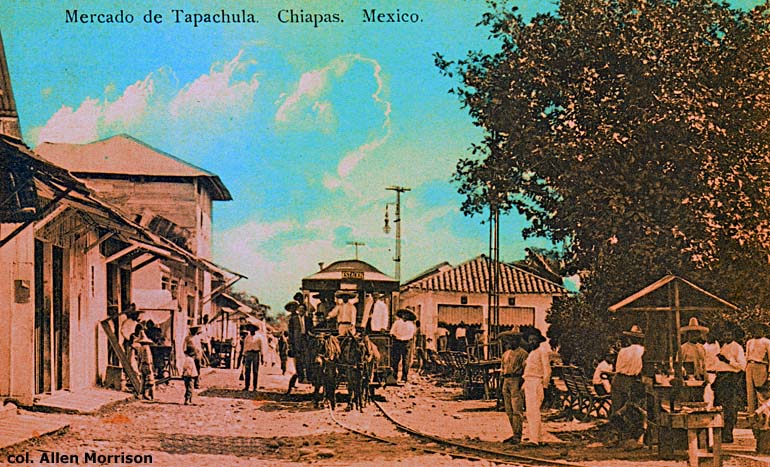 Teotihuacán
is a small town in México state, 59 km northeast of Mexico City, on the railroad line to Veracruz. The famous archaeological site nearby dates to 150 B.C. and attracts visitors from around the world. The Ferrocarril Urbano de Villa de Teotihuacán ran from the railroad station through town to the pyramids. A 1927 survey reported one employee, one gasoline car and 3 km of 3 ft gauge track. Judging from this undated photograph, the company also owned a few trams pulled by wayward mules (or are they horses?) [col. AM]: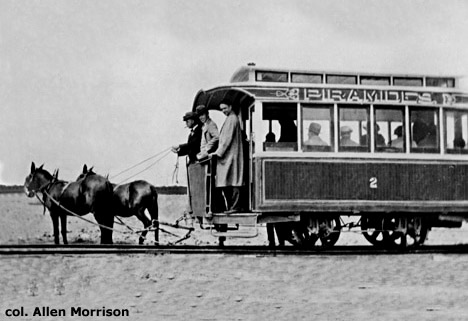 Uruapan
This beautiful city with the strange name [pronounced approximately ur-WAP-an] is located 425 km west of Mexico City in Michoacán state. Tranvías de Michoacán Uruapan ordered 3 passenger cars and 3 freight cars from J. G. Brill Co in Philadelphia in 1900 and opened a 2.5 km line from the town to the railroad station. This wonderful postcard view shows a 1st Class car at the station [Juan Viladroza]: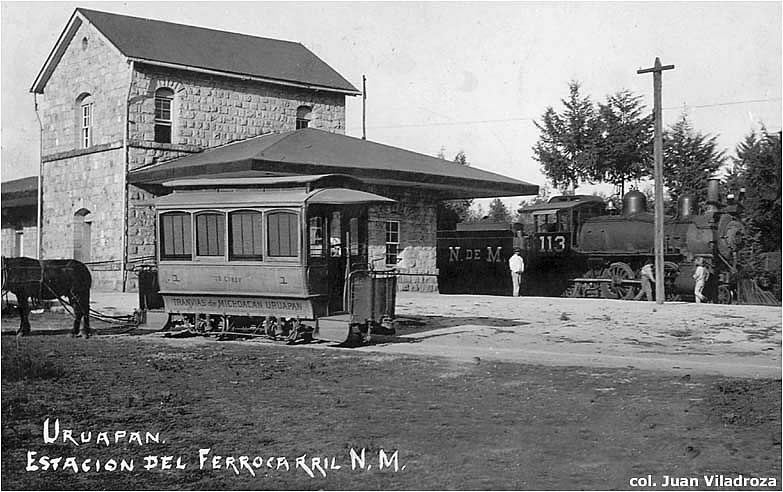 Zamora
is another small city in Michoacán state. Tranvías de Jacona y Zamora ran an interurban tramway from Jacona across country to the railroad station in Zamora. Distance was 5 km, track gauge was 3 ft and there were 5 passenger cars. The postcard below shows an unusual type [col. AM]: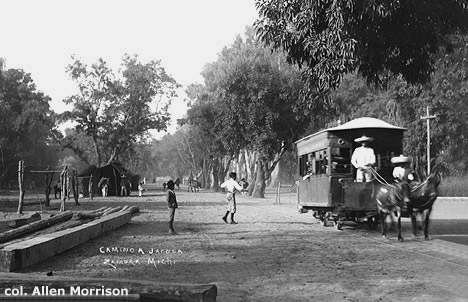 Here is another bucolic postcard view, showing a different type of car and the church spires of Zamora in the distance [col. AM]: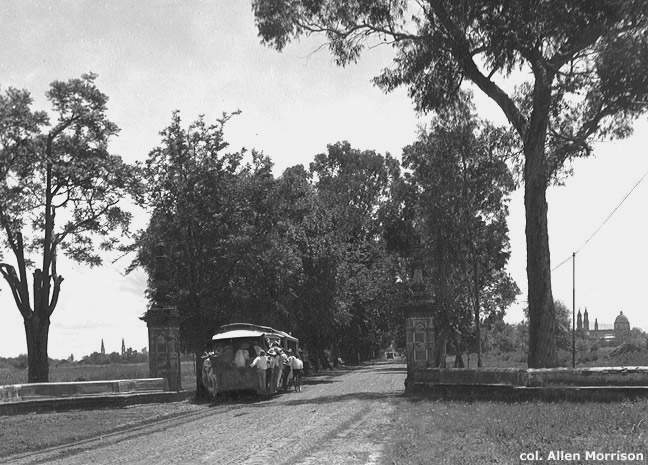 Most of the data in the descriptions above came from the following documents published by the Mexican government:
Secretaría de Fomento, Colonización e Industria. Anuario Estadístico de la República Mexicana, 1893-1907. Mexico City, 1894-1912. Annual inventories of "Ferrocarriles urbanos" and "Ferrocarriles foráneos" report the motive power, track gauge and length of Mexico's tramway systems.
Secretaria de Comunicaciones y Obras Públicas. Departamento de Comunicaciones Terrestres. Estadística de Ferrocarriles y Tranvías de Concesión Federal, 1922-1934. Mexico City, 1926-1935. Continuation of the survey above - but only of lines with federal franchises, i.e., intercity lines. No tramway surveys were conducted between 1907 and 1922.

see page on
Mechanically-Powered Tramways
return to
INTRODUCTION & INDEX MAP
Copyright © 2003 Allen Morrison - ALL RIGHTS RESERVED