[25] The 4-wheel Brill car provided a free service for students every 10 minutes. [AM]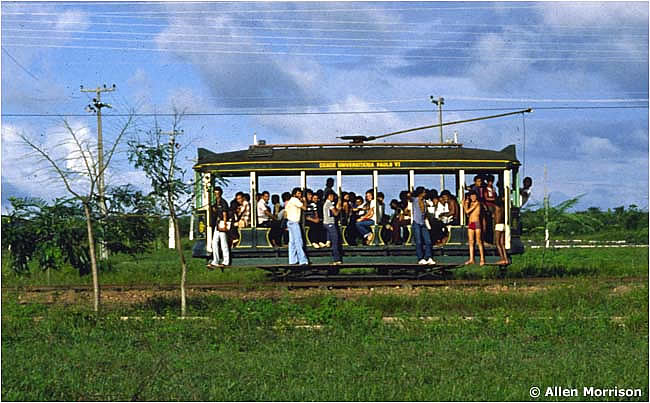 [26] A well packed tram – it was just like the old days! The original fleet number of the car could not be determined. [AM]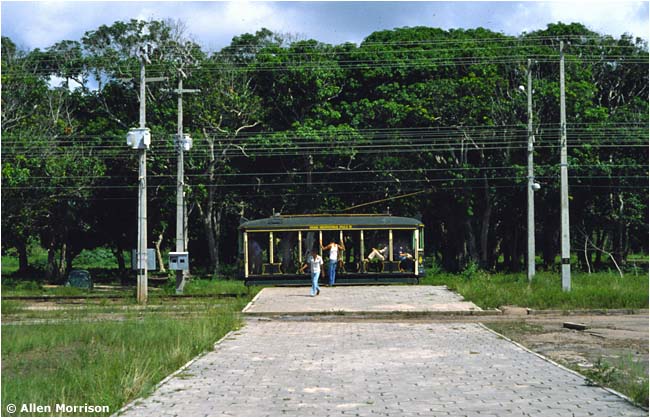 [27] A platform near the university end of the line. [AM]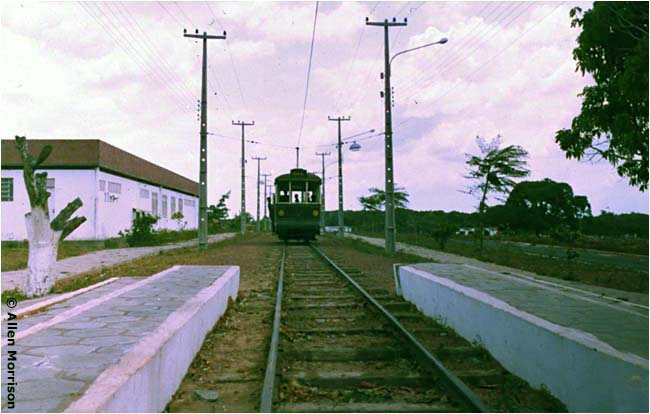 [28] This car has just left the loading platform near the bus stop on the highway. [AM]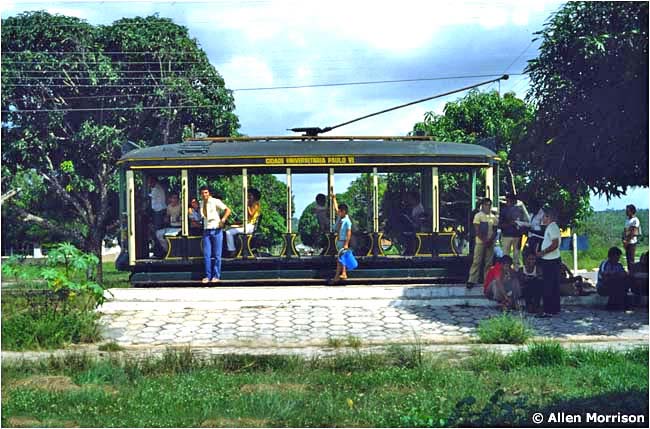 [29] The northern end of the line, where passengers transferred to buses for the journey into the city. On 30 December 1981 FESM became part of the Universidade Estadual do Maranhão ["UEMA"]. [AM]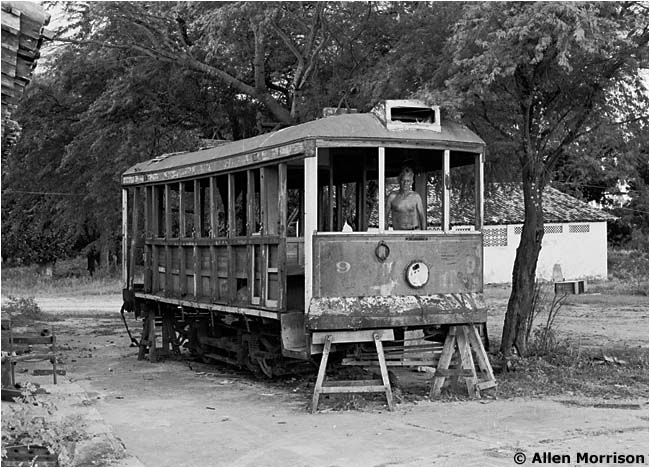 [30] In a patio next to the tram line, the author found another surprise. This is elusive tram 9, which Brill had built as an 8-bench open car in 1926, but which – along with 8-wheel open car number 2 – São Luís had rebuilt closed. It still has its Brill model 21-E truck. The steps are labeled "Trajano de Medeiros & Cia", the car builder in Rio de Janeiro.
UEMA closed the Tirirical tramway in 1983, allegedly because of sewer construction, and it never reopened. Today, some of the track is still buried in the grass. But the city's trams seem to have disappeared once again... [AM]
____________________
In 1986, three years after closure of the little tramway at Tirirical, São Luís became the terminus of a completely new 892-km diesel-powered railroad that has become the most important in Brazil, one of the most profitable in the world, and the railroad with the the world's longest trains – 330 cars! The Estrada de Ferro Carajás was built to bring iron ore and other metals from a mining area in Pará state to Ponta da Madeira across the Bacanga River from São Luís [see map]. The line is owned and operated by Vale, S.A. (ex-Companhia Vale do Rio Doce), now the world's largest producer of iron ore. E. F. Carajás also carries 1,500 passengers / day to and from Anjo da Guarda station. Track gauge is 1600 mm / 63 in, the same used by most of Brazil's rapid transit lines.
The meter-gauge E. F. São Luís-Teresina was cut back to a point near the airport in 1964 [see map] and there was a plan to convert the abandoned right-of-way to a light rail line. But the path was replaced instead by an automobile road. The railroad's passenger service ended in 1991.
BIBLIOGRAPHY
(in order of publication)
Maranhão. Relatorio do Anno de 1873. Rio de Janeiro, 1874. "Ferro-carril" on p. 56 [from Provincial Presidential Reports 1830-1930]. Inauguration dates of the first tramway lines. Brief description of the company and its plans.
"Requerimentos Despachados" in Diário Oficial (Rio de Janeiro), 31/1/1892, p. 456. Decreto permitting EFC to import from US without paying taxes/duty [more legible in PDF form, but requires registration].
Timoteo Zani. Al Parà, Maranhão e Cearà: Note di Viaggio. Milano, 1905. Account of the author's visit to São Luís in 1905, pp. 233 and 393. Train pictures, pp. 263 and 399.
Brazil. Instituto Brasileiro de Geografia e Estatística ["IBGE"]. Directoria Geral de Estatística. Anuario Estatístico do Brasil. Rio de Janeiro, 1908-. "Emprezas de carris urbanos" sections each year report finances, traction type(s), track length, fleet and personnel of the principal tramways of Brazil.
"Tramways" report in Brazil-Ferro-Carril (Rio de Janeiro), 6/1911, p. 8. Description of plan by U.S. engineer Antonio Lavandeyra to install electric lighting and tramway in São Luís. Vehicles would include an electric locomotive and baggage cars for the Anil line.
"São Luís" news report in Brazil-Ferro-Carril (Rio de Janeiro), 8/11/1923, p. 582. Full page article describes the Ulen project in detail.
"Open Cars for Maranhao [sic], Brazil" in Brill Magazine (Philadelphia), July 1924, p. 190. News item shows large photos of three tram models built for São Luís [see above].
Estado do Maranhão. Cidade de S. Luiz, Capital do Estado do Maranhão, Planta Confeccionada no Serviço da Carta do Estado pelo engenheiro José Abranches de Moura. 1926. Pará, 1926. Superb, large-scale street map with good detail of the new electric tramway system.
Large, unidentified street map of São Luís dated 1938. Shows slightly different tramway routes from 1926 map above. [Both these maps were copied in the 1980s at the Geography & Map Division of Library of Congress in Washington, DC, USA.]
"Tramways" in Brazil-Ferro-Carril (Rio de Janeiro), 31/5/1936, p. 249. Short news items mentions three trams coming to São Luís from the USA. Their origin and identity is uncertain.
Prefeitura Municipal de São Luís-Maranhão. Secretaria de Urbanismo e Planejamento. Mapa da Cidade de São Luís, 1977. Large street map of the region on which a local engineer, John U. Gisiger, drew the tram lines, including the new one at Tirirical.
"Bondes voltarão em São Luís" in Jornal do Brasil (Rio de Janeiro), 21/12/1979. São Luís mayor Mauro Fecury says that tram service will return in 1980...
Ministério do Exército. Diretoria do Serviço Geográfico. São Luís, 1980. Topographical map, scale 1:100,000, shows southwestern section of São Luís island. Used as the basis for my regional map.
Allen Morrison. "The University Tramway at Tirirical" - YouTube video transfer of my edited 6 1/2 minute silent film shot in 1980. A stranger added music and created a sound version!
Raimundo Palhano. Coisa pública: Serviços públicos e cidadania. São Luís, 1988. Various articles mention São Luís trams. See especially "Bonds: Os Burros Vencem o Progresso" on pp. 296-310.
Sylvânio Aguiar Mendes. Entre Burros e Empurrões: uma história dos bondes elétricos em São Luís (1924-1966). São Luís, 2005. Available as PDF. Scholarly, but despite the title the focus is almost exclusively on corporate and political history.
Wilson Pires Ferro. Espelhos de São Luís: Artigos e Crônicas. São Luís, 2005. Collection of newspaper columns published 2000-2001 in O Estado do Maranhão. There are four essays specifically about the city's bondes, pp. 151-162. The author describes the tram itineraries in detail, expresses his fond memories of them, and hopes that the cars can be brought back.
José Ribamar Martins. São Luís era assim. Brasília, 2007. São Luís memories, including a nice chapter on "Bondes", pp. 21-28. Route descriptions.
Maria das Graças do Nascimento Prazeres, Francisco Alcides do Nascimento. Construindo a cidade: Os Discursos Oficiais referentes aos bondes elétricos na Primeira República em São Luís/MA. Teresina, nd [about 2008]. Good 12-page account of tramway development. Available as PDF.
Maria das Graças do Nascimento Prazeres. "Na Trilha da Modernização: Uma Análise da Mobilidade dos bondes elétricos em São Luís do Maranhão", pp. 47-68, in Mobilidade Urbana em São Luis. São Luís, 2009. Nice broad tramway history, of the world, Brazil, São Luís. Recommended. Available as PDF.
Jeferson Francisco Selbach. "Mobilidade Urbana nos Códigos de postura de São Luís/MA", pp 21-46, in his Mobilidade Urbana em São Luis. São Luís, 2009. Brief illustrated tramway history. See especially pp. 33-39. Available as PDF.
Benedito Buzar. "Começo e fin dos bondes em São Luís" in O Estado do Maranhão (São Luís), 8/11/2010, pp. 20-21. Superb, full page-and-a half history of the tramways of São Luís. Wonderful large photograph of closed 4-axle tram number 2.
Anderson Corrêa. Bondes de São Luís. Blog, 2011-. Interesting page with concise tramway history ("com informações do professor Benedito Buzar") and comments by readers.
Banco de Dados do Transporte Coletivo de Passageiros do Maranhão. Extraordinary, indexed (and cross-indexed) collection of data, government documents, photographs, all things related to passenger transport in São Luís.
"Legislação - Resoluções: Parte Official - Despachos - 14/01/1871" in Banco de Dados do Transporte Coletivo de Passageiros do Maranhão. Transcription of the 1871 tramway contract.
Ralph Mennucci Giesbrecht. Estações Ferroviárias do Brasil: Piauí e Maranhão. Excellent basic information about railroad stations and lines in Piauí and Maranhão states. Illustrated.
[This website includes four maps: of the northern part of Maranhão state around São Luís island, of the São Luís horse tramway, of its electric tramway, and of the city's metropolitan area.]
In addition to the information supplied by the photographers noted above, the author is indebted to São Luís residents John U. Gisiger, Wilson Pires Ferro, José Ribamar Martins, Anderson Corrêa, and Benedito Buzar for the assistance that they provided in the preparation of this website. Muito obrigado, senhores!
____________________
See my index of
ELECTRIC TRANSPORT IN LATIN AMERICA
Outras páginas com texto em português:
Os Bondes de Curitiba
Os Bondes de Piraju
Os Bondes de Porto Alegre
If you have comments, criticism or suggestions,
please e-mail me! Leio português.
This site was placed online on
27 September 2011
Copyright © 2011-2111 Allen Morrison
ALL RIGHTS RESERVED
TODOS OS DIREITOS RESERVADOS
As fotos coloridas desta página são protegidas pela Lei do Direito Autoral (Lei N° 9.610 de 19 de Fevereiro de 1998) e não podem ser reproduzidas sem a expressa autorização do autor.