Pelotas is a river port near the south end of Lagoa dos Patos, 60 km from Rio Grande, 270 km from Porto Alegre [see state map], 130 km from the Uruguayan border, and about 5,000 km south of Brazil's northernmost tramway systems in Manaus and Belém. The city's population was 30,000 in 1910 and is about 350,000 today.
Like Rio Grande and Porto Alegre, Pelotas had an animal-powered street railway before it was reached by steam railroad - in this case, 11 years earlier. Domingo Rodrigues Cordeiro secured a franchise on 3 February 1870 to build a tramway in Pelotas, formed the Ferro Carril e Cais de Pelotas and opened the first line on 9 November 1873: from Praça Pedro II (later called Praça da República, today called Praça Coronel Pedro Osório) down Rua Imperador (today called Rua Félix da Cunha) to the PORTO [see city map]. A second line, from Praça Pedro II north on Rua São Miguel (today called Rua 15 de Novembro) to the CATEDRAL, opened soon after, and a third line, west on Rua Marechal Floriano across the canal to FRAGATA, in 1874. The latter route was extended a few kilometers to PARQUE (Parque Pelotense, later renamed Parque Souza Soares) when that park was dedicated in February 1883. Pelotas horsetrams ran on narrow gauge tracks.
The British-owned Southern Brazilian Rio Grande do Sul Railway finally arrived in 1884. The postcard view below shows a train crossing the Piratini River near Pedro Osório, 40 km west of Pelotas [see state map] [col. AM]: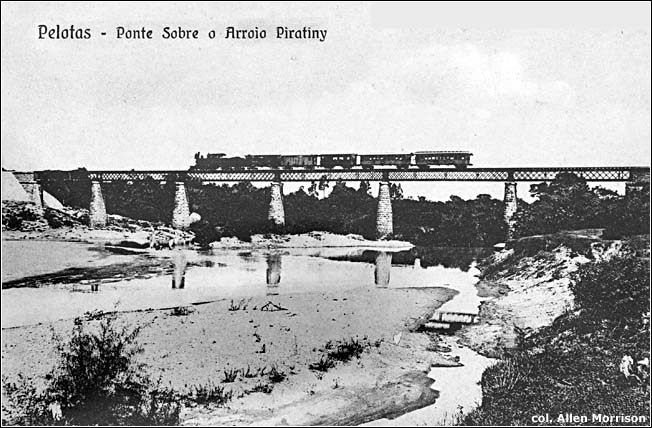 A horsecar line was extended in 1884 across Rua 7 de Abril (today called Rua Dom Pedro II) to the new E. FERRO (Estrada de Ferro) station [see map] [postcard, col. AM]: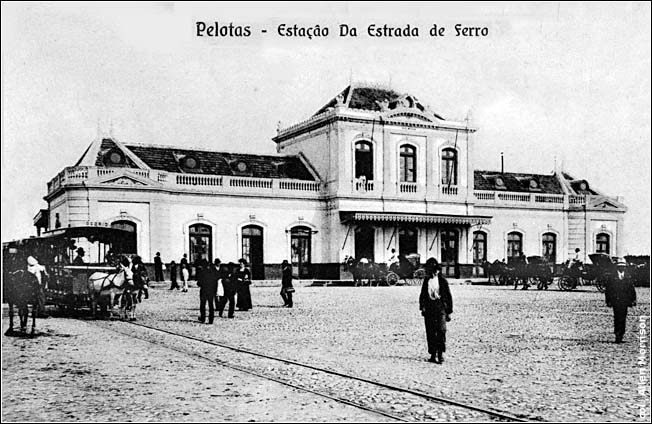 All Pelotas horsetrams seem to have been open models of a classic North American design - which means that they were built either by John Stephenson Co. in New York or J. B. Brill Co. in Philadelphia. Most of the early records of those companies, unfortunately, are lost [postcard, col. AM]: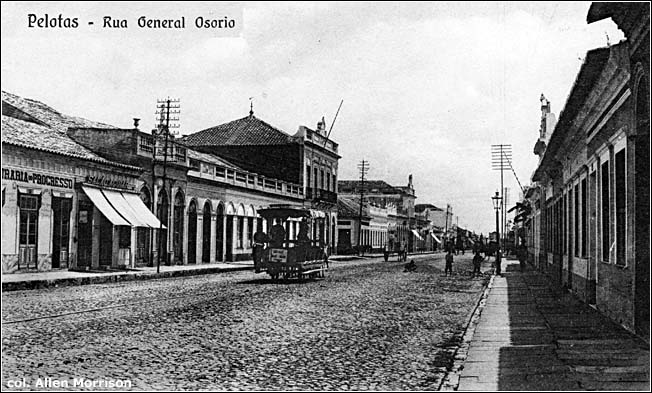 The vehicle in the postcard view below is similar to the Stephenson car shown in the 3rd and 5th illustrations on the Tramways of Rio Grande site. The Library and City Hall were on Rua 15 de Novembro, facing Praça Coronel Pedro Osório [see map] [col. AM]:
The next postcard shows the tramway terminus at the northwest corner of Rua 15 de Novembro and Rua Marechal Floriano [see map]. The car is facing the sun, so the driver seems to have dropped a curtain to keep the interior cool while the passengers board [col. AM]: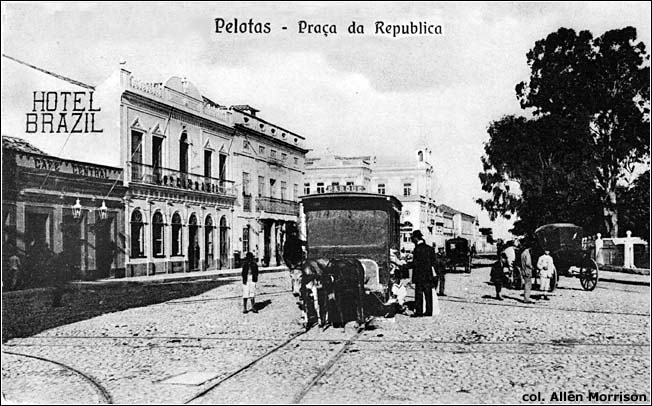 At the advent of World War I, the 31 passenger cars and seven freight cars of the Ferro Carril e Caes de Pelotas were still being pulled by mules. Tram lines in Porto Alegre, the state capital, had been electrified in 1908, and those in nearby Rio Grande in 1912.
Rio Grandense Light & Power Syndicate, Ltd., was registered in London on 17 May 1912. It installed electric street lights in Pelotas in 1914, built new tramway facilities on Rua Marechal Floriano [see map], and engaged an Argentine firm, Buxton, Cassini & Compañía of Buenos Aires, to construct an electric tramway system. RGL&PS ordered a group of 2-axle cars from Brush Electrical Engineering Co. in Loughborough, England [col. Leicestershire Record Office, Leicester, England]: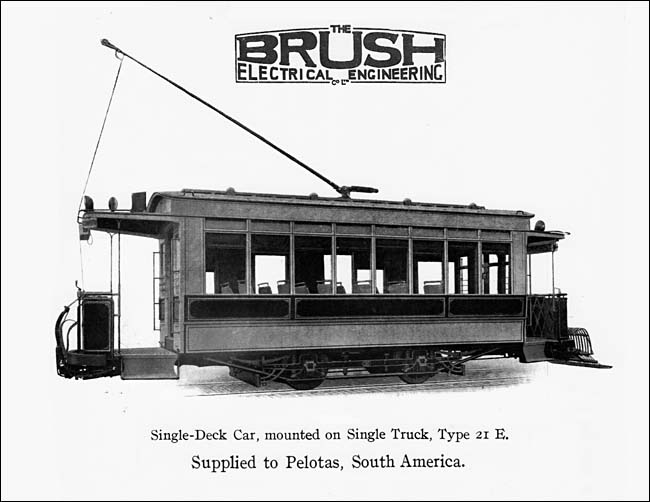 The vehicles were shipped from Swansea, Wales, and arrived in Pelotas in 1915. Brush records are lost and the number of cars sent to Pelotas is disputed. Most historians and the newspaper Correio Mercantil reported five Brush trams. But the newspaper Diário Popular reported only four [see Michelon in BIBLIOGRAPHY, below]. This photograph shows a Pelotas tram at the factory in Loughborough [col. Leicestershire Record Office, Leicester]: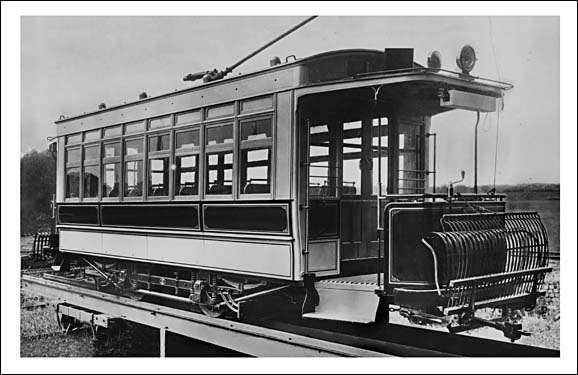 Three Brush trams inaugurated the first line of the new Pelotas tramway system on 20 October 1915: a circular route between Praça Coronel Pedro Osório and the railroad station - Rua 15 de Novembro, Rua Dom Pedro II, Rua Marcílio Dias and Rua Marechal Floriano [see map]. Track gauge of the new electric system was 1435 mm, the same used by electric trams in Porto Alegre (and Buenos Aires) [col. AM]: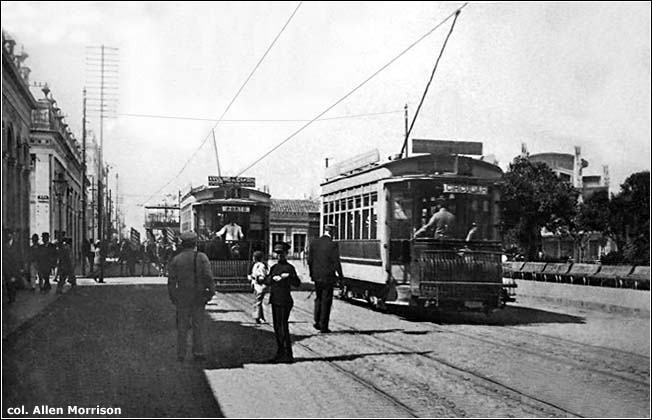 A second line opened the following month, a third in November and a fourth in December 1915. The photograph below shows the Mercado Público, opposite the southwest corner of Praça Coronel Pedro Osório [see map] [col. Wanderley Duck]: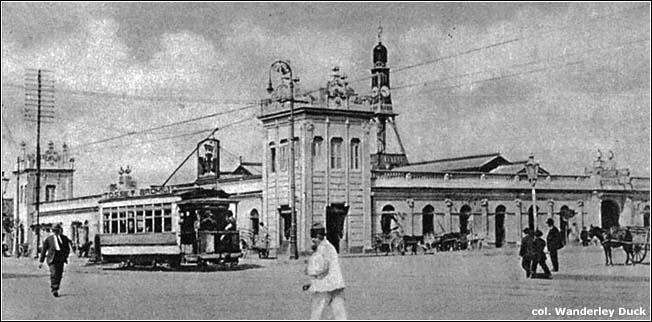 Four or five trams were not enough to operate four lines, and shortly after the inauguration the company added five or six double-deck cars to the fleet. Double-deck trams ran in only two cities in Brazil - in Pelotas and in Porto Alegre - and the 4-axle Pelotas cars were not only larger than the 2-axle models in Porto Alegre, they were the largest trams ever to operate anywhere in Brazil. Here is double-deck tram 10 on route 6 in Parque Pelotense on the west side of Pelotas. The park was later renamed Parque Souza Soares [see map] [col. Livraria Universal]: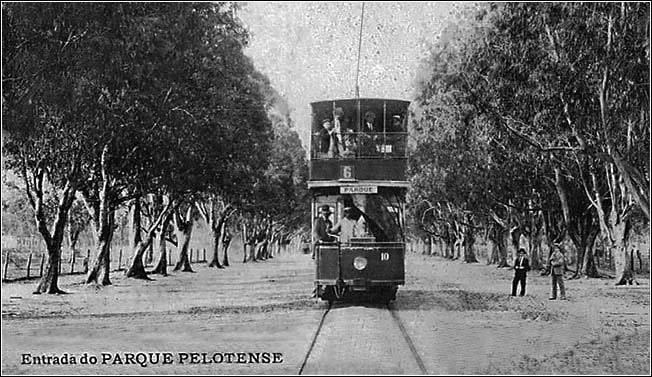 A later view of Parque Souza Soares. The eucalyptus trees have grown [see
map
]. The photographer was facing north, toward the park gate in the distance [postcard, col. AM]: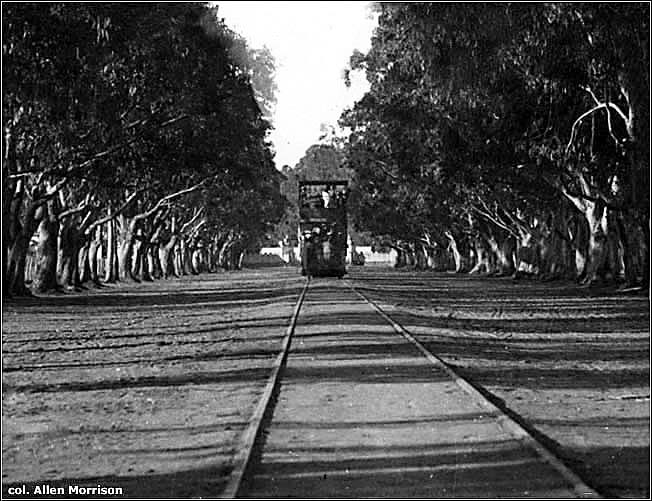 Parque Souza Soares was a large area that was once the location of the Souza Soares family estate, a pharmaceutical plant, homes for its employees, a school, chapel, restaurant, recreation area, gymnasium, skating rink and a lake with rowboats. No trace of it remains today [see the same spot in 2011 and article by Ivelise Alves Nunes noted in the BIBLIOGRAPHY].
A view south, from the other side of the park gate [see map]. The track switch led to a loop where the trams turned around [col. Livraria Universal]: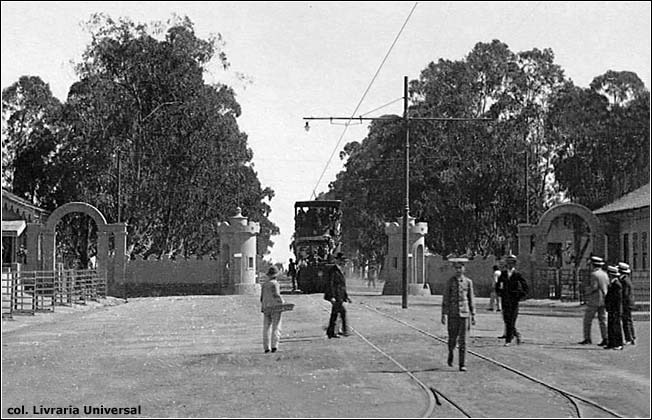 Image quality is poor, but this is the only known "3/4 view" of a Pelotas double-decker in its original open-top form. The camera is pointed south. The tram has turned around and is headed back to the city [see map] [postcard, col. AM]: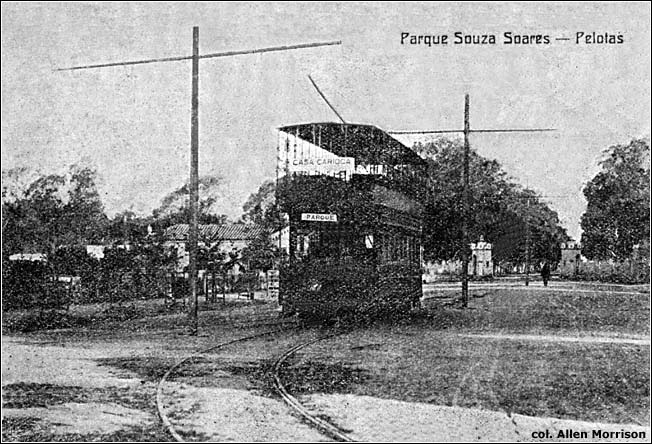 The origin of the Pelotas double-deck trams is uncertain. The vehicles are very similar to the open-top trams that Jackson & Sharp Co. of Wilmington, Delaware, USA, built in 1899 for Buenos Aires [see example]. Considering the fact that the electric tramway in Pelotas was built by contractors from Buenos Aires, it seems likely that the cars were brought second-hand from Argentina. The photograph below shows Pelotas tram 5 after its upper deck had been enclosed. Since this car is numbered 5 and another double-decker is numbered 10, one guesses that there were six double-deckers numbered 5-10, and four Brush trams numbered 1-4 [col. Henrique Carlos de Morais]: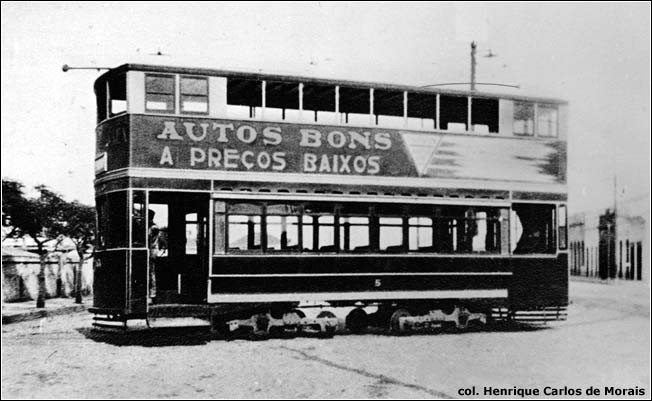 For a relatively small tramway system, RGL&PS operated an unusual variety of rolling stock. In March 1920, it placed an order with J. G. Brill Co. of Philadelphia for two single-truck "Birney Safety Cars", which were the first vehicles of that type to run in the southern hemisphere. (Brill supplied Birney trams to Paraná, Argentina; Petrópolis, Brazil; and Medellín, Colombia, soon after.) For some reason the two Pelotas cars were designed for left-hand operation with doors on the left ("port") side in the front. The text in Brill Magazine [see below] says that traffic ran left, English-style, in Pelotas - but no evidence of that practice could be found on old photographs or postcards. The first two Birney cars were numbered 11 and 12 [Brill Magazine (Philadelphia), 6/1921, p. 342]: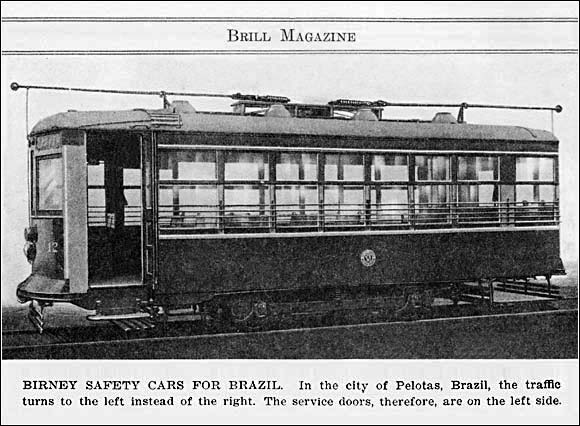 In 1922 Brill sent Pelotas four more Birneys, numbered 13-16, with right-hand doors. The logo on the side of the tram specifies its English owner: "RIO GRANDENSE POWER AND LIGHT SYNDICATE LIMITED" [col. Historical Society of Pennsylvania]: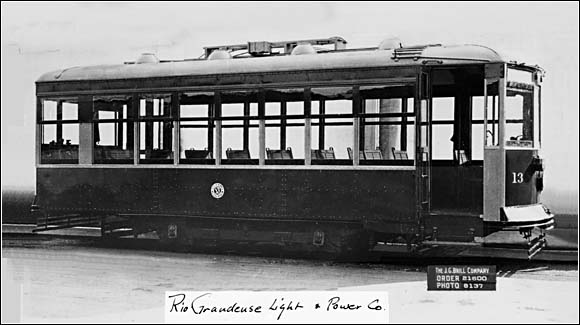 Interior of a Pelotas Birney [Brill Magazine (Philadelphia), 6/1921, p. 342]: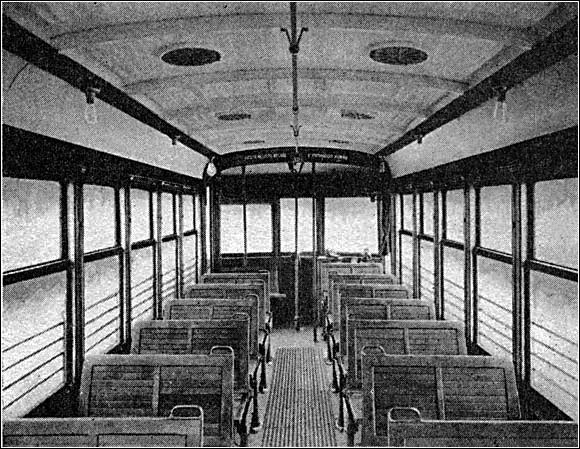 This postcard shows a Birney tram at the northwest corner of Praça Coronel Pedro Osório [see map]. The view is south down Rua 15 de Novembro. Note that traffic is running on the right-hand side of the street [col. AM]: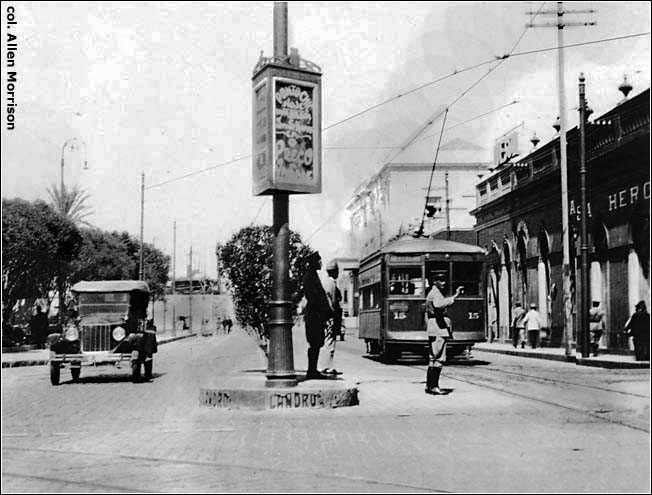 The next postcard shows a Birney at the same northwest corner of Praça Coronel Pedro Osório - but this time the photographer was looking north up Rua 15 de Novembro [see map]. The corner bank is a landmark [col. AM]: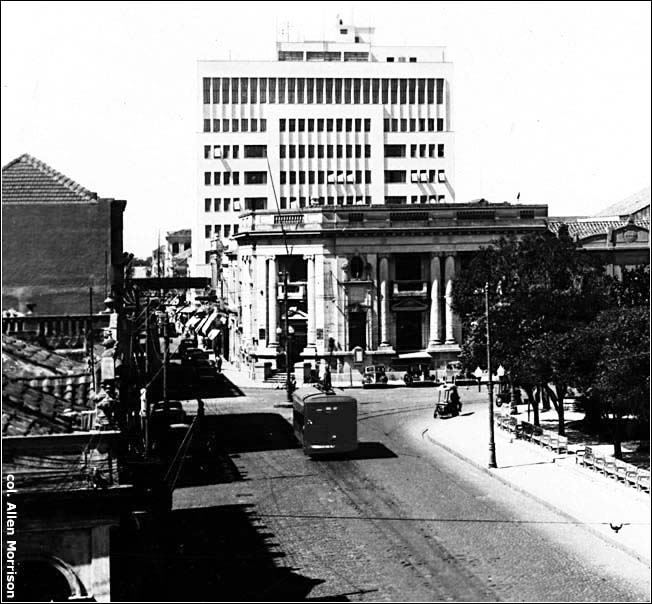 RGL&SP began to rebuild its double-deck trams as single-deckers in 1922 and opened a new line to TRES VENDAS in 1926. In 1927 it acquired ten new 2-axle cars from Brush Electrical in Loughborough - which were probably numbered 17-26. The photograph below, taken in England, shows one of the new models before its truck had been attached [col. Leicestershire Record Office, Leicester, England]: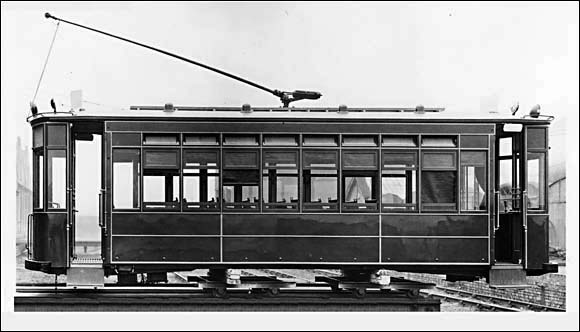 The following photograph shows two English trams in the very wide, park-like center reservation of Av. Duque de Caxias in the Fragata district [see map] [col. Ronaldo Madruga]: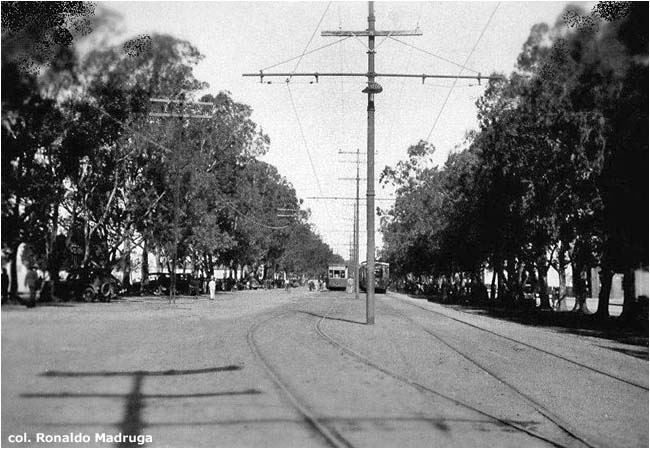 In 1930 the Pelotas tramway company was acquired by American & Foreign Power ("Amforp"), a division of the U.S. conglomerate Electric Bond & Share ("Ebasco"). When the new operator, Companhia de Energia Elétrica Rio Grandense, raised tramway fares, the passengers protested in the streets. A resident named Alberto Franck took the following four photographs of the event. The first shows one of the new Brush cars, followed by a Birney and other trams [photographs reproduced with permission of Sr. Franck's grandson, Rogério Franck da Silveira; see BIBLIOGRAPHY, below]: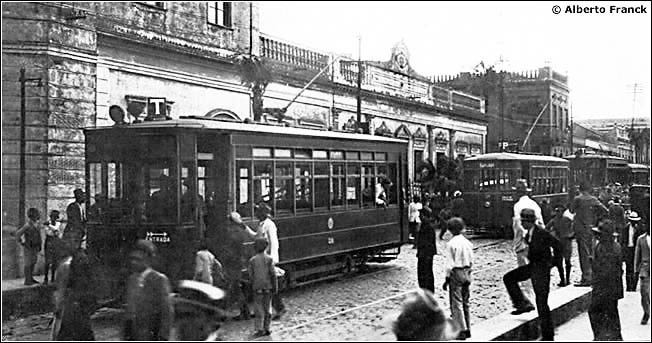 Young protestors broke windows. The "T" atop the tram identified the TRES VENDAS line [see map] [Alberto Franck, col. Rogério Franck da Silveira]: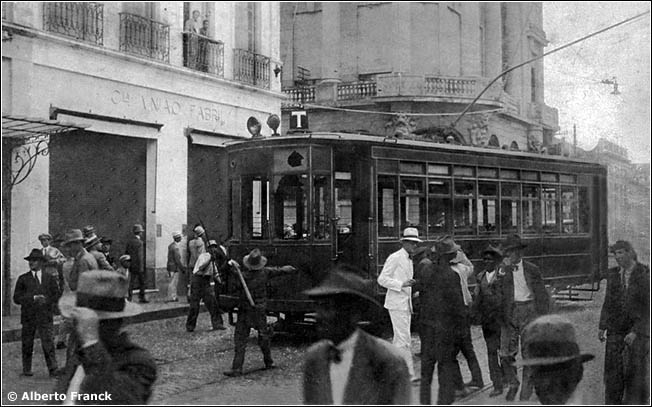 It is not known how long the demonstrations lasted. No literature on the subject could be found [Alberto Franck, col. Rogério Franck da Silveira]: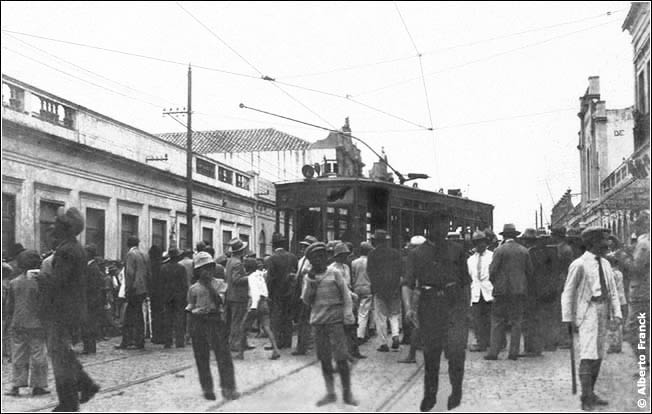 Is the uniformed man a motorman or a policeman? In any case, the scene is very sad [Alberto Franck, col. Rogério Franck da Silveira]: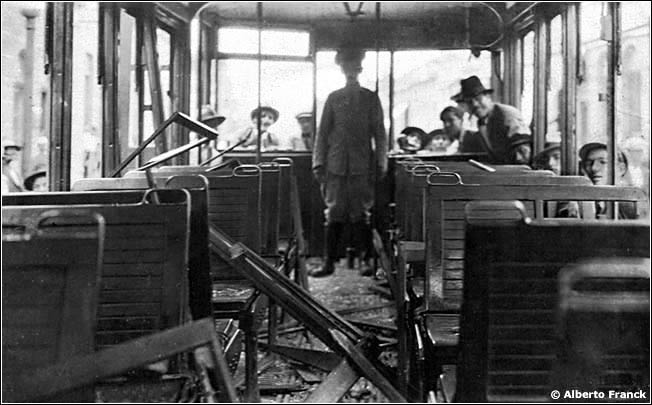 The photograph below, taken about 1935, shows one of the Brush cars that survived. But its condition is poor [col. AM]: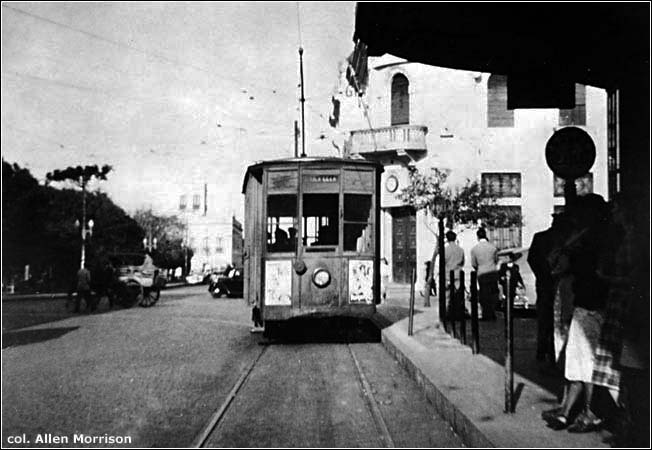 In the late 1930s the first group of Brush cars was retired and CEERG obtained 11 additional Birneys third-hand from
Porto Alegre
, which had obtained them second-hand from Baltimore and Boston, USA. In the 1940s it also acquired some of Porto Alegre's home-made "Miller" cars [col. AM]: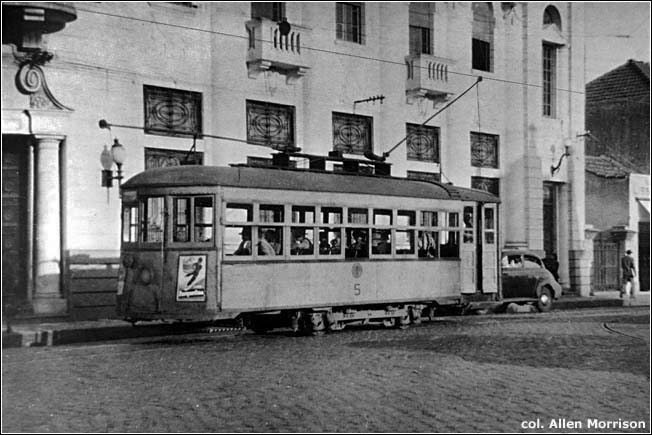 The date of the postcard view below is unknown. The photographer was facing east, toward the PORTO. The tracks in the foreground are turning north onto Rua 15 de Novembro [see
map
]. Inbound and outbound trams passed here [col. Marcelo Cáceres Miranda]: