ESALQ ended all tramway service on 3 October 1969. (The Campinas tramway had closed in 1968.) ESALQ placed motor car 4 and trailer 1 on display on the campus. The trams became favorite places for students to sit and reminisce... [col. AM]: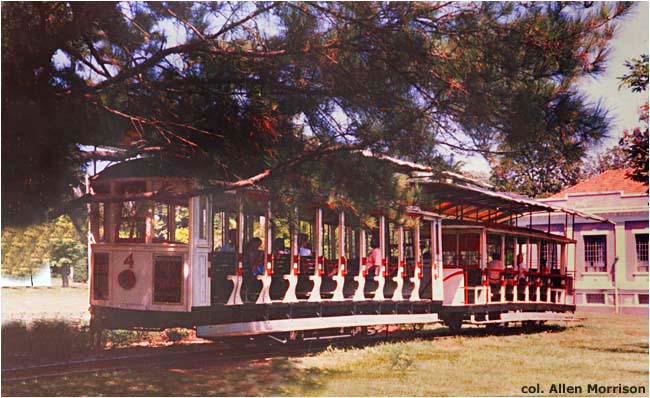 An ESALQ group posted these plaques near the tram display the following year [col. AM]: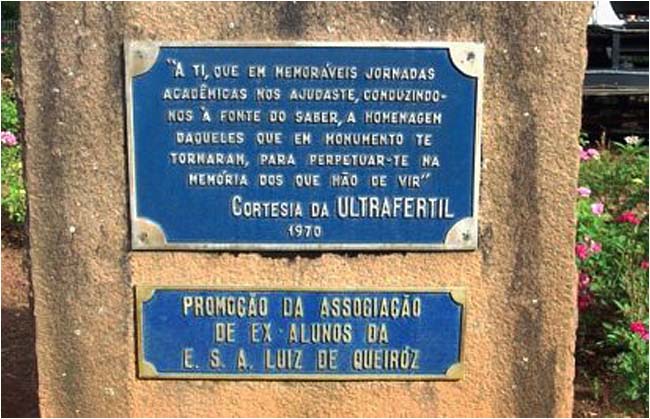 "To you [the tramway], who helped us in our memorable school days, leading us to the source of knowledge, the homage of those who turned you into a monument, so as to perpetuate you in the memory of those who have yet to come . . . A tribute by the Alumni Association of ESALQ"
Tram 3 ended up across the river at the Engenho Central. The sugar mill closed in 1974, but the car remains inside one of its deserted buildings to this day. A 1998 plan to rehabilitate the car and run it on a tourist line along the river has not developed [col. AM]: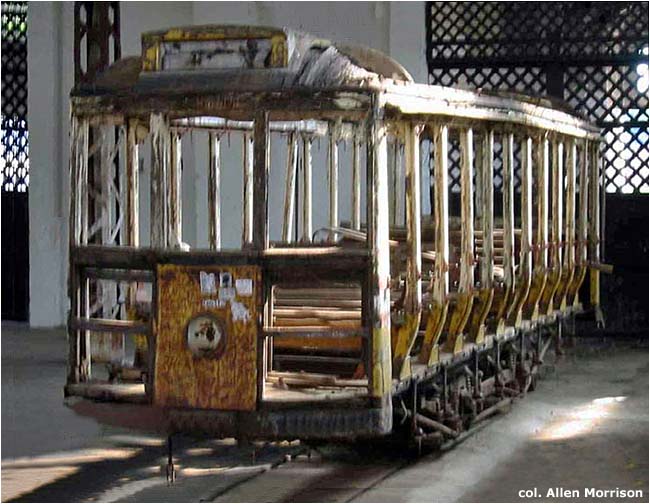 Electric tram cars ran in Piracicaba for 53 years. Car 4, displayed at the university since 1969, and recently renumbered 2, was 100 years old in 2012. The former Sorocabana Railroad ended passenger service in 1976, the Paulista line in 1977. The former's right-of-way through the city is now a multi-lane highway. The Paulista rails remain.
BIBLIOGRAPHY
(in order of publication)

São Paulo. Comissão Geográfica e Geológica. "Folha de Piracicaba" 1:100,000. São Paulo, 1908. Topographic sheet shows "Tramway do Engenho Central".
Untitled news item in Brazil-Ferro-Carril (Rio de Janeiro), 1910 [precise date and page number unknown]. Plan for electric or steam tramway between Piracicaba and Rio Claro.
"Initial Equipment for Campinas, Brazil" in Brill Magazine [Philadelphia], VII 1912, pp. 218-221. Description and three illustrations of the city's first electric trams – five of which were transferred to Piracicaba.
Piracicaba, Câmara Municipal. Contracto com "The Southern Brazil Electric Co." para a Installação de Tramways Electricos. Piracicaba, 10 IX 1915. Contract to build electric tramway.
"Open Cars for Campinas, Brazil" in Brill Magazine [Philadelphia], XII 1916. pp. 372-373. Description of the city's second tram model. A paragraph on p. 373 notes that four cars from the earlier group were sent to, and were then running in, Piracicaba.
Instituto Histórico e Geográfico de Piracicaba. "Piracicaba", 6-minute film, 1922. Extraordinary scenes of trams and trains – both railroads – in Piracicaba in 1922!
Fundação IBGE - Instituto Brasileiro de Geografia. Carta do Brasil - Escala 1:50,000, 1969. Folha SF-23-M-III-2 "Piracicaba". Excellent medium-scale map of the Piracicaba area.
"Bondes" in Jornal de Piracicaba (Piracicaba), 8 X 1969, p. 1. Tramway closure.
S. de Toledo Piza Jr. "O Bondinho da Escola Agrícola" in ESALQ 75: Livro comemorativo do 75° aniversário da Escola Superior de Agricultura Luiz de Queiroz, da Universidade de São Paulo. Piracicaba, 1976. Sentimental tribute to the tramway era. No data.
Waldemar Corrêa Stiel. História dos Transportes Coletivos em São Paulo. São Paulo, 1978. The "Piracicaba" chapter on pp. 300-304 presents impressive detail on early tramway plans. There are six interesting photographs.
Waldemar Corrêa Stiel. História do Transporte Urbano no Brazil. Brasília, 1984. The author's "Piracicaba" chapter on pp. 246-248 of this volume is much shorter, but contains two nice illustrations. As in the earlier work, the tramway operator Southern Brazil Electric Co. is mistakenly called South Brazil Electric Co.
Renato Feliciano Dias, Ligia Maria Martins Cabral, Paulo Brandi. Panorama do setor de energia elétrica no Brasil. Rio de Janeiro, 1988. The Southern Brazil Electric Co. in Piracicaba, p. 47.
Allen Morrison. The Tramways of Brazil: A 130-Year Survey. New York, 1989. "Piracicaba" chapter, pp. 152-154. Brief history, map, three photographs.
João Umberto Nassif, Rádio Educadora de Piracicaba. Programa Piracicaba Histórias e Memórias. Transcription of interview with Piracicaba tram conductor Anésio de Souza, 2 III 2002.
João Lucio Azevedo Filho. Old Street Car at ESALQ. Flickr page with nine black/white photographs taken on 27 XII 2011 of the two trams displayed at the agriculture school. Car "2" was numbered "4" when it ran in Piracicaba.
Ralph Mennucci Giesbrecht. Estações Ferroviárias do Brasil. History, maps and photographs of the Paulista Railroad's station at Piracicaba, the Sorocabana Railroad's station at Piracicaba, and the latter's station at Barão de Rezende (Vila Rezende).
The author wishes to express his gratitude to Earl W. Clark, Raymond DeGroote, the late William C. Janssen, Wanderley Duck and Ayrton Camargo e Silva for the assistance, information and illustrations that they provided for this page.
_______________________________________
Ver
Os Bondes de Piracicaba
(esta página com texto em português)
Also see
The Tramways of Campinas
and
The Tramways of São Carlos
and my index of
ELECTRIC TRANSPORT IN LATIN AMERICA
If you have comments, criticism or suggestions,
please e-mail me!
This site was placed online on 17 October 2012
Copyright © 2012-2112 Allen Morrison
ALL RIGHTS RESERVED
TODOS OS DIREITOS RESERVADOS
As fotos coloridas desta página são protegidas pela Lei do Direito Autoral (Lei N° 9.610 de 19 de Fevereiro de 1998) e não podem ser reproduzidas sem a expressa autorização do autor.